Gator Wins 'First Class' NSPA Award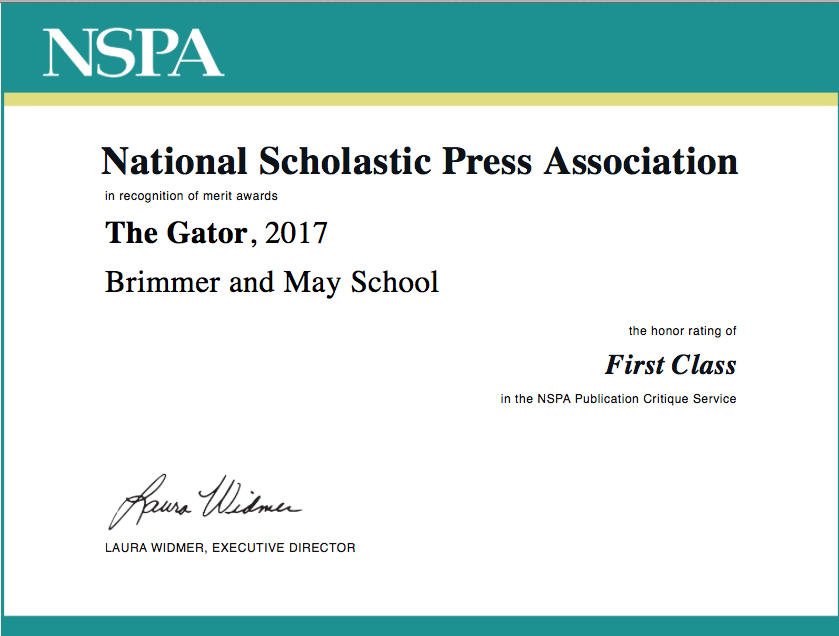 On the eve of the 13th Annual Kenyon Bissell Grogan Humanities Symposium, titled, "The Future and Function of News," The Gator received a coveted 2017 "First Class" distinction from the National Scholastic Press Association (NSPA)—one of the most prestigious award bodies in high school journalism.
This marks the highest honor yet bestowed on the newsroom, under the leadership of Editor-in-Chief Shani Breiman '18.
The Gator has previously earned two "Second Class" ratings from NSPA.
According to Gator adviser David Cutler '02, the critique is "the most detailed and helpful" yet received, and he agreed with its praise and criticism.
The critique highlighted numerous strengths, praising "coverage of all areas of academic life as well as school policy."
The Gator aims to be "inclusive of all students, and reporters appear to be striving to meet [the] interest of a diverse audience," the critique stated, also commending how students embrace strong journalistic style, writing, and structure.
The critique also praised what it called the newsroom's "exemplary" nose for hard news, and its focus on covering policy and school events. Still, NSPA offered a helpful critique with respect to including other types of coverage.
"Consider how you can incorporate more features in your coverage to supplement hard news," the critique stated. "It's just shifting an angle. Instead of timely, what are some evergreen features you could work on that would engage an even wider audience? Consider technology, health, pop culture."
The critique encouraged The Gator to include more in-depth feature coverage, including profiles and human-interest pieces. NSPA offered special praise of Breiman's recent article, Community Mourns Loss of Safi Aziz '17, as well as Gator Nation News.
However, NSPA also suggested that the newsroom write more shorter pieces.
"Especially online, readers are scanning, so chunking long stories into more manageable parts, inserting lists or, better yet, determining what you can pull out into a supplemental infographic would be helpful," the critique stated.
NSPA noted that while coverage is "generally unbiased and balanced," in a few instances, the organization cautioned against the news section "cheerleading" the School, which should be reserved for editorials.
Still, the critique praised The Gator's editorials, though NSPA would like to see them appear more frequently.
"Be a true leader in your school and advocate change where you see it needs to happen and commend others in your school and community for the good they do," the critique stated.
In September, The Gator also earned an "International Second Place Award" from the Quill and Scroll, a prestigious international honorary society for high schools journalism.
In November, Cutler encouraged the newsroom to appeal a "Silver Medal" ranking from the Columbia Scholastic Press Association, another prestigious award body. The Gator is still waiting for a response.
Leave a Comment