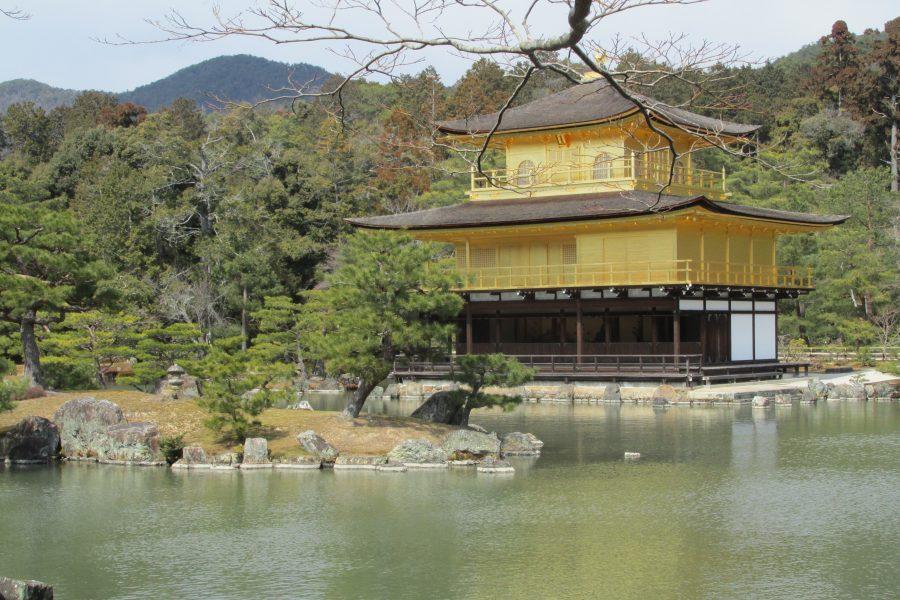 Nor'easter Delays Trip Returns
By Gabe Bryan '17
A late season nor'easter delayed several return flights for a number of Winterim trips, extending tours in Japan, England, Vietnam/Cambodia, and Cuba by several days.
Head of School Judith Guild says that the School has insurance to help recover any additional costs, including having to pay for food and room and board. Families will not have to pay for additional costs, Guild says.
"I am very proud of the community," says Guild. "Everyone was extremely helpful by staying calm and flexible, which made our jobs easier.
Guild said her greatest concern was that visas would expire before students and teachers could get a flight to Boston. Still, "If worst came to worst, we would have booked a flight to Miami," she said.  
Scotland and Ireland
By Liam Johansson '17 and Cole Morad '19
The Scotland and Ireland trip was filled with gorgeous sights and unforgettable experiences.
The highlight of the trip was a visit to a farm an hour outside of Dublin. We baked bread with a warm and friendly Irishmen named Bernard. We also enjoyed visiting sheep, cows, pigs, puppies, goats, and a goose. Some students even held a lamb, before the group headed off on a wilderness walk to learn about the famed peat bogs of Ireland.
Unfortunately, without a change of clothes we couldn't jump in the bog. But eating our baked bread for lunch, along with some tea and jam, made up for any disappointment.
An unexpected highlight in Newtonmore, Scotland included a short walk to a small, fun Indian restaurant. Our group enjoyed chicken tikki masala, rice, naan and pakoras with warm service and excellent food.
Overall, spending time with new and old friends made the trip special, and we are grateful for our awesome chaperones and the opportunity to travel abroad. We know how lucky we are to have enjoyed this experience. 
Cuba
By Matthew Hastings '18
The trip to Cuba featured many exciting highlights, but visiting artist José Fuster's gallery stood out to me.
Born in 1946, Fuster is considered one Cuba's most famous artists. A man of many talents, he paints, sculpts and engraves. His work, which embodies the Cuban culture, is exhibited around the world, including in Chile, Spain, Germany, Italy, France, Japan, Mexico, the UK, and Canada.
Fuster's most famous work is just outside Havana, where he redecorated blocks of houses in colorful tiles. At the gallery, we enjoyed some of the best food in Cuba. Local fish, chicken, rice and beans made for a simple but delicious meal.
His art has created jobs for his neighbors and has contributed to the community. Around his studio is a handful of gift shops due to his art attracting tourists.
Japan
By Sita Alomran '19
The weeklong trip to Japan was filled with food, fun, education and other unforgettable experiences.
"What I liked the most in Japan was the different culture and different languages and the food, the highlight of the trip was Harajuku which is the shopping capital of Tokyo," says Amalia Ali '20.
The trip kicked off in Kyoto, where we were treated to a Kimono show. We also saw ancient and contemporary temples and shrines, while enjoying new food embracing the culture.
"Japan was a great experience we visited a lot of shrines and temples, my favorite place was Harajuku it was a very big shopping mall, we went around shopping and it was really nice," says Ben Ernest '19 .
We took a bullet train to Hakone to visit the gorgeous Mt Fuji, after which we experienced a traditional hotel for the night, where we slept on the floor and dined in kimonas. For the last stop, the group went to Tokyo to visit shrines and street shops. We also visited the famous Harajuku shopping mall, known for its variety of stores.
"During our trip we tried different types of food from Japan, we also tried green tea ice-cream which was highly rated by the group," says Rebecca Calhoun'19.
"I had a great experience in Japan, and one of our tour guides taught us some ninja moves," said Ahmad Faisal '20.