This Spring, Join The Gator
Become a part of one of the nation's most award-winning student news sites.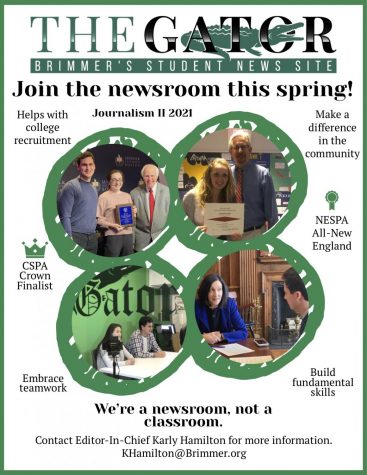 This spring, we hope that you consider joining the newsroom. The Gator is among the most honored student news sites in the nation, having received the highest recognition and awards possible from local and national scholastic bodies. We are currently looking for…
Writers: Learn to cover news, sports, opinion, arts, features, while also localizing local and national events like COVID-19. Work with veteran writers to learn the ropes, before taking on your own stories. Students have won coveted outside awards for all types of writing. Improve writing skills, and see a difference in your academic classes.
Photographers: Learn how to become an award-winning photojournalist from nationally recognized photographer Edan Zinn '23. Master how to take a photograph that really tells a story. Build a portfolio to submit to colleges and potential employers.
Cartoonists: More than ever, The Gator needs full-time cartoonists to work with writers and editors. Any and all creative artistic talent is welcome. Check out some of past work by clicking here.
You can review a complete list of The Gator's awards by clicking here.
For questions about how to join, please contact Editor-in-Chief Karly Hamilton '21 or Executive Editor Edan Zinn '23. Gator adviser David Cutler is also happy to answer any questions. Keep in mind, however, that this class is run entirely by students. As we like to say, The Gator isn't a classroom, it's a newsroom.