Op-Ed: Governor-Elect Healey's Win Makes State History
Nobody was too surprised when Democrat Maura Healey won against Trump-backed Geoff Diehl in the race for Massachusetts Governor last Tuesday.
Healey made history as the first openly gay female governor-elect in the nation. She cast herself as the heir to incumbent Republican Governor Charlie Baker, gaining the majority support of both parties, leaving Deihl behind in her dust. In fact, she decimated her opponent with 63.5 percent of the vote, under her promise to lead the commonwealth to a brighter—and bluer—future
Throughout the campaign, Diehl remained largely unpopular. His conservative, Trump-aligned platform on vaccines, abortion rights, and border control did little to gain support in a Democratic-majority state.
Director of Global Studies Kelly Neely is hopeful that Healey will continue to make an impact at a federal level.
"Governor-elect Healey has a history of taking on unfair policies at the federal level and fighting for equal rights for all," Neely said. "I expect that she will continue to do so if the federal government passes laws that are discriminatory towards vulnerable members of society."
2022 has been a year for the books in America, with mass shootings, Roe v. Wade being overturned, and the continuation of the COVID pandemic. Shock and horror have spread throughout our nation, leaving many uncertain about the future.
Reproductive Rights
The overturning of Roe v. Wade was a devastating day for our nation. Thankfully, protests are continuing to take place, as Americans push for our local and national leaders to act against this grave injustice.
"I cannot imagine a more perfect executive to lead Massachusetts at a moment of extraordinary crisis for reproductive health rights and justice," Rebecca Hart Holder, the president of Reproductive Equity Now, said about Healey.
Luckily, Massachusetts passed the Roe Act in 2020, which protects abortion rights and prevents any federal intervention. Although Massachusetts is safe, Healey acknowledges that nationally, reproductive freedom has never been under such massive threat; and she is determined to keep Massachusetts a safe haven for anyone in need of healthcare.
"As long as I'm governor, women will always have the freedom to control their own bodies," Healey said. "Our state will provide access to safe, legal abortion. We will protect women, we will protect patients, and we will protect providers."
As Massachusetts Attorney General, Healey went after the Trump administration on multiple accounts for its attacks on birth control access, Title X, and abortion via telehealth.
"
As long as I'm governor, women will always have the freedom to control their own bodies."
— Maura Healey, Massachusetts Governor-Elect
She was also a staunch supporter of the commonwealth's 2017 access law, which provides "a year's supply of no-cost birth control with just one trip to the pharmacy," and the Roe Act, which removed certain anti-abortion restrictions from Massachusetts.
Healey's campaign page features a multilayered policy to defend reproductive freedom within the commonwealth, including by "shielding providers and patients from civil and criminal liability for performing and receiving reproductive or gender-affirming care," and "advancing efforts to protect patients, doctors, and staff at reproductive health clinics from violence, harassment, threats, and intimidation," and so much more.
Combating Hate and Intolerance
As attorney general, Healey also acted on rising hate crimes in Massachusetts, including an increase of 4 percent between 2020 and 2021. In that role, she pushed for a complete overhaul of the commonwealth's outdated hate crime statute.
"A white supremacist who targets and attacks a Black person because of their race is treated the same as a person who punches somebody in a bar fight. That's not right," Healey told The Boston Globe last September.
In July, Neo-Nazis protested in Jamaica Plain, where residents had gathered for a children's drag queen story hour. The white supremacists, who were later arrested by local police, shouted anti-LGBTQ+ slogans. Earlier that month, housing signs for LGBTQ+ seniors were also vandalized in Hyde Park, spewing hateful homophobic messages.
Ellyn Ruthstrom, the executive director of SpeakOUT Boston, trusts that Healey will introduce beneficial changes.
"It's really important for our community to know that we have someone in the Governor's office who will, hopefully, defend those against those actions," Ruthstrom said.
"
To every little girl and every LGBTQ person out there, I hope tonight shows you that you can be whoever, whatever you want to be."
— Maura Healey, Massachusetts Governor-Elect
Neely also believes that Healey's victory is a big step in our nation's journey for redemption.
"I support Maura Healey because she stands for many issues I believe in, including women's rights, LGBTQ+ rights, anti-racism, equity for all, labor support, and equitable access to opportunities for all people in Massachusetts," Neely said.
Healey struck renewed inspiration in our hearts during her victory speech.
"To every little girl and every LGBTQ person out there, I hope tonight shows you that you can be whoever, whatever you want to be," Healey said.
In the history of American politics, LGBTQ+ candidates are often overlooked; that's a big part of what makes Healey's election win so historic.
Education
In addition to supporting and influencing the LGBTQ+ community, Healey also wants young people to receive the best education that government can offer, which includes confronting opportunity gaps that have caused countless setbacks.
She is fighting for residents ages 25 and older to return to education, and she supports the Student Opportunity Act to bring in upward of $2 billion a year in additional funding for Massachusetts public schools.
In 2020, then-Attorney General Healey organized a coalition, requesting at least $50 billion in childcare funding from Senate. During the pandemic, Healey only increased her demand for accessible and affordable child healthcare.
"Families need access to quality, affordable childcare," Healey said in 2020, at the height of the pandemic. "As this pandemic shows no signs of slowing down, our childcare providers need additional federal support to ensure they're able to open and operate. Our country's economic well-being depends on it."
"
Here's what we need to do: Support higher-ed, support our vocational training programs, support our community colleges."
— Maura Healey, Massachusetts Governor-Elect
Healey's failed opponent, Geoff Diehl, shares similar beliefs as previous U.S. Department of Education Secretary Betsy Devos, who Healey sued in 2017, along with 18 other states for "refusing to enforce the Gainful Employment rule" and "leaving American students unprotected," according to Mass.gov.
Diehl and Devos have both preached that allowing the free market and privatization to govern education will be productive, but Healey shares a different view.
"Here's what we need to do: Support higher-ed, support our vocational training programs, support our community colleges," Healey said during a debate with Diehl.
Healey is already making an impact as Governor-elect. Andrea Campbell, who Healey supported to replace her as Attorney General, also defeated her Republican opponent Jay McMahon by a wide margin.
Following her win, Campbell addressed her supporters.
"For those who have felt unseen, this victory is for you," Campbell said. "For those who have felt marginalized, this victory is for you. For those who have felt left out and left behind and undervalued, this victory is for you."
Healey has already left a mark as attorney general, and she seems poised to continue advocating for equality and justice as the new governor of Massachusetts.
Leave a Comment
About the Contributor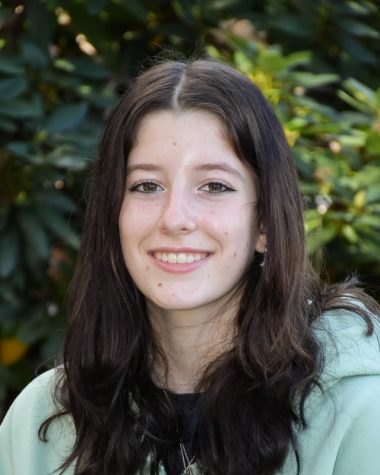 Amelia Bowman, Incoming Editor-in-Chief
Amelia has been at Brimmer since 2020 and this is her second year with The Gator. She enjoys writing op-eds, current events, and making review videos. She enjoys reading, watching horror movies, and rock climbing.