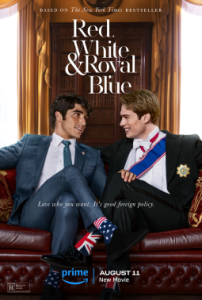 Amazon's summer film, "Red, White & Royal Blue," chronicles the covert love affair between Prince Henry and Alex Claremont-Diaz, portraying their transition from enemies to lovers who must keep their relationship a secret at all costs.
The film is based on the 2019 New York Times  book by Case McQuiston, which also won the Goodreads Choice Awards for Best Romance and Best Debut, along with the Alex Award.

The film, directed by Matthew Lopez, came out on August 11. It follows the Prince of England, Henry George Edward James Hanover-Stuart Fox, played by Nicholas Galitzine, and the first son of the United States, Alex Claremont-Diaz, played by Taylor Zakhar Perez. They fall in love and have to go through a lot of trouble since they are such famous figures. The movie takes place in Washington D.C., where Alex lives, and the United Kingdom, where Henry lives.
This movie starts with Alex and Henry being enemies, and after an unfortunate cake accident at Henry's brother's wedding reception, they soon must put up an act of being friends. They go through PR stunts to show their "friendship" for one another, however as time goes on that "friendship" becomes more. This movie capitalizes on a classic enemy-to-lovers trope.
"I had never seen these actors perform before, however, they did an amazing job portraying the characters from the book," Giulia Laurenza '25 says.
Laurenza has seen the film numerous times, and would strongly recommend it to her peers.
"When I was watching the movie, I truly believed that it was Henry and Alex falling in love for the first time."
This movie focuses on eye movement, body language, and scene blocking. Scene blocking is when the director puts certain actors in specific places in the scene, and can also include body language.
The music was used in a beautiful way to represent what the characters were going through, as well as their emotions. In happier moments you might hear upbeat music, but in sadder moments you might hear quieter music.
Overall, this movie was beautiful. The combination of the music, scene blocking, and actors made this a very watch-worthy movie, and I would highly recommend everyone to watch it, even if you have not read the book.