Head of School Judith Guild addressed students on September 20 during an impromptu all-school meeting, following the immediate discovery of a racial slur in one of the girls' bathrooms. 
The reprehensible graffiti, which read "Clean [N-word]," has sent shockwaves through the community, compelling urgent response and reflection on the School's values. This act of aggression directly targeted a staff person who regularly cleans inside the girls' bathroom.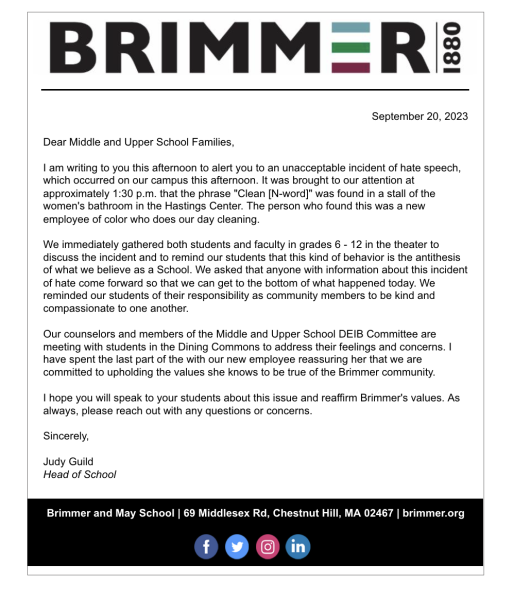 "I have contacted the Newton police and ADL office, and the written graffiti is now on record with them," Guild wrote in the Sept. 28 bulletin to the community. "Additionally, I am working under the guidance of our School's attorney. We continue the important work of educating our students to uphold our community values, and I have been impressed with how several members of the student body have reached out to share their ideas and concerns."
In a commitment to mitigate harm and to respect the wishes and well-being of the person targeted, The Gator has decided to maintain the confidentiality of the victim's name.
Nevertheless, Guild said, she was thrilled to find someone with a strong work ethic.

"I saw how lovely she looked and how pleasant she was around our students and how willing, with a smile on her face, to do the job that very few people would even come to work to do a year ago, I was so grateful for her," Guild said. 
Luckily, according to Guild, she insisted on finishing the school day and is still eager to return to work. 
Guild believes that the note represents more than just racial prejudice; it is also indicative of class discrimination. She recognizes that the School is a place of privilege, but she never imagined that individuals would demean another person who doesn't share the same level of financial advantage. 
"
At the end of the day, regardless of whether we like each other or see eye-to-eye with people, we would never attack someone's identity or take somebody's dignity away. That, to me, is the worst thing you could do to a human being in so many ways.
— Head of School Judith Guild
Since the incident, the administration has invested serious time in determining what needs to be implemented to deter future violations of the School's values. 
"I think that this came as a complete shock to everybody in our community because of the level of safety and the culture that we built here of inclusivity," Upper School Head Joshua Neudel said. "No matter how much work we do, there is always more to be done."
Neudel hopes that students are not afraid that these kinds of incidents will occur on a regular basis—quite the contrary. The last time the School was confronted with an incident involving racism was in 2020, to which they responded with plans for updated diversity, equity, and inclusion programming. 
Guild said that she is a firm believer in expanding perspective and believes that if students are not learning with an open mind, they will not be able to understand the empathy that is needed to read something unfamiliar to them. She wants teachers to take the time to make sure all voices are heard and that we understand what history is trying to tell us. 
"I think the teachers are already doing a great job, but it's never done. I can tell you as someone who studied literature… you always have to keep reading because there is always something new coming out with an angle that none of us thought of before," Guild said. 
Guild also maintains that while social media has the potential to sway young minds into making impulsive choices, educators have the ability to aid students in dissecting literature and history, enabling them to comprehend such behaviors and learn strategies to counteract them.
"We read about characters in literature that typify this behavior all the time," Guild said. "Power, greed, privilege that wants to take advantage. These qualities that are in humans can either choose to be minimized and pushed aside, or maximized and used to destroy."
Director of Diversity, Equity, Inclusion, and Belonging Jessica Christian also believes that language holds more power than most people assume and that the racist note is particularly cruel. 
"
It feels like a sick and twisted form of racism, not just flat-out racism.
— DEIB Director Jessica Christian
Christian also says that voicing concerns can be challenging, not only for students but for adults as well. Nevertheless, she has collaborated extensively with community members to establish boundaries in a manner that is manageable and feels comfortable for them.
"We can't have it both ways where we allow the joke and complain about the joke," Christian said. "We have to be advocates."
Christian recognizes that standing up for one's self and others might be scary, but is essential in taking affirmative action. 
Neudel agrees that it can be difficult and scary to speak up, but that finding other trusted peers and faculty members who will support you is crucial. 
"The only way to address things when they happen is if people are upstanders and they speak out in some way," Neudel said. 
While Christian, Neudel, and Guild agree that education and open dialogue will be potent tools in fostering a community where all voices are heard and where empathy prevails over ignorance, they also emphasize the importance of actively addressing systemic issues and biases that may exist within the educational system and society as a whole.
"We have to talk about why human beings have a need for a pecking order," Guild said. "What is in that person's psyche that makes it okay to step on somebody, to get whatever pleasure they get out of that?"
Only by addressing underlying systemic issues and biases, Guild said, can society make progress toward a more just and equitable future.

Editors Note: The Gator welcomes guest pieces from any community member who would like to voice their opinions or feelings about the racist incident.