At the heart of the Library Learning Commons resides Karen Bernanke, the Middle and Upper School Director of Academic Services. Her office, situated in the library's corner, has become a haven for students seeking assistance and guidance.
With an educational background that boasts a Psychology degree from Boston University and further qualifications in Education and Educational Leadership from Lesley University, she brings a wealth of experience. Her credentials are enriched by her time as a classroom teacher for grades K-8 across multiple schools.
"I enjoy working with Brimmer students," Bernake said. "They are very self-aware and they want to utilize supports that are available. Students recognize how the Learning Center can be a resource for all their academic needs from materials for organization, to executive functioning support and time management skills, academic guidance and moral support. Students are taking charge of their own learning, but sometimes just need new strategies, a jump start or encouragement." 
Whenever I interact with her, her warmth, humor, and kindness leave an indelible mark. Whether you ask a student or a teacher, the message remains unambiguous: Karen Bernanke is truly a gem. Don't just take my word for it.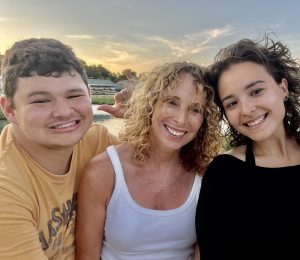 "If you ever just need a person to talk to, she's the one," Jordan Canavan '24. "Despite her busy schedule, she always makes time and gives you her undivided attention," Canavan said.
Her colleagues also admire her holistic approach to education.
Math Lab Instructor Stanley Szwartz, who works with Bernanke, shared his admiration.
"One of the most remarkable things about Ms. Bernanke, besides her immense academic support, is her genuine commitment to students' well-being," Bernake said. "She consistently makes time to talk, ensuring they're thriving socially, mentally, and emotionally."
Outside her role at the school, Bernanke leads a fulfilling personal life. Living in Sharon with her young adult son and daughter, she has fond memories of growing up outside Washington, D.C., where she developed an affinity for theater and history.
When not at school, Bernanke can be found relishing live music, diving into historical fiction novels, attending yoga sessions, or wandering around New England.
When here, Bernake partners with families, teachers and students to build a team support approach to learning.
"My goal is to ensure that every student at Brimmer uses my support, even if they think they might not need it." Bernake said. "If a student is feeling stressed or is having difficulty accessing their classwork, they are always welcome to reach out in person or through email. I can answer questions about their learning styles and profiles, and work with them to explore learning accommodations.