Excitement is in the air as the Upper School prepares for its annual fall play, "She Kills Monsters," when the curtains go up Nov. 16 and 17 at 7:00 p.m
Written by Qui Nguyen, "She Kills Monsters" premiered in 2011 and tells the tale of Agnes, a high school senior coming to terms with her sister's tragic death.
"This is a very current play," Director Bill Jacob said. "It's been really popular in high school's around the country, and I'm excited we're giving it a try. It's a heavy lift for us, with lots of stage combat, special effects, and puppets, so many puppets. It's really like nothing we've ever produced before."
Among her sister's possessions, Agnes stumbles upon a journal filled with detailed entries about Dungeons & Dragons, also known as D&D, the famous fantasy tabletop role-playing game. Immersing herself in its pages, she uncovers surprising truths about her sister that had previously remained hidden.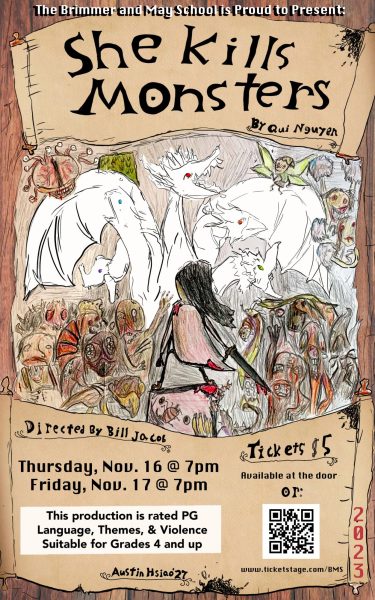 "'She Kills Monsters' is a fun, raunchy, and extremely entertaining story," Abigail MacLean 27' said, who plays a fantasy character within the world of Dungeons & Dragons.
Maya Lownie '24, who plays Agnes, is excited for the production, even as she does not personally relate to her character.
"Agnes is a pretty typical popular girl, part of cheer-leading team, whose boyfriend is on the football team," Lownie said. "She definitely has a low tolerance for people who seem out of the norm, such as her sister, who is geeky and queer and subject to bullying. That's not the type of character I relate to, but it was fun playing beyond my typecast."
Lownie said that the production is ahead of schedule, with the blocking complete as work continues involving dramatic fight scenes between people and puppets, representing various D&D characters.
"The battles lead up to intensity in where Agnes fights a five-headed dragon," Lownie said. "I like to believe that the each head represents the five stages of grief she never went through when her sister passed away."
Ady Jaeckel '25 portrays Agnus's sister, Tilly, as well as her D&D character.
"Wait until you see the fight scenes," Jaeckel said. "We had a choreographer and it's so much fun to watch."
Kyle Terino '24 is also excited about playing Ocrus, a comic-relief character who is unwittingly dragged into the unfolding drama.
"I don't want to give too much away, but I also very much appreciate something that happens  toward the end of the play, which allows me to approach the character from a different angle," Terino said. "It's really interesting and tests my ability to switch between different portrayals."
Editors' note: The Creative Arts Deptartment offers faculty, staff and tutors one complimentary ticket to the performance. Please check an Oct. 30 email from Jacob, which provides the code for the free ticket. Go to www.ticketstage.com/BMS to order ticket ahead of time.