Smith Introduces Upper School Senate Constitution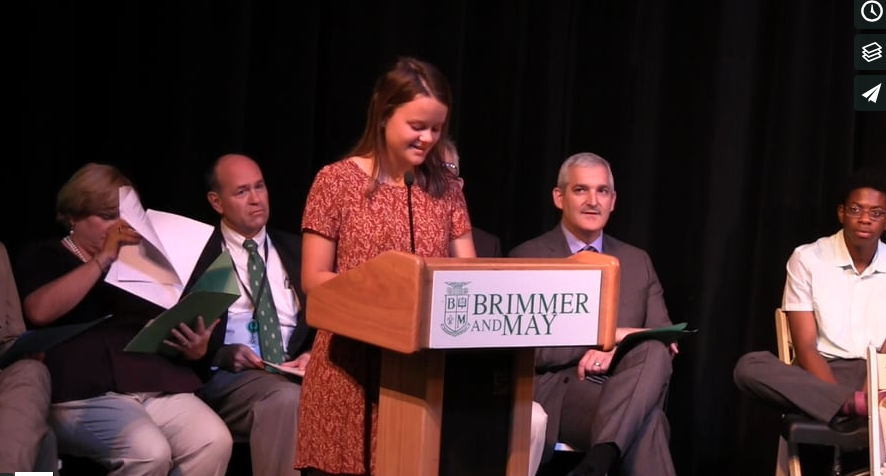 Upper School Senate President Sarah Smith '17 is finishing her tenure by leaving behind an official Constitution, outlining operating principles for the governing body, something none of her predecessors have achieved.
After serving in Senate for three years, Smith says, she noticed ways to improve efficiency and accountability.
"Having specific responsibilities in writing will help get more things accomplished, while really improving student life," she says.
[googleapps domain="drive" dir="file/d/0B-JIxyGi-JsQRXh2MXljenB4RGM/preview" query="" width="640″ height="480″ /]
Under the Constitution, each class will have three officers (not the usual two), to oversee student feedback, class fundraising, and event programming. The Constitution highlights responsibilities for each elected class position.
Meanwhile, while the position of President will continue to oversee Senate operations, the Vice President will double as the programming officer, the secretary will double as the feedback officer, and the treasurer will double as the fundraising officer.
Sarah says that she is "definitely nervous" to see how the School will react, as the Constitution introduces significant changes. Still, she feels optimistic that the student body will respond in a positive manner.
Among some of the major changes approved, while elections for class representatives used to occur at the start of the academic year, voting will now happen in May before elected officers assume their poisons in September.
Also of note, for the first time, the Senate has an official procedure for impeaching an elected officer.
"If a student fails to fulfill their responsibilities in their elected position or does not attend 75% of all required meetings in a given semester, the advisor may call an impeachment hearing," the Constitution states.
"Sarah did a wonderful job with the Constitution, and the new document outlines everything Senate needs to do," says Senior Class Representative Nick Correia. This will make Senate as a whole run more smoothly in the years to come."
Secretary Emma Hastings '19 echoed Correia remarks, calling the Constitution "a much needed document for the future of Senate," which she says has felt unorganized in the past, with work unevenly distributed.
Upper School Head Joshua Neudel, who also advises the Senate, says that he is pleased with how the Constitution provides more leadership opportunities, which will "enhance student voice."
Leave a Comment