V. Lax Defies Stereotypes of Sport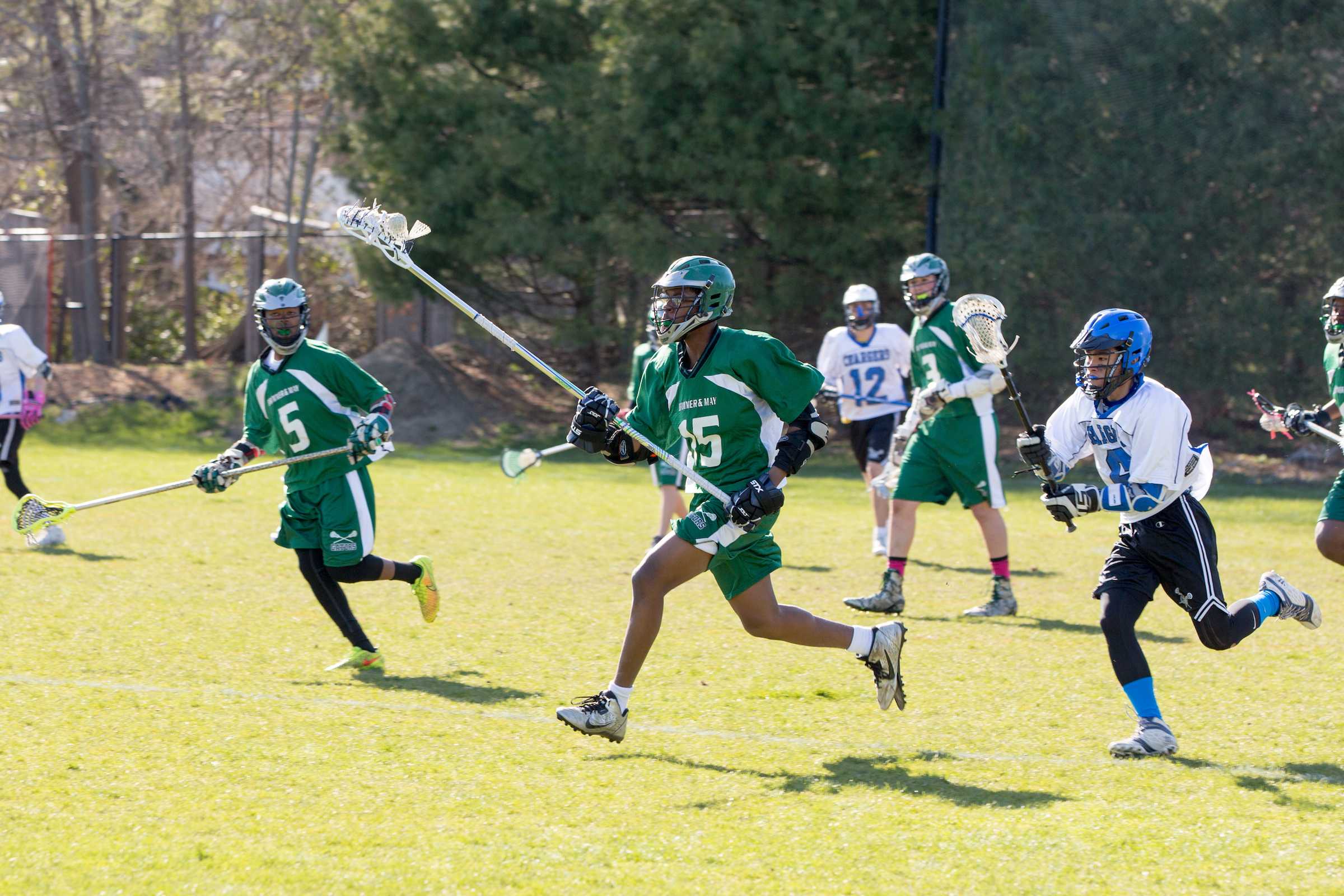 Lacrosse dates back to the 1600s, when native Americans competed on a mile-long field with up to 1,000 players. Today, while the sport's popularity continues to grow, it's largely played by the unvaried white suburbs of the East Coast.
In a 2013 New York Times article, journalist Michael Cohen writes, "As the popularity and the visibility of lacrosse increase, the diversity in the sport lags behind. Just 1.9 percent of Division I men's lacrosse players are black, according to the most recent N.C.A.A. study."
A more recent Forbes article goes a step further, arguing that lacrosse has "shifted from a high school-based sport to being club-centric," coming with a "hefty price tag." For contributing writer Bob Cook, lacrosse "favors those with money."
Here, however, Boys' Varsity Lacrosse defies such statistics and sentiments. The current roster consists of 17 players from diverse racial and socioeconomic backgrounds, including four black and one Hispanic players.
The team's makeup also reflects the diversity of the student body. About 23 percent of students are of color, according to the School's web site.
By any objective standard, that's an impressive figure—especially for a community of 385 students from pre-kindergarten to grade 12, including 140 in the Upper School.
"In my experience of 20 years of teaching at a private, and having gone to a private school myself,I can say that I'm quite proud of the fact that our lacrosse team doesn't necessarily fit the mold or look like you would expect the lax-bro team to look like," says Dean of Student Life Paul Murray. "I think that's pretty cool."
Players feel similarly.
"I feel like that our team's diversity really shows that the game is being spread out amongst all races and ethnicities," says Tyler Best '18, one of the team's captains, who just happens to be black. "Lacrosse is a growing sport, and I'm proud that our team shows that the game can and should be played by anybody—regardless of race."
Lacrosse has a reputation for being a North American sport, one not typically played in other countries—especially on a competitive level. But here as well, the Gators defie that statistic.
Originally from England, Safi Aziz '18 says that when he came to Brimmer as a sophomore, the diversity of the lacrosse team attracted him to the sport.
"The inclusiveness of the team made me feel even more welcome here," Aziz said. "Lacrosse helped me learn more about my peers, while also appreciating our similarities and differences that make us who we are."
Leave a Comment