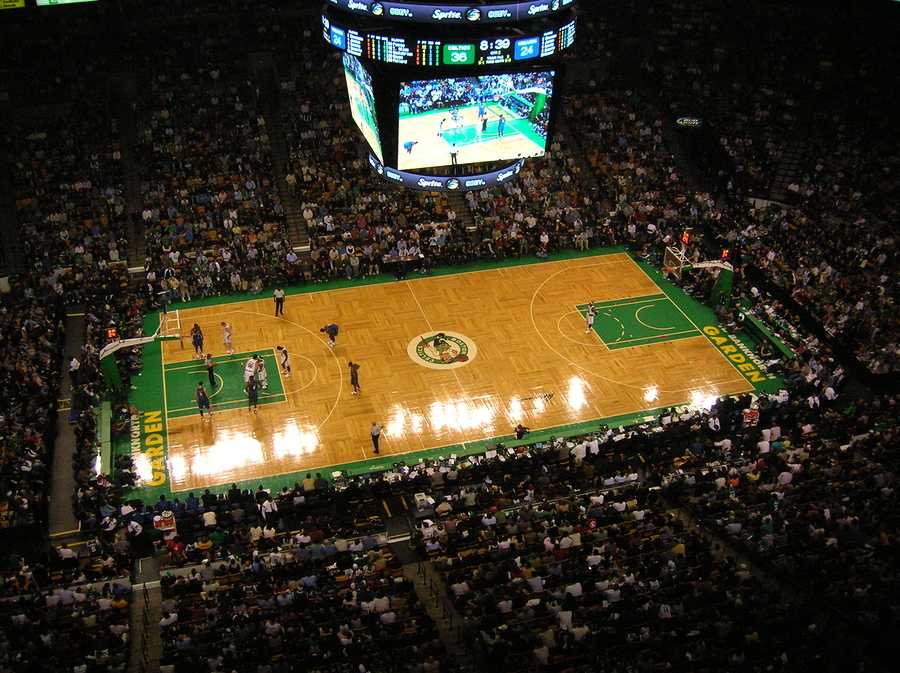 With the NBA season off to a great start, Giannis Antetokounmpo of the Milwaukee Bucks is making his case for regular season MVP, and the Orlando Magic are looking like a competitive team for the first time in years.
Sadly, all is not going the Boston Celtics. In the team's Oct. 17 season opener against the Cleveland Cavaliers, tragedy struck in the first five minutes of play.
As Kyrie Irving dribbled down the court, he threw an alley-oop to newly acquired star Gordon Hayward, who jumped up to for the dunk and ended up landing awkwardly on his left leg.
When Hayward came down, the entire Ohio arena was shocked. "Folks, Gordon Hayward has just broken his leg," the broadcaster said. From the sight alone, no medical degree was required to make the diagnosis.
https://www.youtube.com/watch?v=vJryfc_0l-g
Shortly afterward, the medics came and wrapped up Hayward's leg and rushed him to a nearby hospital. The game would continue with a Cleveland win, 102-99. The next day, news reports revealed that Hayward had dislocated his ankle and fractured his tibia. What looked like a promising season for the Celtics quickly turned into one full of uncertainty.
Going into the season, Hayward was supposed to be "the guy" at the starting forward position for Boston while rookie Jayson Tatum and second year wing Jaylen Brown served as his primary backups. But now, Tal Breiman '21 says, "I think that players such as Jayson Tatum and Jaylen Brown get to show what they really are made of and how well they can play."
So far, Breiman seems to be right. After averaging just 6 points per game as a rookie last season for Boston's deep lineup, second-year shooting guard Brown has really taken the most out of his opportunity, upping his scoring to 19 points per game.
Meanwhile, rookie Tatum out of Duke has looked like an early candidate for rookie of the year, after he was projected by many to just be a role player off of Boston's bench. What's probably been the most exciting story of Boston's early season so far is the improvement of third year point guard out of Louisville, Terry Rozier.
After spending his first two seasons as a benchwarmer for Boston, many were ready to give up on this young point guard, but so far, Rozier has been ballin'.
In a sixth man role for Boston, he has gone from a career average of 4 points, 2 rebounds, and one assist, to an early season average of 12 points, 4 rebounds, and 6 assists.
"I thinks he's been playing incredibly well and he's an invaluable part to our team, especially since Hayward is out" says Miles Munkacy '20. "Although the Celtics have a pretty solid bench, it's made much better by having Terry Rozier be able to come on and play for Kyrie Irving to give him a couple minutes of rest and still have the Celtics be successful."
Unfortunately, newly acquired superstar point guard Kyrie Irving hasn't lived up to the hype. After averaging 25 points per game on 47% field goal shooting for Cleveland last year, as a Celtic, Irving's numbers have dipped to 20 points per game on a sub-par 37% field goal shooting.
"You'd think playing without LeBron and now Hayward would allow Kyrie to score more points on more shots, but that's not been the case. I don't know what happened," says Leo Wen '21.
It is still very early in the season, but these numbers by Kyrie are concerning. Hopefully he will be able to turn it around and get back to his winning ways. For now, all we can do is watch as Boston continues to show mixed results after the Gordon Hayward injury.
– Quinton Nsamba '21 contributed to this article.