Adjusting to Free Time in Innovation Space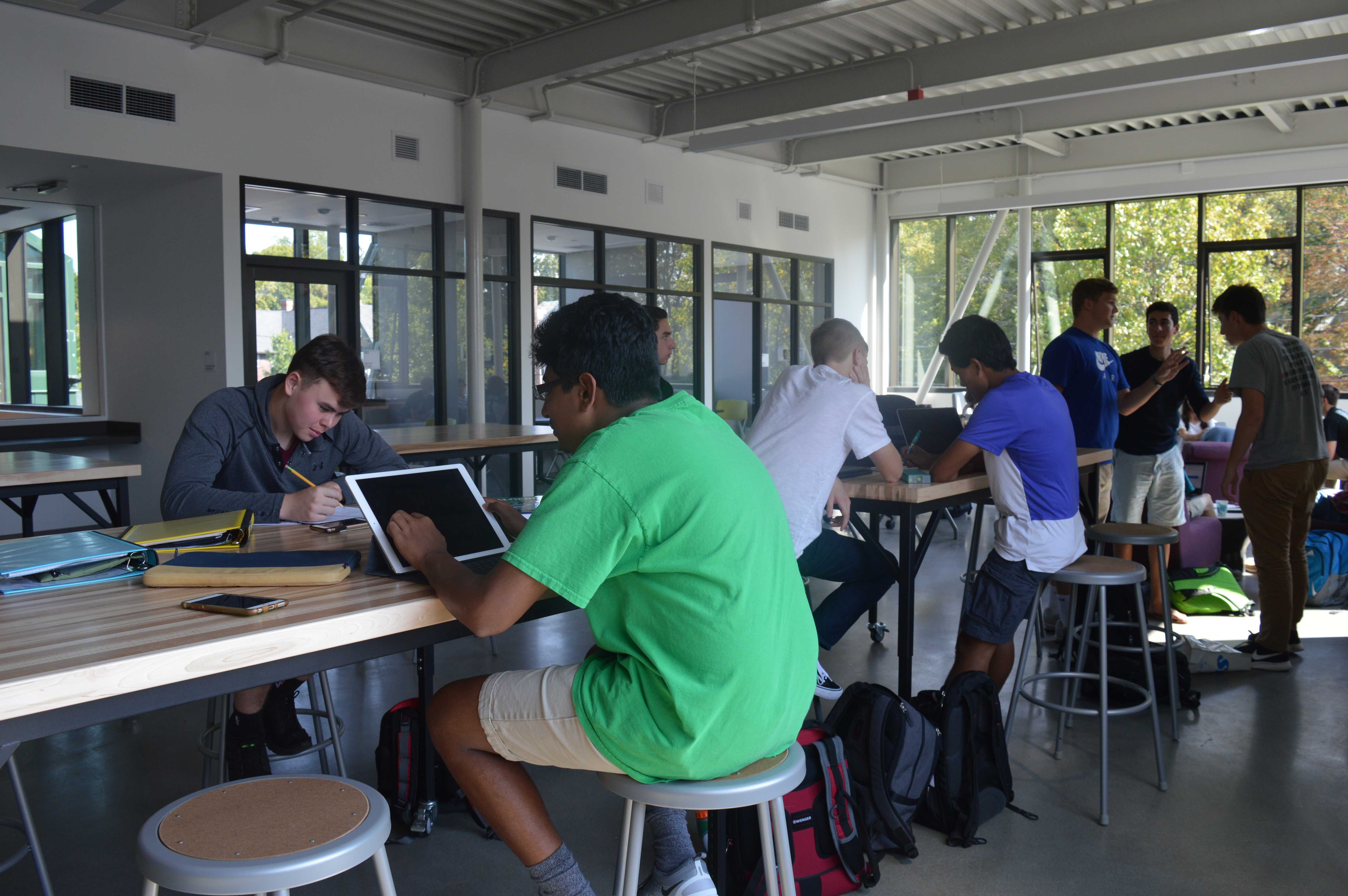 Two months after the opening of the Hastings Center, teachers and students report that the Innovation Space is being used by some to engage in non-academic behavior during free blocks. 
According to Director of Education Initiatives Cecelia Pan, the space is supposed to serve as "a place where teachers can send their students to complete work, a place where students can work during study halls, and a space for kids to be creative and tinker."  
In fact, during structured class time, teachers and students from across divisions and disciplines use the space.  
"The Innovation Space has been instrumental in allowing our 26-member staff to work, write and conduct interviews," said Gator advisor David Cutler. "Without question, we wouldn't have been able to step up our efforts this year without the space, which, in a neat coincidence, also mimics the look and feel of a genuine newsroom."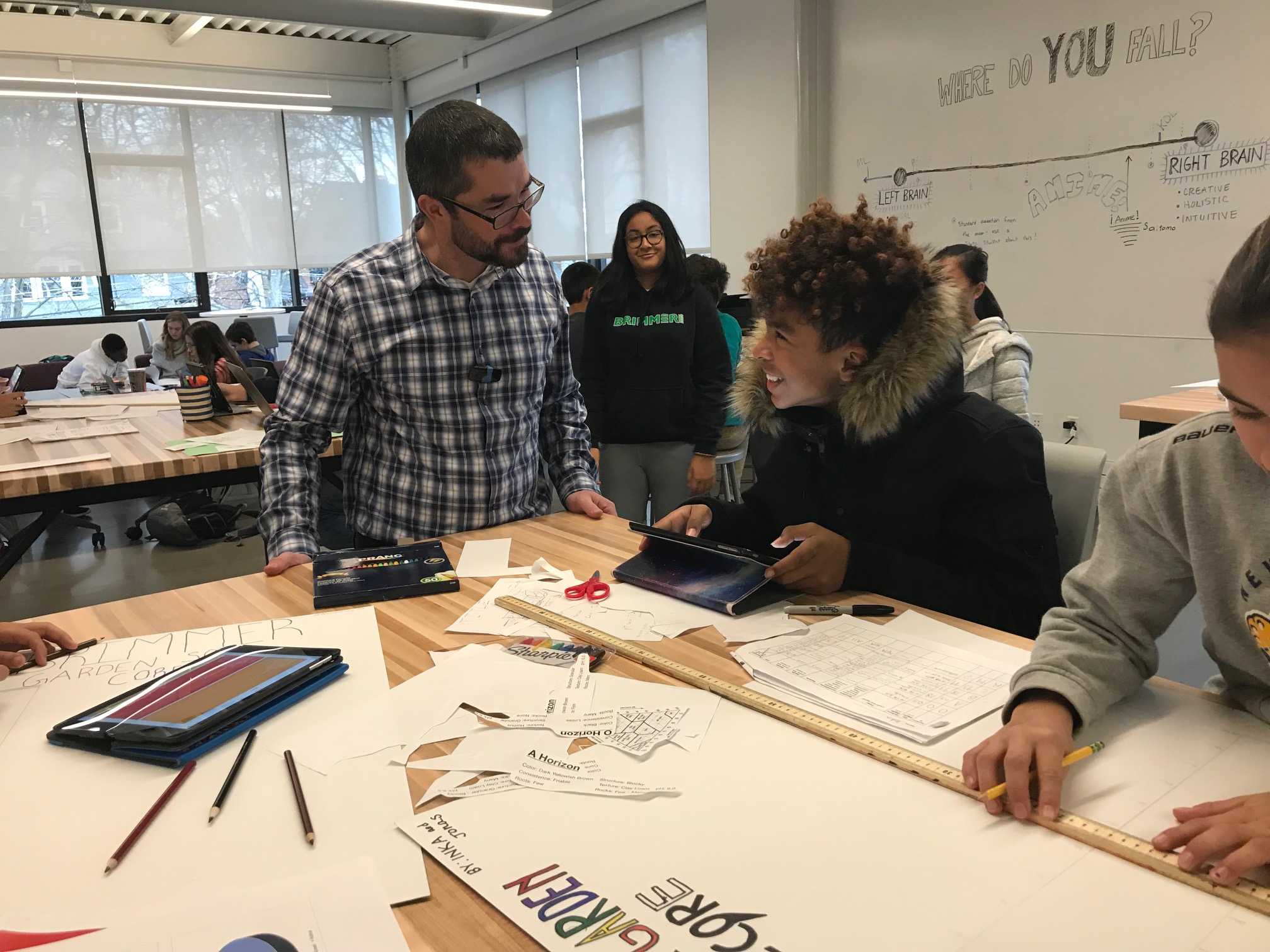 Assistant Head of Academic Affairs Joe Iuliano says that the space will continue to evolve as time passes.  
"It will have many more uses as classes expand into the space for more formal and informal project work," Iuliano said. "I think people are just getting used to even having it and we will have to wait and see." 
But outside of structured class time, some students say they don't know whether the space should be used as an academic area or a social gathering place.
"The Innovation Space is more similar to a lounge or hangout area than a work space, said Henry Ngo '19. "Kids who want to do homework in a quiet area usually go to the library." 
Senior Class Representative Jack Donnelly '18 visits the Innovation Space once or twice a day. If students have work to do, he said, they usually use the group study rooms.  
"Otherwise, it feels more like a social space," Donnelly said. "I think the space has a lot of potential, but I think to students just need some guidance on how they are expected to use the space outside of structured class time." 
In a written statement to The Gator, Head of School Judith Guild shared her thoughts about use of the Innovation Space during free time. Guild also requested that her comments be shared in full, and not paraphrased.
Never underestimate the creative potential of casual conversation. Unstructured space should promote creative conversation. Students need to make some choices about what matters most to them when given free time. I believe our students will adapt to this open space and eventually allow their creative minds to expand beyond the social element and into discovery and possibilities. I know them to be capable of this. It takes time to shift from a faculty-controlled learning environment to one that is self-directed and offers choices. Additionally, the faculty also will begin to shift as they continuously revamp their curriculum to meet the changing demands in education. This space will evolve in its use. It is all part of preparing our students for their future. – Head of School Judith Guild
Digital Cinema Teacher Christian Kiley, who also assists in supervising the Innovation Space, does not see his role as a "bad cop" out to admonish students, but rather someone who wants to help facilitate creative use of the space.  
"I could understand some student confusion about the space and how it's being used," said Kiley. "I certainly notice that things skew toward the social rather than the academic."  
Manager of Infrastructure Jason Bock, who also supervises the Innovation Space, sees the area being used in different ways. 
"There are classes signing in and out, using the space for specific projects," Bock said. "Students are using it as a study or a more noisy version of a study hall at times, and it would be nice to see it used as a more focused space." 
Upper School Senate President Stone McLaren '18 says that during free periods, the Innovation Space can turn into a "social scene,"where it's too noisy to be productive. He also says that he is confused about the placement of magnetic balls and wooden blocks, some of which are scattered across the floor. 
Matthew Hastings '18 feel similarly. "The toys are very distracting and stop you from doing your work," he said.
McLaren also said that while the administration has an idea of what the Innovation Space should be used for during student downtime, more communication is needed.  
"There is a disconnect, and it needs addressing," said McLaren. "I'm not sure the best way of going about this, but I think the School could benefit from a community-wide meeting about what this space could and should be used for, and how to make that happen moving forward."  
Upper School Head Joshua Neudel said that the Innovation Space is not supposed to be static in nature with respect to the physical set up and type of use.
"I fully expect that the way the space is used today will look very different in the months and years to come, as our programs continue to develop," Neudel said.
As a separate issue, earlier this semester, students were reprimanded for leaving trash and food in the Innovation Space.   
In late October, Upper School Head Joshua Neudel sent an email to students, expressing his concern about how the space is being treated.  
"Please remember to clean up after yourselves or we may need to close some of the spaces until they are used respectfully," he wrote.  
For her part, Guild also told The Gator that she expects better.
"On the subject of leaving trash behind, breaking community rules, and behaving inappropriately, that is just bad behavior and reflects on a person's character."
In this regard, McLaren says that he has been in contact with Guild, who requested that Senate think of ideas to help hold students accountable. McLaren plans to create signs to remind students that no food or drink are allowed in the area.
Leave a Comment