Community Mourns Loss of Safi Aziz '17
Raja Safi-Ullah Aziz '17 passed away from accidental carbon monoxide poisoning over the holiday break, while visiting his family in Pakistan.
Head of School Judith Guild announced the tragic news via a community-wide email, which also reached alumni, many of whom, still home from college, connected on campus Saturday, Dec. 30, to grieve and remember with their friends and schoolmates.
Listening to students and teachers talk about Safi, as he was affectionately known, Guild saw the impact he had on the community.
"The news of Safi's passing saddened so many members of our community," Guild said. "We lost a young man who had a big heart and a quick wit. Safi could make everyone laugh, help people feel good about themselves, and be with those who needed support. We will remember him for years to come, and our daily interactions will spark moments of happy memories when we think of him. I extend my heartfelt condolences to his family for whom my heart aches." 
Assistant Head of Academic Affairs Joseph Iuliano, who served as Aziz's advisor, said that Aziz loved his friends and family. 
"Safi was also an independent person who really came into his own as a student in his senior year," Iuliano said. "He met with me to problem solve when he encountered a difficulty at school, and he was always very thoughtful. We also had many informal conversations that I recall very fondly. I will miss him."   
Aziz, who had just completed his first semester at Syracuse University in New York, came here as a sophomore. He earned 19 credits in three years, an impressive feat, including three AP courses and earning high honors throughout his senior year.  
As a freshman, Ethan Eastwood '18 became friendly with Aziz in Stagecraft class, hanging out after school working on sets and lighting.
"I will always remember Safi for his unbreakable spirit," Eastwood said. "Nothing could ever get him down. He was always a bright spot in my day. He was extremely loyal to his friends. I felt like nothing could ever break our bond. I will never forget Safi and the impact he had on my life."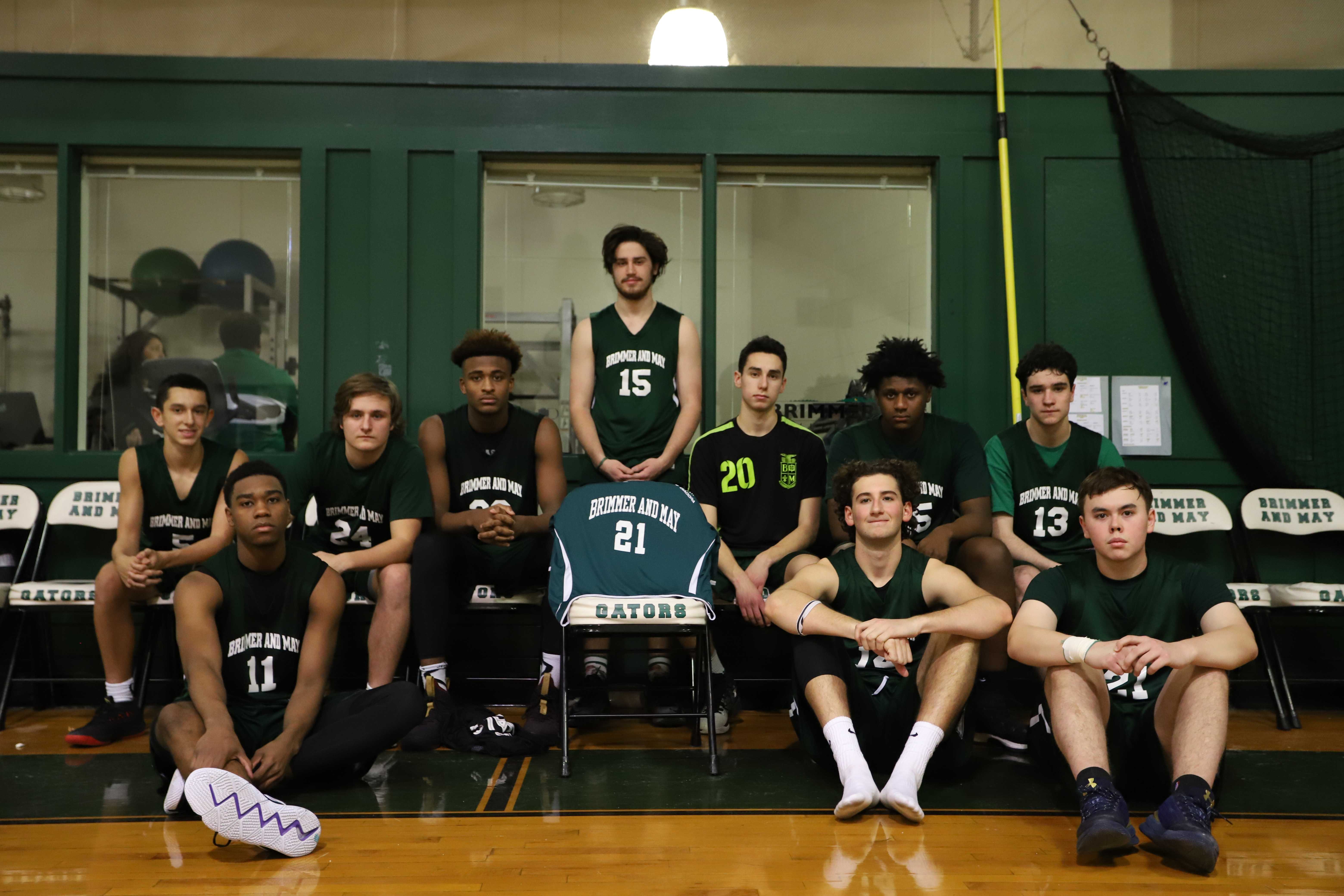 Spanish teacher Mirna Goldberger experienced Aziz's kindness and compassion firsthand. She taught him last year in an advanced class, challenging him to do his best, even when he missed his family in England and felt preoccupied with the college application process.   
"He adored his family, and he would often write about them in his essays," Goldberger said.  
Once, after Aziz expressed frustration at Goldberger for holding him to high standards, he returned the next week to apologize, and to thank her for her belief in him—even when he doubted himself.  
When Goldberger lost both of her parents last winter, around the same time that Aziz passed away this year, he wrote her a letter expressing his condolences. He did so in perfect Spanish, included below with an English translation. 
Estimada Sra. Goldberger, 

Espero que esté un poco mejor, lo siento por su pérdida. Usted está en mis pensamientos y oraciones. Sé que las pérdidas como estas son difíciles de manejar pero usted es una mujer fuerte. Sólo recuerde que su madre está en un lugar mejor ahora. 

Buenos deseos, 
Safi 

Dear Ms. Goldberger, 

I hope that you are better, I am sorry for your loss. You are in my thoughts and prayers. I know that losses like these are difficult to manage, but you are a strong woman. Only remember that your mother is in a better place now. 

Good wishes, 
Safi 
In a letter of recommendation, English teacher Kenley Smith shared her thoughts about Aziz's character.
"On a personal level, Safi is a mirthful and gentle young man," Smith wrote. "All of his accomplishments and personal qualities are even more remarkable because Safi's work in American Literature was done as someone born outside of the U.S. I deeply admire his strength and optimism."
Upper School Head Joshua Neudel only knew Aziz for one year, but he left an indelible impression.
"Safi was a bright young man who was endeared by everyone that he met," Neudel said. "He was a kind soul and a conscientious person that was always there for his friends. He was one of the glues of the Class of 2017, and I know his classmates will carry his memory with them."
An enthusiastic sports fan, Aziz was also active in the athletic program, playing soccer in the fall and lacrosse in the spring.
Friend and teammate Dylan Rigol '18 recalled one moment in particular that highlighted Aziz's character.
"During soccer season last year, we lost a tough playoff game in overtime to Gann" Rigol said. "It was Safi's senior year and he hadn't played that much, but he absolutely loved the sport of soccer and being part of a team. I remember walking over to Safi really upset, and he gave me a big hug and said, 'Don't worry mate, it's just fútbol.' With him being a senior and that possibly being the last time he would play in organized soccer, it spoke a lot about his character to console me. But that's just who Safi was. He cared that much."
During last year's graduation ceremony,  Iuliano shared the most memorable moment in Aziz's high school sports career.  
"Soon after Safi enrolled, we learned that his name was an acronym for 'Success at First Instance' when he scored a goal virtually seconds into the first soccer game of his career," Iuliano said at the ceremony. "Not unlike British phenomenon Wayne Rooney's hat trick debut for Man U, Safi's entrance to the School was meteoric and memorable. Though he may not have filled up the soccer stat sheet as much since then, he has certainly filled up our community with camaraderie and intelligence."  
The goal was caught on video, with Aziz's teammates cheering his name on and off the field.
Director of Alumni Affairs and Special Events Amanda Frank '88 recalled a fond memory of Aziz after graduation, as the Class of 2017 processed off stage to greet faculty as newly-minted alums.
"We caught eyes and Safi had a huge smile on his face, before thanking me and giving a huge bear hug," Frank said. 
Over the past week, community members have been recording their memories in a journal, which the School will give to the family next week.  
View Comments (2)