Inside the Writing Center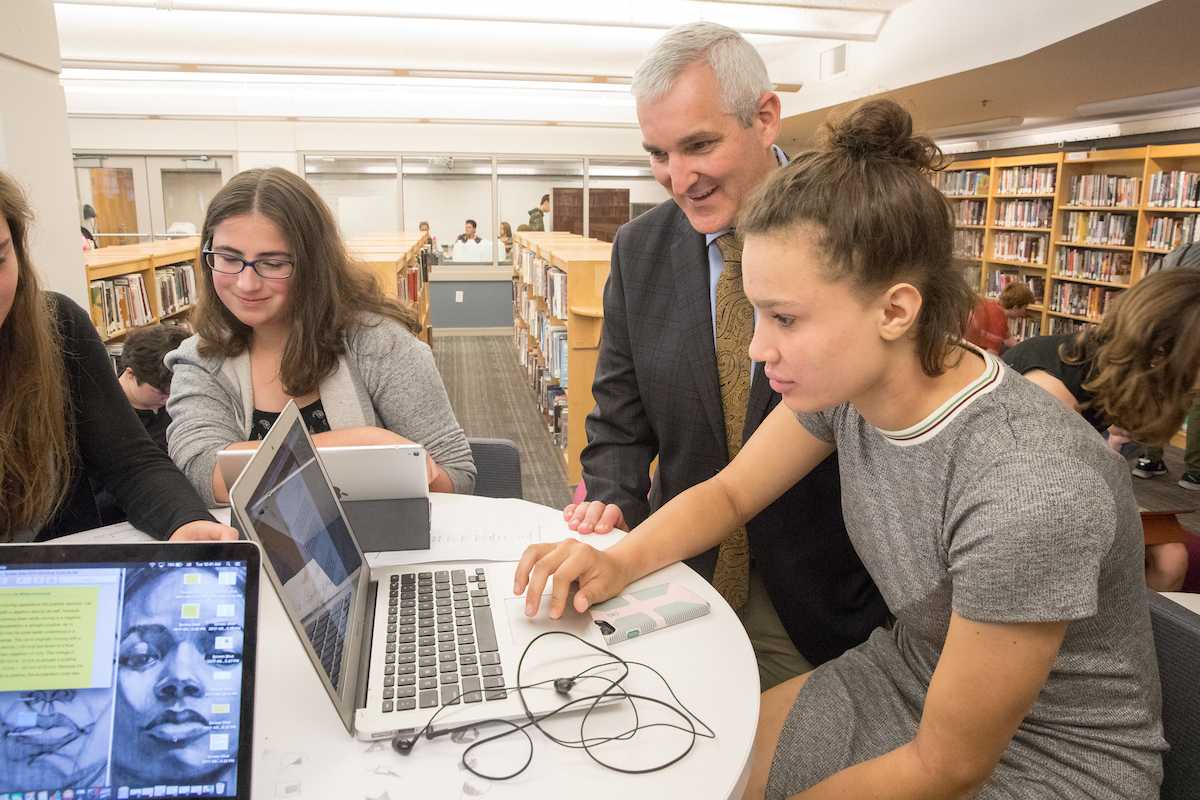 To increase traffic, the Writing Center recently expanded its hours of operation.
"We wanted to make it more possible for students to come," said Humanities Co-Chair Donald Reese. "Students have always struggled to find a time that fits with their schedule."
For deeper insight, The Gator sat down with Reese to learn more about the Writing Center, its services, and what he hopes students will get out of it.
Q: What is The Writing Center? How is it used by students?
A:  I think contrary to some people's understanding, the Writing Center is not remedial. The Writing Center is a place for students to go to get feedback from a humanities teacher about a paper for any class. It can be whatever kind of feedback you want. It can be, 'Help me out with the punctuation because I have to turn this in as soon as possible and I want it to be good,' or it could be, 'I have this assignment and I can't figure out how to get started. Would you help me figure it out?' During the writing process, kids can bring their work to the Writing Center and get a good, objective opinion—one that you can count on. I think that students, more often than not, come when their teacher is there. But I guess if I had one wish for the Writing Center, it would be for students to realize that they can come and get helpful advice even when their teacher is not there.

Q: What is the typical process for a student who is using The Writing Center? What does a meeting look like?
A: It really depends on the student. But a student can come in with a paper or a writing assignment that they want to work on, and ask for help. I think it's most helpful for students who have some idea what they want to get out of the meeting. Whether they want a specific kind of feedback, like a substantial revision, or if they are just completely stuck on where to begin.
Q: How much time does it take for staff members to respond and give feedback to students?

A: It's instantaneous.

Q: Have you seen a boost in the number of students who come to the Writing Center through the years?

A: I would say it fluctuates. I think there was a time where it would feel like nobody was coming. But now, when papers are due, we tend to see a fair number of people. I haven't seen a large trend either way, however.

Q: How has the Writing Center developed over the years? What improvements have been made?

A: You know, we just keep looking for the best way to manage it. We keep trying different ways, especially to figure out who's going to be in there, how long they're going to be in there, and how to get students to visit. I think having it in the new learning commons and having it so it can be movable around the space, depending on the teacher, is as good of a system we've had. It used to be in my office. But then people wouldn't come and visit it, as it was out of the way. I think we're still working to find the optimal way. Sometimes, teachers will require students to go to the Writing Center with an assignment, and that will often be when we get a bunch of kids. But we still haven't figured out a way to get people to come routinely.
Q: What are some of the goals of the Writing Center?
A: I would say the biggest goal that we have for the Writing Center is for students to learn that writing is a process, that you can always make your piece of writing better by drafting it over and over again. Every student has to learn that for him or herself sometime in their careers. I think the Writing Center is a good way for students to learn that because it doesn't depend on their teacher.

Q: What factors do the Writing Center offer Brimmer that other schools do not have?
A: That's a good question. I've never looked into if other schools have something like the Writing Center. It's definitely an underused resource that could offer a lot more to students all around the school. Students have the opportunity to learn how the writing process—their own writing process—can work for them.

Editor's note: The Writing Center, located inside the library, recently announced expanded hours. Now, it's open from 9:15-10 and 2:35-3:15 on Mondays, 8:00-9:00 and 10:00-11:20 on Tuesdays, 8:00-9;00, 10:00-11:20, and 2:35-3:15 on Wednesdays, 8:00-9:00 and 11:25-1:00 on Thursdays, and 8:00-9:00, 10:00-11:20, and 12:15-12:50 on Fridays.
Leave a Comment