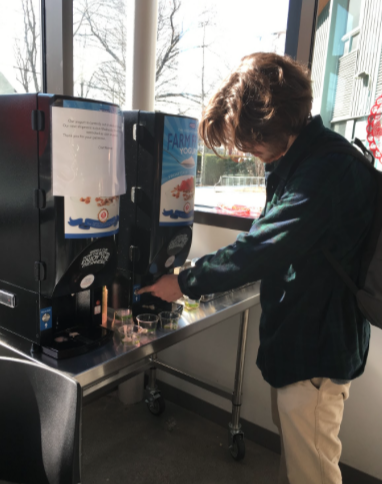 Before spring break, a new yogurt machine was placed in the left corner of the dining commons, dispensing strawberry and vanilla flavors.
An assortment of healthy toppings, including fruit and raisins, are also available.
"I like the yogurt very much," says Ethan Eastwood '18. "It offers a customizable snack at School we've never had before."
Head Chef Michael Sconce says that he is surprised by the amount of yogurt consumed each week. In fact, the School went through about 200 pounds of yogurt during the first four days of the machine's introduction.
Students consumed so much yogurt that the machine had to be temporarily shut-down until more yogurt could be ordered.
Sconce said that while the yogurt machine is a "considerable expense," it's also "worth it to ensure that students find something to eat. I hate the idea of kids leaving here hungry," Sconce said.
"I think the yogurt machine was a fantastic addition to the cafeteria," said William Apostolica '20. "Students love the healthy option."