School Runs 'Justice and Equity' Program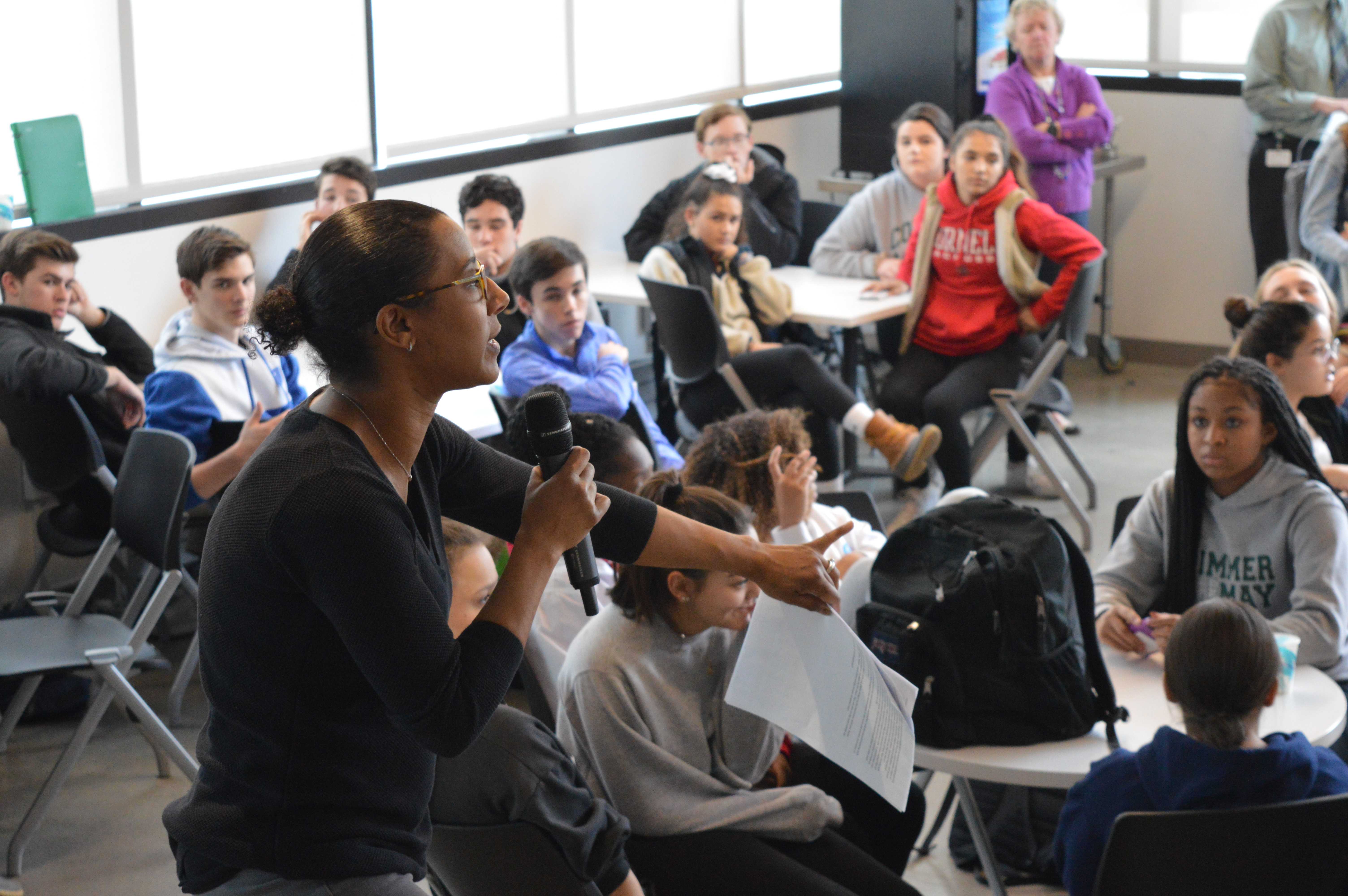 During the Upper School assembly block Wednesday, the administration organized a "justice and equity" program in response to last month's walk-out, a peaceful protest against racially insensitive behavior and use of derogatory language among students here.
Director of Diversity Jessica Christian, who organized the event, addressed students after lunch in the dining room about the importance of "moving forward while promoting healthy dialogue."
Afterward, students were separated into eight groups for a discussion-based activity that was facilitated by the following faculty and staff: Joshua Neudel, Emily Luckett, Jessica Christian, Megan Dolan, Frances Fremont-Smith, Don Reese, Tom Nelson, Paul Murray, Janeata Robinson, Bethany Shannon, Mirna Goldberger, Kelly Neely, and Ted Barker-Hook.
Using sticky-notes, students and teachers silently and anonymously responded to three questions:
What words can you think of to describe any positive changes you've seen since the walk-out?
What, if anything, has prevented you from reporting or acting on an injustice(s) you have witnessed in your time at Brimmer?
What actions can you take/changes you can make in yourself to help the community move forward?
Participants posted their responses on whiteboards and were given the opportunity to silently read and reflect on others' responses. The questions were then discussed aloud in a moderated "debrief" session.
To honor the private nature of these sessions, The Gator made the decision not to quote from or show images of the statements.
As part of the debrief, each group also wrote two statements of commitment that addressed what they will do, as students and faculty, to help move the community forward, as well as what they hope the School will do in return.
At the end of the activity, students and faculty reconvened as one large group to share the statements.
Christian and Upper School Head Joshua Neudel sent an email to the parents and guardians describing the afternoon's events.
"Our goal is to engage and train our students to have constructive conversations; however, we also know that many adolescents can be both confused and afraid of saying the wrong thing," part of the message read. "These are real fears. This is an important part of their education, and we want to encourage students to share their opinions and help them understand how to express their thoughts. Most importantly they need to engage, ask questions, share ideas, listen, and be prepared to be thoughtfully engaged citizens and community members."
Before dismissing students to class, Christian said that "this is just a first step," and that the School is fully committed to continuing community-wide discussions in non-polarizing ways.