Students Walk-Out for 'Radical Compassion'
More than half of the Upper School chose to participate in today's 9:30 a.m. walk-out, which, as event co-organizer Chloe Berlin '20 told those who attended, was aimed to "help perpetuate the shared standard of radical compassion."
Students filed out of classes and down Middlesex Road, nearing the edge of the post office. They stood in silent solidarity for the victims of gun violence for 19-minutes, while Berlin and fellow event co-orgenizer Maya Bousek '19  read speeches (which are available at the end of this article).
High schoolers were accompanied by several teachers and administrators, including Head of School Judith Guild, who stood side-by-side with young people to commemorate the 19th anniversary of the shooting at Columbine High School.
By name, Bousek read aloud schools that have been impacted by gun violence before and after Columbine. She also encouraged students to register to vote, calling it the "best way to honor all of the victims of gun violence."
For her part, Berlin spoke about the reason for the event.
"Our focus was to create an opportunity for participants to think for themselves about the current cultural climate on guns and gun violence."
Local ABC and CBS-affiliated television station conducted interviews with Berlin, Stone McLaren '18 and Steven Ramsden '19, who also helped organize the walk-out. Guild and Upper School Head Joshua Neudel were also featured.
Several eigth-graders, who had written permission from a parent or guardian, also attended the walk-out.
"I think the event went really well. There was a huge turnout from students of all grades and even eighth- graders," Bousek said. "I was really happy to see our voices being heard, and the positive response to the event."
During upper school lunch, Bousek and Berlin also set up a voter registration booth for students 16 years of age and older.
"A lot of the high school students can vote, and we hope that a lot of the students that walk-out will register," Bousek said.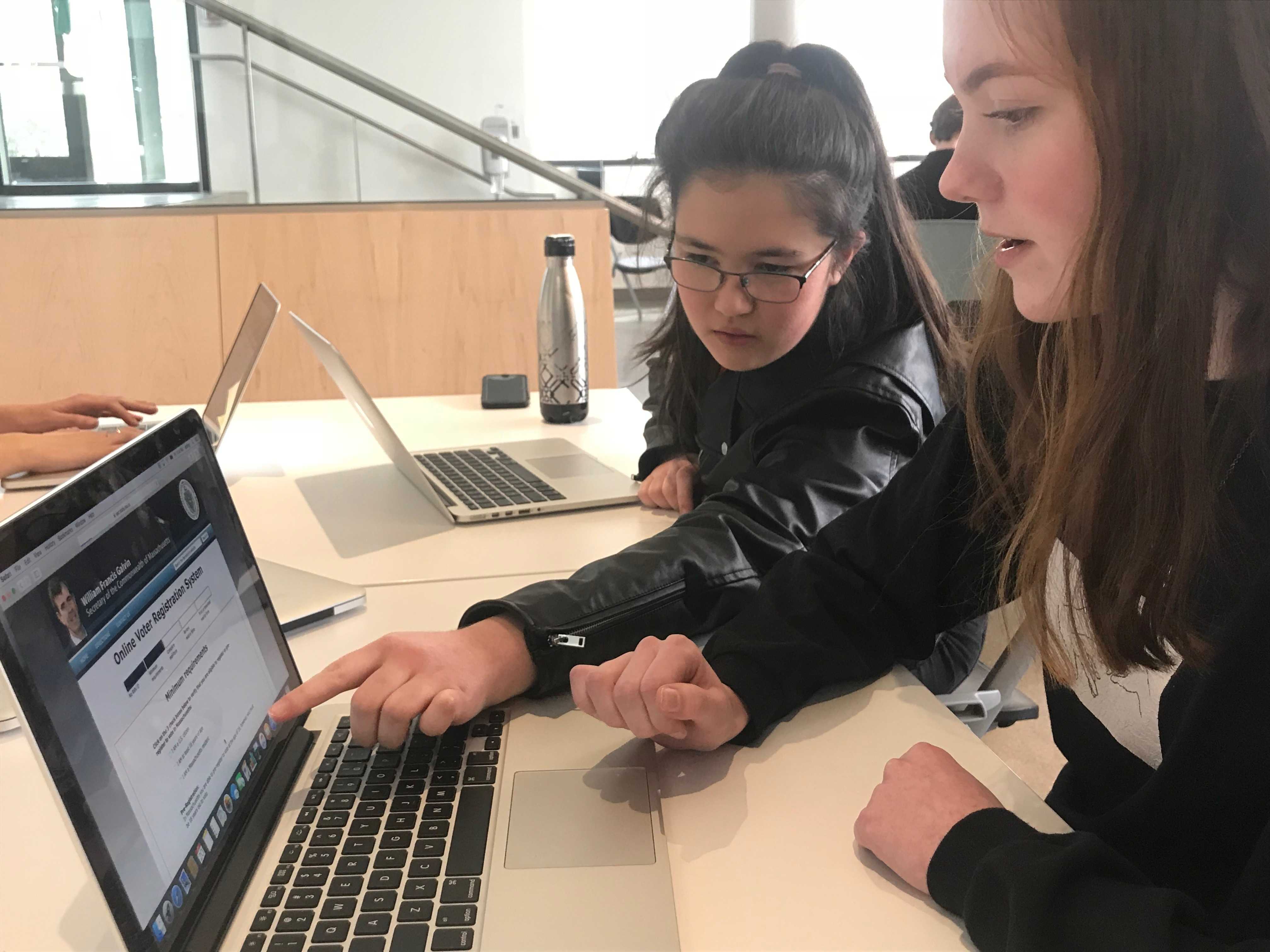 According to multiple interviews conducted by The Gator, most students who remained inside chose to do so because of meetings or assessments occurring during the walk-out.
Still, not all students agreed with the event, or the message they believe it sent.
"I respect everyone that walked out, but I did not have a strong enough opinion in the matter to participate," said James Yfantopulos '18. "I feel that in Massachusetts we have very strong gun laws that protect all students."
Maya Bousek's speech
[googleapps domain="docs" dir="document/d/e/2PACX-1vS-jMUQ-gXKrVx9Pq5fY1XoZ_10Z_sVpIqctoT0n6Hfw4_b-l95gKM27dDU-PasjiMrJSYAxuGcvDpL/pub" query="embedded=true" /]
Chloe Berlin's speech
[googleapps domain="docs" dir="document/d/e/2PACX-1vQZuj4d8sI4MH-U-mJYDvukQnYje9UTkIc-EfD_oFQVfuU0yCTby8McN67xaMGA8R4lAep1DgtRuEda/pub" query="embedded=true" /]
Leave a Comment