Fuller to Retire after 25 Years as Lower School Head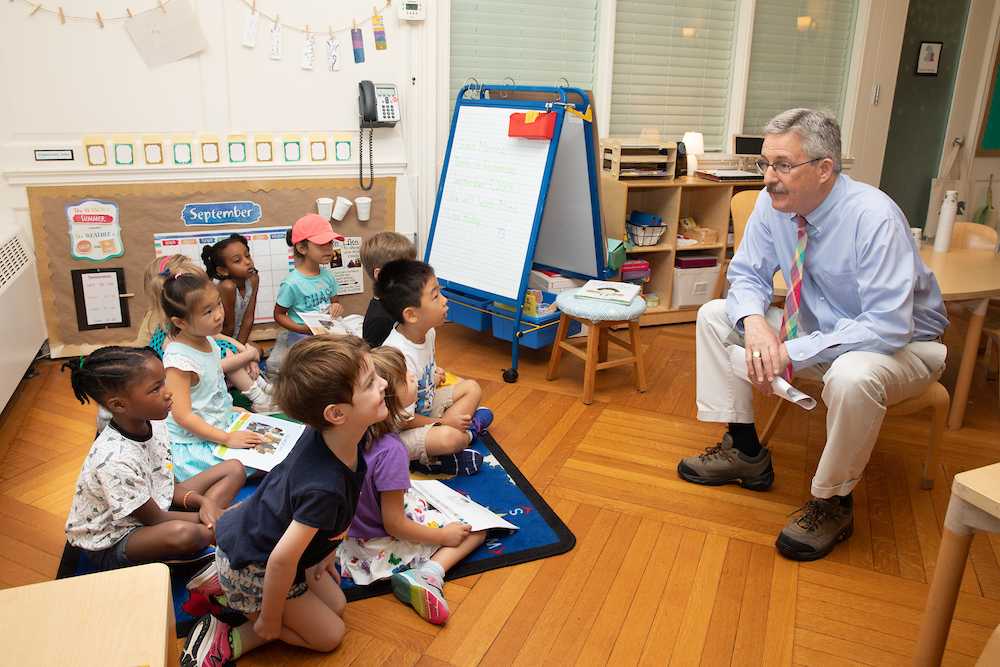 History teacher David Cutler '02 still remembers meeting Lower School Head Thomas Fuller when the administrator began here 25 years ago.
"I was entering into the building, and I'd never seen this man before, and as my friends and I walked by, he greeted us by our first name and our last name," Cutler said. "Unbelievable. He had memorized all of our faces in the yearbook, and I'll never forget that. That was so impressive, and I think it speaks a lot to how much Mr. Fuller cares about not just the bigger picture, but getting to know students on an intimate, individual level."
A member of the School's community for generations, students and faculty alike are reflecting on Fuller's impact as he gets ready to retire.
Fuller leaves behind a rich legacy of fostering a love of learning in young people, as well as introducing what he calls "Life Rules," embracing honesty, respect, responsibility, and kindness, to inspire students to think and act as responsible and ethical citizens. Fuller also thought of distributing Gators in recognition of standout behavior.
"One of the things I remember from when I came here is the teachers mentioning to me that they were struggling with a way to help guide the children in a social sense," Fuller said. "There wasn't any common language or such, and so that was where the Life Rules were born."
Avery Alperin '21 still remembers receiving Gators in Lower School.
"Getting Gators made me feel good about myself, and when I watched other people get them, it made me feel good too," Alperin said.
Cara Rittner '19, who started at the School in kindergarten, said, "He's just so kind and caring, and he really cares about the kids. They're always his number one priority, which is how it should be. He's a wonderful man. We'll all miss him" said Rittner.
Ben Kaplan '21, who also began here in Lower School, said, "I'm going to miss Mr. Fuller's presence around the School, especially on Tuesdays when I walk across the street to advisory. I always see him and say hi; it's just a nice thing."
Fuller had a vision for what would make the Lower School a model for educating young children.
"It was the teachers who are in the classroom every day, however, who had the suggestions for how to implement the changes we made and wanted to be an integral part of the change process," Fuller said. "Above all, I hope the Lower School continues to challenge students academically in an atmosphere that honors childhood."
Head of School Judith Guild, who has worked with Fuller since he first joined the faculty, said, "What I've really valued about him is his tempered approach to change. He knows that children need stability and predictability."
Emily Miller, who will be replacing Fuller as Lower School Head next fall, brings over 20 years of experience in school administration and teaching, most recently serving as the Head of School at the Nantucket Lighthouse School.
"It is evident that Mr. Fuller is a highly respected and beloved member of the Brimmer community," Miller said. "The impact of his thoughtful leadership will be felt for years to come. I am grateful for the opportunity to follow in his footsteps, and I look forward to working with him throughout the winter and spring to ensure a smooth transition."
Miller spent much of her childhood working with young children, and over the years her passion for working with children has grown.

"I grew up with two older sisters and a very large extended family that included many younger cousins whom I frequently watched," Miller said. "As a child, my sisters and I enjoyed 'playing' school and emulating the teachers we admired. I always loved working with younger children, and I spent my teen years babysitting, managing a children's clothing school, and shadowing my aunt who was an educator."
Thinking about his retirement, Fuller wants the best for all of his current and former students.
"As I look towards retirement, I wonder how I am going to deal with the fact that I will not be around students on a daily basis," he said. "Students are my lifeblood. I hope I am remembered for helping teachers become educational leaders."