Buy Tickets: 'Newsies' Promises to Deliver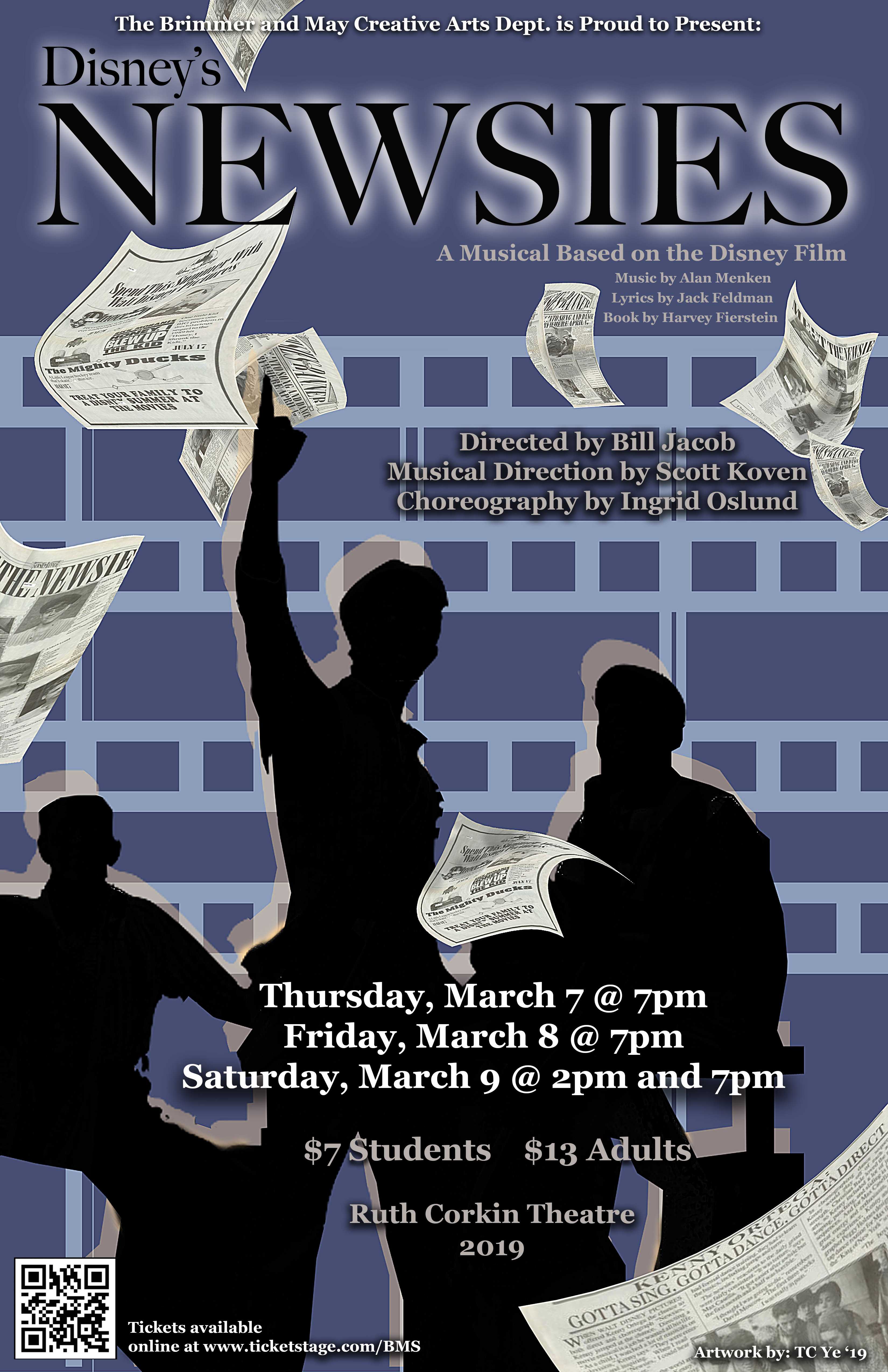 The beloved 1992 Disney musical film Newsies debuts on the Brimmer stage Thursday at 7:00 p.m., with a diverse cast spanning all grade levels. 
Like the film, the theatrical version is loosely based on the Newsboys' Strike of 1899, a youth-led campaign to change how street sellers eked out a living at the height of newspaper tycoon Joseph Pulitzer's reign.
"It's a tremendously challenging production, but we have a fantastic team working on it," Director Bill Jacob said. "It's one of the most supportive and committed casts we've had. Musical Director Scott Koven is doing excellent in his first Brimmer musical, and I'm also pleased to be welcoming Laura Hildebrand and Russell Feinstein as our lighting and technology designer, respectively. That's been a huge help."
"I'm having a lot of fun," Koven said. "It's definitely a lot of work, but it's work that I love doing. I really enjoy being with the students. We have a blast."
For the production, Ingrid Island also returns as musical choreographer, having worked with the School last year on The Adams' Family.
"I'm really glad that Newsies is my last show at Brimmer," said Cara Rittner '19, who plays the lead role of Jack Kelly. "The cast is so great and supportive of one another, and we always feel like a team, which is really important because of how many hours we're putting in."
"Everyone should come see the musical, it's really cool, there's tons of singing, and we've been working really hard to make it a great show," says Elias Kazin, who plays Crutchie, a disabled newsie with a comedic bent. 
The show also marks the debut performance of Brian Barrera '22 as Romeo, one of the newsies. 
"This experience has taught me a new style of art, and I learned that dancing, singing, and acting requires a lot of cardio," Barrera said. "I respect the sport, even though not all people consider the musical a sport, but if they actually tried it they would have a lot of fun."
Yvonne Xi '19 will be playing Bunsen, a business manager under Pulitzer.
"I'm a senior so this is my last show, and I've been in every musical and play since I came to Brimmer. It's very precious to me, and being a part of the productions was a brand new experience for me when I started here."
For the Friday performance, history teacher David Cutler '02 also makes his return to the Brimmer stage as Governor Theodore Roosevelt. Math teacher Peter Slaski role will play the role for the other three performances.
"I'm honored to grace the stage once more," Cutler said. "All the more interesting, my students will be learning about Teddy Roosevelt right after returning from break. The timing couldn't be better."
Performances occur Thursday at 7:00 p.m., Friday at 7:00 p.m., and Saturday at 2:00 p.m. and 7:00 p.m. Purchase your tickets today by clicking here.