School Offers New Courses for 2019-2020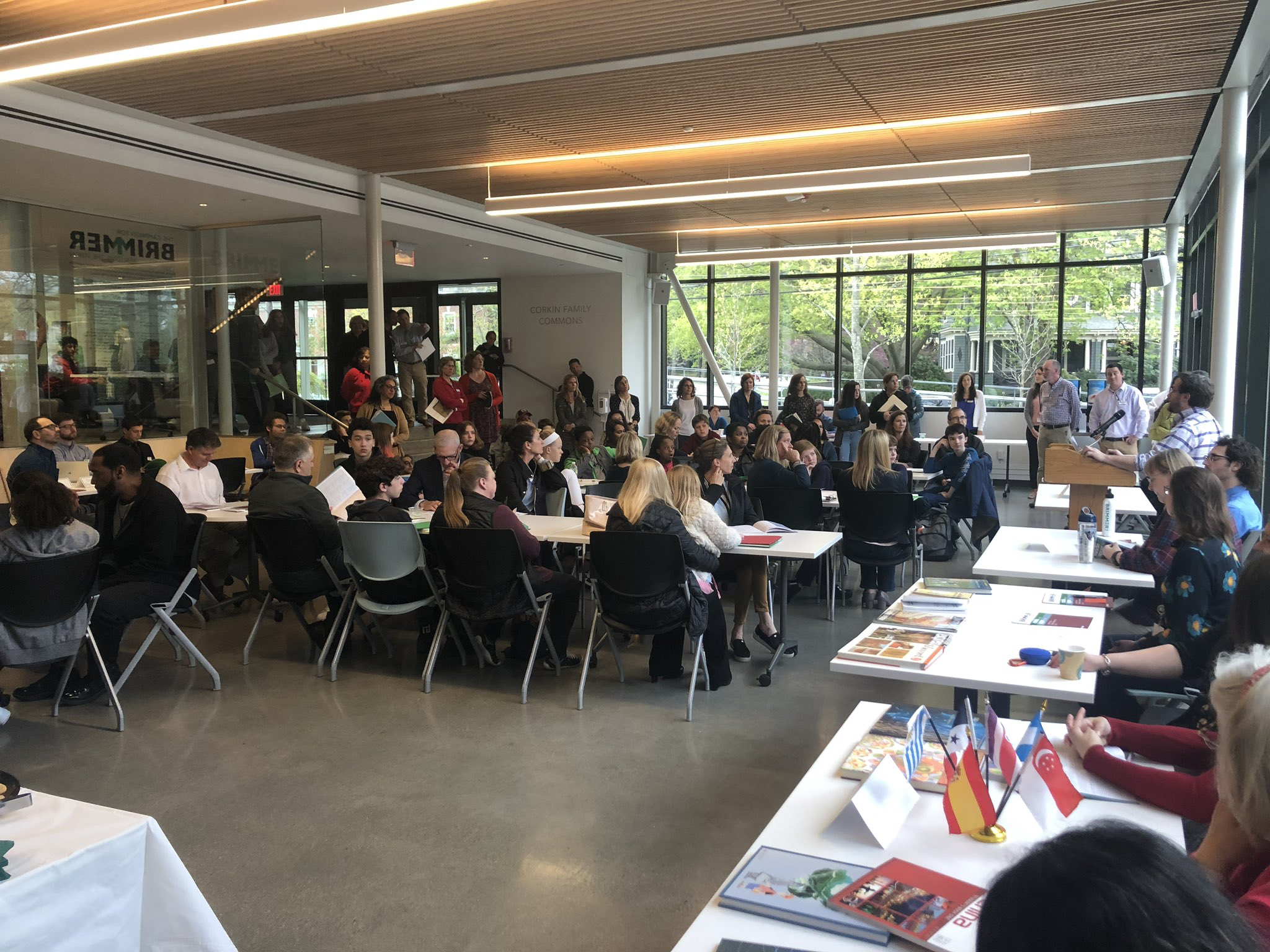 The School recently announced new course offerings for the 2019-2020 academic year. Last week, Upper School Head Joshua Neudel released class descriptions via email, which The Gator has reproduced below.
Students must submit their course selections form to Dean of Students Paul Murray by May 10.
10th Grade Wellness
Tenth grade wellness is a continuation of the 9th grade program. Students meet once a week in sections to further develop the skills learned in 9th grade. In addition, students become CPR certified. Other topics include public speaking, social emotional learning, and digital responsibility.
A Capella Ensemble
SEMESTER II, 1/2 CREDIT
A Cappella Ensemble is designed to provide an advanced ensemble singing experience for students seeking additional musical challenge. This class is performance based, with class time spent rehearsing and discussing repertoire. This repertoire consists primarily of unaccompanied arrangements of pop or jazz songs, and a cappella choral pieces in the Western Art Music tradition. Students develop advanced sight-singing and ear-training skills through learning repertoire and performing music theory exercises.
Global Diplomacy: History, Theories, and Strategies
ELECTIVE, SEMESTER I, 1/2 CREDIT
Diplomacy remains a crucial skill in our globalized world society: How can we as individuals, communities, and states contribute toward peaceful resolutions regarding con ict? How can we work toward mutual understanding and cooperation? In this semester course, students study the history, systems, and theories of global diplomacy. They also study cultural diplomacy, trade and the evolving global economy, and defense and intelligence diplomacy. Students study the routes taken by "traditional" professional diplomats, such as those in the state department or ministries of foreign affairs, from embassies to the United Nations.
Case studies involving successful and less successful attempts at using diplomacy to solve international problems are studied to gain critical knowledge of world events and the actors that shape them both publicly and behind the scenes. The class also delves into new trends in global health diplomacy. This elective would be great for those doing Model UN and counts for Global Studies credit.
History of Hip Hop
SEMESTER I, 1/2 CREDIT
This class examines the phenomenon of hip-hop music in contemporary American culture, from its roots in 1970s New York City to the present day. Students explore the development of the DJ and the MC as artistic and cultural gures, the advent of rap and its in uences on popular music across the globe, the role of graf ti and breakdance within hip-hop culture, and intersections between art and politics within the eld of hip-hop and rap. Using primary and secondary sources, students consider rap and hip-hop in its complex cultural context. Students listen to music, observe dance performances, watch and listen to recorded interviews, and read rsthand accounts, as well as trying their hand at creative self-expression inspired by their observations.
"My goal would be to cover pretty much the entire history to get an overview of the genre and the style," band teacher Luca Antonucci said. "Right, so we want to understand where it comes from and how it developed and where it is now and where it's going."
Musical Theater: Music, History, and Repertoire
SEMESTER I, 1/2 CREDIT
In this course, students explore the history and evolution of American musical theatre, while concurrently acquiring tools to analyze, rehearse, and perform pieces from contemporary and classic musicals. By tackling and discussing texts and primary sources, students examine not only the history of the art form, but also the signicant cultural contributions of the works to the world at large. Students are assigned solos, duets, and group numbers, and are coached through rehearsal exercises to develop a deeper understanding of their assigned songs and of the ways actors must balance musicianship, movement and spatial awareness, and the psychological motivations of their characters. Furthermore, students analyze the work of their peers and receive feedback from not only the instructor but also other students and guest artists. The course culminates in a public exhibition of student work from the semester.
Popular Culture in American History
GRADES 10, 11, AND 12, ELECTIVE, FULL YEAR, 1 CREDIT OFFERED WITH HONORS 
Through a pop-culture lens, this course examines four critical periods in American history. First, by examining the American Jewish experience through the superhero comic book genre, students learn about how the "Man of Steel" represented more than just an alien from another planet who could leap tall buildings in a single bound. Students delve into the history of Jewish immigration to America and how comic book creators used the medium to ght aggression and appeal to humanity. Students also learn how Captain America, as well as lesser-known comic book characters, reacted to the dreams and fears of Americans during World War II and the Civil Rights Movement. In the second semester, students take a deep dive into the Cold War, while also exploring how and why the United States government targeted comic books for subverting young minds. Lastly, students learn about 9/11 and how the horrific event has shaped modern interpretation of superheroes—in comics as well as in film.
This course is reading and writing intensive and, in addition to the required books, students also read supplemental materials.
The Supreme Court: Race, Sex, and Marriage
GRADES 11 AND 12, ELECTIVE, SEMESTER I, 1/2 CREDIT
All of us are affected by the decisions made by the highest court in the land. Not all of us know why the Supreme Court has the power to make those decisions, how they are made, and who makes them. Beginning with the founding of the Court, students explore Supreme Court jurisprudence around three issues: race (using cases such as: Dred Scott, Plessy, Brown, Worcester v. GA, Korematsu), sex, and marriage (Loving v. VA, Bowers v. Hardwick, Lawrence v. TX, Griswold v. CT, Roe).
Humanities teacher Cassandra Abodeely hopes that this class gets students thinking about government, and how laws are made.
"I look forward to having the opportunity to teach young people about forces that are really important in our day-to-day lives. "I think the Supreme Court has always been important in that respect. Students will engage in a number of debates, and the class will be very interactive." 
World Music
SEMESTER II, 1/2 CREDIT
This course offers a survey of musical styles from around the world. Students explore selected musical traditions from North and South America, Africa, the Middle East, India, Europe, and Southeast Asia. Through a range of primary and secondary sources, students learn about the history and development of each style and analyze the role music plays in a wide range of cultures. In addition, students listen to recordings, attend live performances, and learn to play music on traditional instruments where possible.
ENGLISH ELECTIVES
African American Literature and Its Context
GRADES 11 AND 12, ELECTIVE, FULL YEAR, 1 CREDIT OFFERED WITH HONORS
This class is a survey of literature written by African- Americans from the 18th century to the present. Students encounter a wide range of texts by a wide variety of authors, asking questions like: "What is important about being represented in literature?" "Is there a difference between literature by people de ned as central to a culture as opposed to people de ned as marginal?" "What is the nature of inner life as it is represented in texts by African Americans?" Major texts may include: Passing, Nella Larsen; The Street, Ann Petry; A Raisin in the Sun, Lorraine Hansberry; If He Hollers Let Him Go, Chester Himes; Notes of a Native Son, James Baldwin; Citizen, Claudia Rankine; The Sellout, Paul Beatty; and Jazz, Toni Morrison. Additional texts include short stories, poetry, and essays by James Baldwin, W.E.B. DuBois, Ta-Nehisi Coates, Zora Neale Hurston, Ross Gay, Tracy K. Smith, and many others.
Crime and Punishment: Criminality in Literature
GRADES 11 AND 12, ELECTIVE, FULL YEAR, 1 CREDIT OFFERED WITH HONORS  
The United States incarcerates more people, per capita, than any other country on earth. However, what constitutes a crime has changed over time. This class explores literature and lm that address crime, criminals, and the way in which they are punished. The fall semester is focused on the depiction of crime and criminals in literature and the second semester examines literature that addresses how crime is dealt with in our society. Major texts may include: Columbine, Dave Cullen; Discipline & Punish, Michel Foucault; The Merchant of Venice, William Shakespeare; In Cold Blood, Truman Capote; The Autobiography of Malcolm X, Malcolm X; Alias Grace, Margaret Atwood; and Rita Hayworth and Shawshank Redemption, Stephen King. Additional texts and lms may include: short stories by Angela Carter, Kafka, and George Saunders, non ction essays by Ta-Nehisi Coates and Roxane Gay, and the Ava DuVernay documentary 13th.
The Terrifying Other: Visions of Race and Gender in Horror Fiction
GRADES 11 AND 12, ELECTIVE, FULL YEAR, 1 CREDIT OFFERED WITH HONORS
This course looks at horror fiction and ask the simple question "What are we afraid of?" As students answer that question, they inevitably run up against interesting questions about imagination and perception: Who is at the center of horror ction? Who is endangered and who is dangerous? Who counts as a monster? What is an Other? Why do we create them? How have horror lms and horror ction reinforced and questioned social hierarchies and cultural blindnesses? Major Texts may include The Ballad of Black Tom, Victor LaValle; Get Out, dir. Jordan Peele; Beloved, Toni Morrison; The Turn of the Screw, Henry James; Grendel, John Gardner; The Mere Wife, Maria Dahvana Headley; and stories by H.P. Lovecraft, Edgar Allan Poe, Shirley Jackson, Stephen King, and more.
Leave a Comment