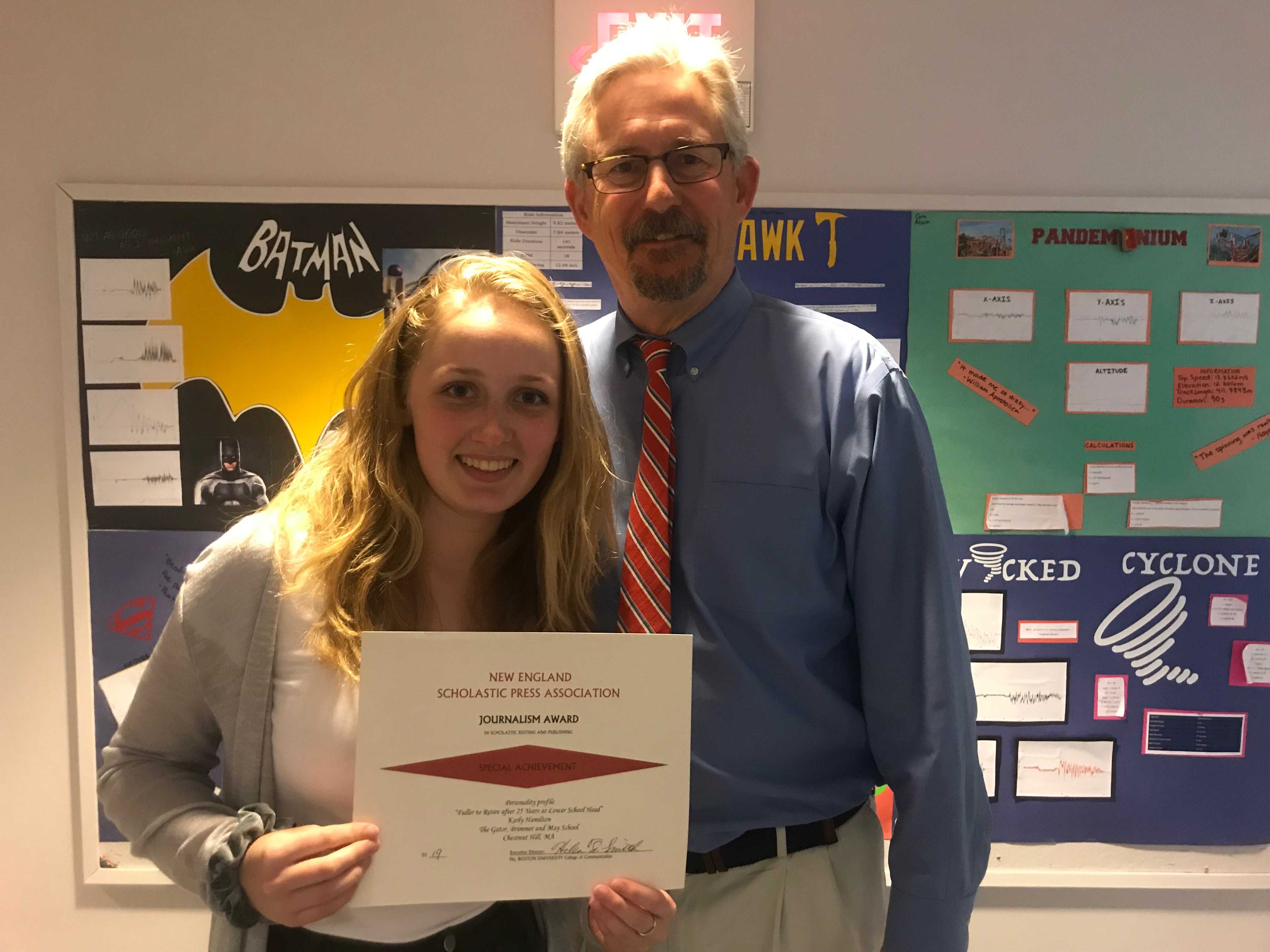 The Gator recently won eight special achievement awards from the New England Scholastic Press Association, including a coveted "All-New England" prize in editing and publishing.
This marks the most awards that the newsroom has received in a single year from the region's premier scholastic journalism organization.
"I am very proud of the editors and writers, who have put forth their best effort into writing award-winning stories," Co-Editor-in-Chief Caroline Champa '20 said.
Adviser David Cutler echoed Champa's sentiments, also adding that he is "floored" by the sustained level of skill and commitment of the student-journalists.
"Year in and year out, our students produce the highest quality work," Cutler said. "This says something about the quality of instruction here at Brimmer and May."
Until mid-April,
The Gator
was lead by former Editor-in-Chief Abigail Mynahan '19, former Executive Editor Jared Heller '19, former Managing Editor Caroline Champa '20, and former Multimedia Manager Michelle Levinger '19.
With the annual change in leadership, the newsroom is currently overseen by Co-Editors-in-Chief Camille Cherney '20 and Champa, Executive Editor Miles Munkacy '20, Managing Editor Karly Hamilton '21, and Multimedia Manager Sophia Spring '22.
Individual awards
Special Achievement Award for news writing, Molly McHugh '21, School Acquires Access to Mt. Ida Athletic Facilities (2018)
Special Achievement Award in artwook/cartoon, Michelle Levinger '19, Op-Ed: Take a Stand Against Transgender Military Ban (2019)
Special Achievement in artwook/cartoon, Michelle Levinger '19, Grade Inflation at Private Schools (2019)
Special Achievement Award in feature writing, Jared Heller '19 and Abigail Mynahan '19, Brimmer not Immune to Vaping Trend (2019)
Special Achievement Award in column writing, Miles Munkacy '20, Op-Ed: The Importance of Student Voice (2019)
Special Achievement Award in personality profiles, Karly Hamilton '21, Fuller to Retire after 25 Years as Lower School Head (2019)
Newsroom awards
Highest Achievement in Scholastic Editing and Publishing (2019)
All-New England Achievement in Scholastic Editing and Publishing (2019)