Urinetown: More Family Friendly Than You'd Think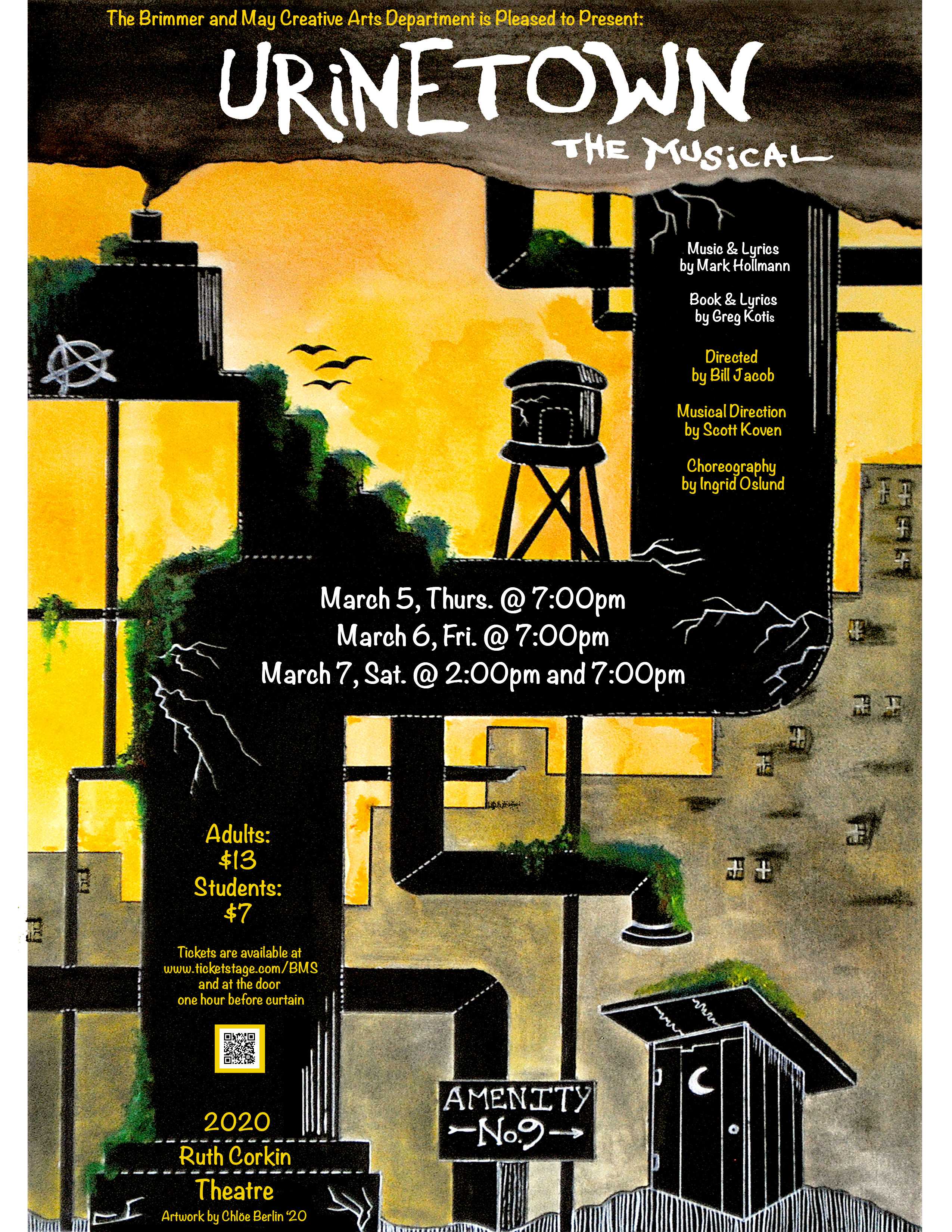 Since his fall announcement of Urinetown as the Upper School musical, Director Bill Jacob has expressed apprehension regarding projected attendance simply because of the production's title.
"I think the Brimmer audience is always more interested in titles they are already familiar with," Jacob said. "Doing a production with a controversial and potentially off-putting title like Urinetown, requires us to put more effort into drawing audiences in to see what will be an incredibly funny and entertaining show."
The show is a satire about a young government worker, Bobby Strong, who starts an anti-authoritarian revolution. Despite the title, the show is not the least bit obscene, nor does it focus on gratuitous bodily humor.
The musical , which premiered in 2001, features music by Mark Hollmann, lyrics by Hollmann and Greg Kotis, who also wrote the book.
Below, The Gator spoke with Jacob to get more insight.
If you have them right now, what are the projected attendance numbers?
Attendance at any of our theatre events is tremendously dependent on the calendar and on the weather. If a show falls on a long weekend when many families go out of town, or if the show falls on a weekend with spectacular weather, it can be difficult to draw a crowd. For an US musical, we generally have about 150–200 people attending on a Thursday night, close to a full house, about 300, for a Friday night and fewer attendees on the Saturday matinee and Saturday night performances.
Why do you think people are apprehensive about going?
Let's face it, Urinetown: The Musical is a provocative title. For those who are unfamiliar with it, it conjures images of nothing but potty jokes. But that couldn't be further from the truth. In fact, for those who saw it when it first came out in the early 2000s the fact that it was nominated for 10 Tony Awards and won three, including Best Book and Best Original Score, was entirely justified. For many people who work in theatre or just love Broadway, it is among their top 5 contemporary musicals.
What do you think the musical is actually about?
Urinetown: The Musical is a satirical musical comedy that satirizes the legal system, capitalism, social irresponsibility, populism bureaucracy, corporate mismanagement, and municipal politics. The show also parodies musicals such as The Threepenny Opera, The Cradle Will Rock, and Les Misérables, and the Broadway musical itself as an art form.
What message would you want to say to those people who may have reservations about the musical?
Urinetown is a contemporary morality play with an important message about conservation and political responsibility, told in a broad, musical comedy style. There's no adult language or sexual innuendo, though there is some brief, cartoon violence when evil is inevitably punished. Urinetown's comedy extends far beyond toilet humor, as well; the lyrics and jokes are clever enough to appeal to adults, and clean enough for children younger than high school age. Despite the off-putting title, we think it is the funniest musical Brimmer has produced in years, and we hope you enjoy it.
Come and see it! Bring your children, bring your friends, bring your grandparents! It's a tremendously relevant musical, even more today than when it was first produced.
Why did you choose Urinetown over other musicals?
We had a difficult time this year. We were set to perform a different musical, but we were unable to secure the rights. After a good deal of research, we came upon another musical we liked, but found that the rights to perform that show were restricted as well. My production team and I have always had a fondness for this show, and given the current state of affairs in our country and our ecology, it seemed even more relevant. But the school has been reluctant to embrace a show with such a provocative title. As it turned out, Mrs. Iuliano saw a production at the Park School this summer and she raved to me about it. She gave me the idea to try suggesting the show one more time, and to our delight the school administration agreed to produce it.
Beyond my own desire to produce the show, I knew that our actors would really have fun with the ironic approach that the musical uses, the intense dance sequences and the sense of humor that pervades the piece. I knew we could do it well, and the actors in this production are living up to my expectations. I think it's the funniest thing we've produced in a long time.
Editors' note: To purchase tickets, go to (www.ticketstage.com/BMS ).
Leave a Comment
About the Contributor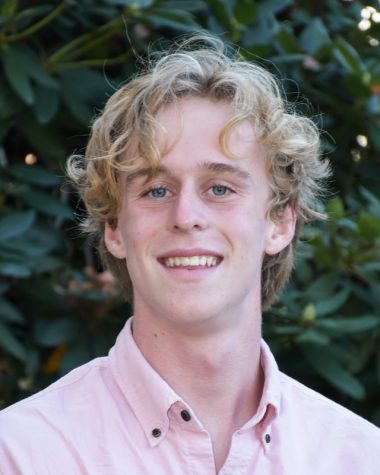 Brian Gamble, Managing Editor
Brian enjoys playing lacrosse, running, and hanging out with his friends. He is excited about joining the newsroom and writing exciting stories.