School Responds to Coronavirus
The School is taking precautions to combat the coronavirus, canceling events and trips while also preparing for distance learning in case of a prolonged closure.
This afternoon, Head of School Judith Guild announced that the School will be closing for the upcoming break a day early due to the virus.
"In an abundance of caution and for the safety of our community, we have made the decision to close school at the end of the academic day today and begin spring break one day early," Guild wrote in an email to faculty and staff.
This decision was made as a precaution, not in response to an identified case within the community. Guild's email also urged people to read tomorrow's bulletin for additional information.
Over the past few months, the coronavirus, more accurately referred to as 2019-nCoV, has migrated from China to other countries, with a fast-growing presence in the United States. On March 10, Massachusetts Governor Charlie Baker declared a state of emergency, but local health officials report that the risk to the general public still remains low. Baker's announcement followed news that health officials identified "51 new presumptive positive coronavirus cases in Massachusetts on Tuesday, bringing the state's total to 92."
In last week's bulletin, Guild announced out of an abundance of caution, summer trips to China and Argentina had been canceled. Monday, the 7th grade trip to Washington D.C. was also canceled, as the nation's capital faced an uptick in cases over the weekend.
"Out of an abundance of caution, we are canceling the trip [to Washington D.C.]," Middle School Head Carl Rapisarda-Vallely wrote to families via email. "While we recognize the risk is low, the situation is so dynamic that it does not feel right to travel at this time and be in large, public spaces."
As a further effort to prepare for the possible effects of coronavirus and school cancellation, students and faculty members have undergone training to implement distance learning using Canvas, the School's online learning management system (LMS), as well as Zoom, a popular video conferencing platform.
"The two largest pluses [of Zoom] are that it is extraordinarily easy to use for the recipients, and secondly, it integrates with our existing LMS, Canvas, really well," Director of Technology Michael Langlois said.
During Wednesday's activities block, Upper School students were introduced to Zoom in case the need for distance learning arises, which would include a truncated schedule.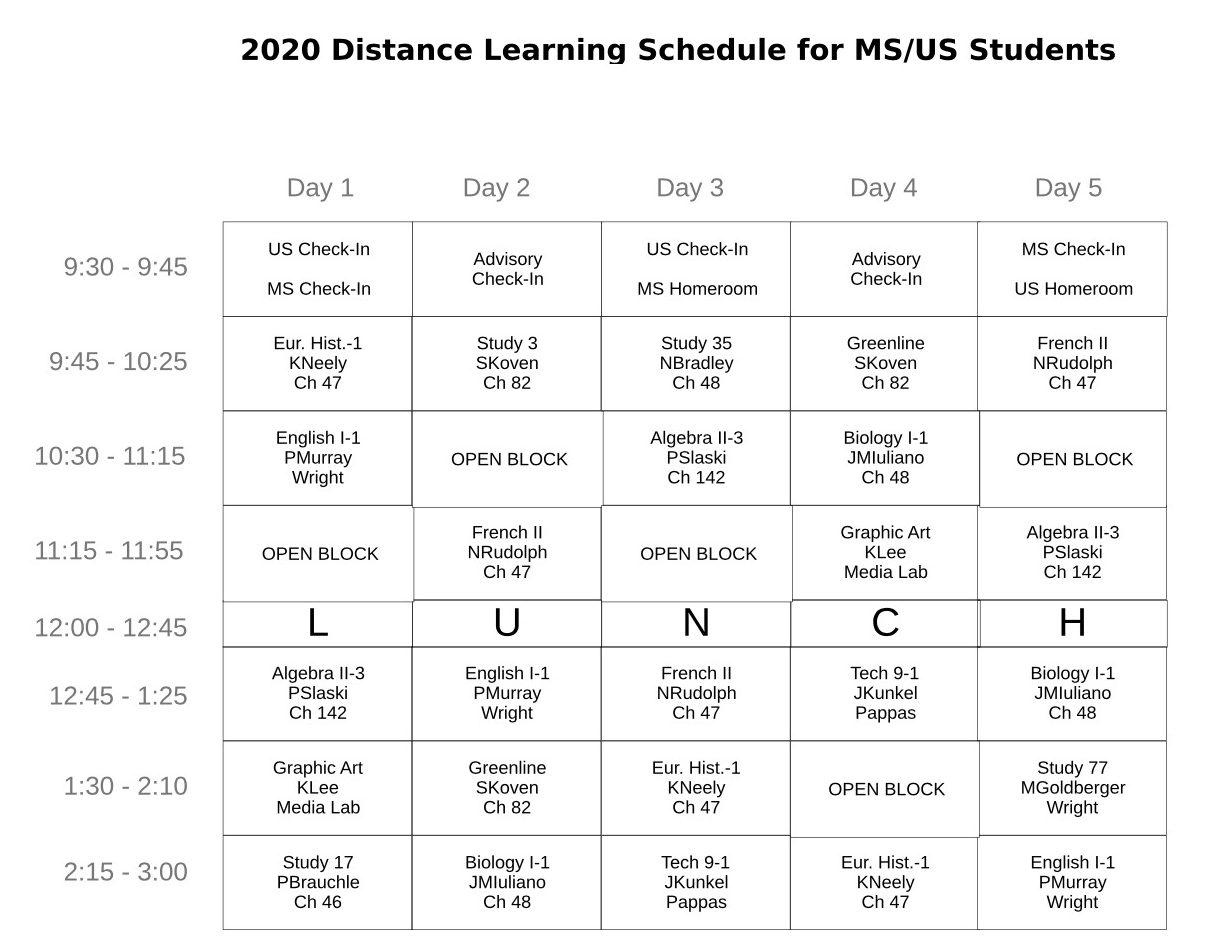 "Our faculty are reviewing their needs and processes, and the Technology Department is preparing the equipment and software for distant learning should we need it," Guild wrote. "If we need to close school for an extended time, you can expect clear communication about our plans for programming."
Other precautions being taken include the cancellation of community events, including Wednesday night's affinity group dinner, any off-campus outings, Thursday's night's performance of a Lower School play, spring break camp, and gym, theater and classroom space rentals from outside organizations.
"We, like many area schools, have made the decision to cancel all upcoming community events through spring break," Guild wrote.
As an additional effort to get ahead of the virus, international students have been asked to remain in the country during the upcoming break to reduce the chances of interacting with coronavirus. To help limit exposure, School Nurse Beth Escobar has asked community members to share travel plans with her.
"I have asked our faculty and staff to share their March break plans with me, and I am asking Brimmer families to do the same," Escobar said. "I will be the keeper of the information and it will not be shared. This request is a very important one to keep our community safe and healthy, and I do hope to hear from all of you."
International student Betty Wang '21 is not upset that her trip to China over break has been canceled.
"If I go back home, they are afraid that I'll bring the virus back when the situation is finally getting better in China," Wang said. "In my city, there have been no new cases in the past 48 hours, whereas here, the number of cases is growing."
Others, such as Avery Alperin '21, are frustrated by the complications the virus has caused in her vacation plans.
"I was supposed to do college tours over break, but certain colleges are canceling tours," Alperin said. "I'm not surprised that they canceled tours, but I'm a little worried I won't be able to find another to visit the colleges I want to."
While community members are concerned about their plans for the break, the School, along with the vast majority of other private and public schools in the area, has not followed the lead of several nearby colleges and universities.
Harvard, MIT, and Amherst College recently announced major changes in reaction to the virus, including campus shutdowns. Boston Mayor Marty Walsh tweeted the cancellation of the Saint Patrick's Day Parade, scheduled for March 9.
Walsh said that "[the] decision is being made out of an abundance of caution to ensure that we are doing what is needed to keep the residents of Boston safe and healthy."
In an email to faculty members on March 10, Guild wrote that the School is "planning to remain in school for the remainder of this week as are neighboring town schools and communities who are addressing the same scenario we are experiencing."
Guild also reiterated that she and the administration will continue to adjust to the situation accordingly, leading to Friday's closure.
Editors' note: This is an evolving story, which was most recently updated on March 12 at 6:00 p.m.