The Impact of COVID-19 on College Sports
Since the NCAA suspended all remaining sports seasons in mid-March, a question has lingered about the state of college athletics next year, including for freshmen to play at the next level.
Here, several seniors hoping to compete at the collegiate level, have to deal with a new and uncertain reality.
Under this category falls Caroline Champa '20, who is poised to play tennis and squash at Connecticut College. She was forced to miss her high school tennis season this year, and now faces the prospect of not getting to play next year either.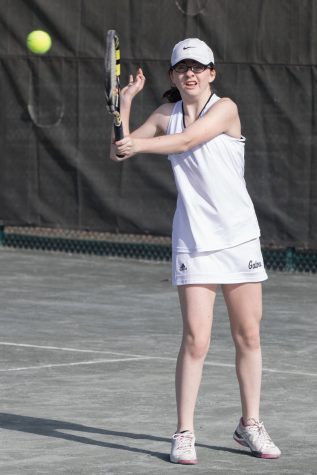 "While there have been no direct guidelines for college tennis yet, the United States Tennis Association published a set of safety rules for all players to follow when returning to the courts," Champa said. "If a tennis ball were to roll onto another court or other side of the net, one may use their racquet or foot to send it back, not using their hands. Hopefully, by the start of the season, doubles will be allowed, but since that requires close contact and strategizing, it is not allowed yet."
Champa, a double-threat athlete, has brought to light a problem with competitor and social distancing policies.
"In late April, US Squash announced Preliminary Facility Reopening Guidelines for phase one of opening facilities," Champa said. "These issued guidelines released by US Squash are tough as two opponents face off in a small contained court. If players are from the same household and have followed quarantine guidelines, then they can play on the same court otherwise, two players can play on the doubles court, making sure to maintain sides. [Many of] these preliminary guidelines really limit the game of squash. Hopefully, as the winter months approach, these guidelines will change so that squash can resume back to normal."
Anja Westhues '20, who is preparing to run cross country at Occidental, says that the her college has taken to keep her trained and informed.
"I'm very happy with Occidental's overall transparency surrounding the situation," Westhues said. "As of now, my team is still planning for the season. Occidental will release its plans by June 15. Our coach recently sent us our training plan, which I have begun to follow."
Other factors are affecting college athletics, such as the NCAA announcing an extra year of eligibility for senior athletes, which causes problems with whether scholarships should be granted to freshmen or those hoping for extra eligibility.