For Third Year, Newsroom Wins Gold From Columbia
The Columbia Scholastic Press Association recently awarded The Gator All-Columbian Honors in all three major categories for the 2019-2020 academic year, a first in newsroom history.
The publication also earned a "Gold" distinction for the third consecutive year. The recognition comes after The Gator was recently named a Crown Finalist, the nation's top scholastic award.
Bringing in a total of 976 out of 1000 overall points, the award is the highest honor the newsroom has received from CSPA. Last year, The Gator earned 934 points.
Editor-in-Chief Karly Hamilton '21 was delighted to hear about the recognition.
"Our writers worked so hard last year, and it is always a beautiful moment when that pays off," Hamilton said. "I am so proud of everything we accomplished, and I firmly believe that The Gator will continue to shine in the years to come.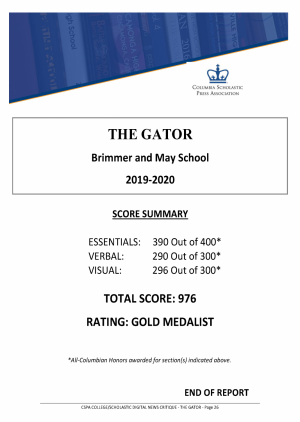 CSPA highlighted the site's COVID-19 category, calling essays "riveting," "outstanding," and "so personal [and] poignant; narratives capture the heart-wrenching effect of the pandemic," according to the critique comments.
"[The Gator's] writers provide insight on serious topics with strong verbal storytelling; it is evident that your writers have found their voice and careful editing refines the message," the critique reads.
Scoring the highest in the Visual category with 296 out of 300 possible points, the judge suggested adding interactive infographics and improving visual interest throughout the site in the future.
"I am thrilled for the newsroom to receive such a high honor," Executive Editor Edan Zinn '23 said. "I couldn't be more proud of everyone on staff last year, and I can't wait to see what we can achieve in the future."
Adviser David Cutler also shared his enthusiasm for the newsroom's continued success.
"Even in the middle of this unprecedented pandemic, with the newsroom uprooted from its usual routine and culture, the student journalists come to amaze," Cutler said. "I look up to these amazing people, who through their words and actions inspire me beyond measure."