As COVID-19 Vaccines Roll Out, Mask-Wearing Remains
As the nation struggles to meet demand for COVID-19 vaccines, health officials continue to promote mask-wearing to prevent spread of the virus.
Unlike during the initial outbreak last March, mask options are now widely available and vary greatly. From lightweight to more stylish masks, recent reports offer clashing opinions over which option provides the most protection. However, the two leading candidates are medical-grade masks.
History teacher David Cutler has worn a new KN95 mask every day since returning to campus. He buys his masks from WWDOLL in packs of 50, which cost $69.74 on Amazon.
"I am so grateful for how the campus has updated its air filtration system, how the School tests students and adults weekly, and how social distancing and masking is taking so seriously," Cutler said. "As a bit of a nervous person to begin with, I wear a KN95 just to feel a little more secure. For me, it's worth the added cost. I should note that I also wear a KN95 wherever I am, not just at School."
Brian Gamble '23 used to wear a KN95 mask, which made him feel more secure.
"But right before winter break, I just couldn't take wearing the KN95 anymore. By midday, the back of my ears ached from the tight fit, making it more difficult for me to concentrate in class and be present in the moment."
The N95 is widely regarded as the United Stated standard for healthcare use, with its KN95 counterpart in China. According to New York Magazine, both masks are made from multiple layers of synthetic material, typically a polypropylene plastic polymer, and are designed to fight tightly over the mouth and nose. They both filter out and capture 95 percent of tiny 0.3 micron particles in the air, hence the "95" in their names.
Shaz Amin, the founder of WellBefore, an online mask supplier, provided clarity on the fabrics used in N95 masks.
"Due to the multiple layers of non-woven fabric and melt blown fabric in the N95 masks, the strong material makeup of these masks are great at preventing airborne particles from entering through your mouth and nose," Amin told the Rolling Stone.
Recently, the Centers for Disease Control and Prevention (CDC) reported on the benefits of double mask-wearing to match the effectiveness' of a KN95 or N95 mask.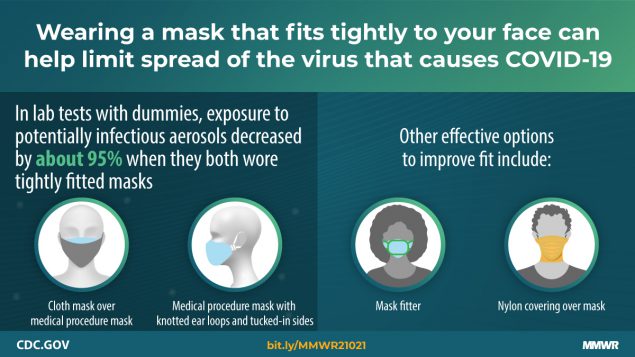 School Registrar Janeata Robinson recently moved to double-masking.
"I would say this has been the second week of wearing it," Robinson said. "I don't really feel any difference safety-wise, but if trusted health officials are making the suggestion it must be beneficial."
Zakkai Mares-Van Praag '22 takes the train to-and-from School everyday.
"Sometimes, it's crowded, so it makes me feel safer to wear two masks as a more secure layer next to strangers," Mares-Van Praag 'said. "A member of my family is also high-risk potentially, so the slight discomfort of a second mask is worth the increased safety in my opinion."
During last Friday's morning meeting, Upper School Head Joshua Neudel spoke about the CDC's report, while also urging students to be mindful news consumers.
"This is a good example of the importance of digital literacy and the reason why people need to be critical readers when looking at information," Neudel said. "This is especially true when it comes to scientific research which can seldom be summarized by a headline or a few sentences."
According to Neudel, everyone should be mindful of where they obtain information about science and medical developments. 
"I shared this story this morning, as a way to show how it is important that we know where our information is coming from," Neudel said. "Not because I was offering an opinion on whether to wear one mask or two masks—I choose to wear two masks in certain situations when I think I want to have additional protection."