Over 30 US Governors Oppose Refugee Resettlement
Driven by security concerns after the attacks in Paris and San Bernardino, over half of the nation's governors say they are "not accepting" Syrian refugees.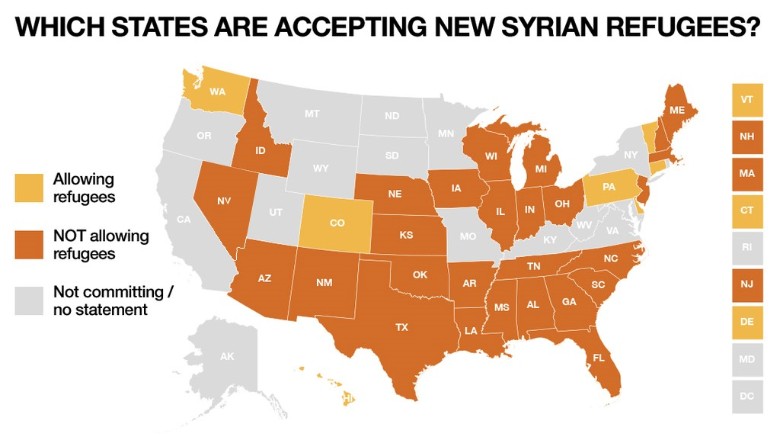 "I've issued an executive order directing state agency heads to prevent the resettlement of Syrian refugees in GA.," Republican Governor Nathan Deal tweeted last month.
Mississippi Governor Phil Bryant agreed, also telling reporters that he "will do everything humanly possible to stop any plans from the Obama administration to put Syrian refugees in Mississippi."
He continued, "The policy of bringing these individuals into the country is not only misguided, it is extremely dangerous. I'll be notifying President Obama of my decision today to resist this potential action."
Despite these calls, the 1980 Refugee Act gives the federal government complete authority when it comes to refugees. "Legally, states have no authority to do anything because the question of who should be allowed in this country is one that the Constitution commits to the federal government," American University law professor Stephen I. Vladeck was quoted as saying in a Nov. 19 CNN article.
However, Vladeck noted that without the state's participation, the federal government would have to go through hoops to pull it off. "So a state can't say it is legally objecting, but it can refuse to cooperate, which makes thing much more difficult," he says.
State governments could potentially refuse to pass any federal money to nonprofit organizations that assist refugees.
That wouldn't necessarily stop the refugee resettlement process, either. The federal government could find a workaround by distributing money directly to nonprofits, working with local governments to resettle refugees in a state that refuses to cooperate. It would simply make the process "much harder and for no good reason," Melanie Nezer, senior director for U.S. programs and advocacy at HIAS, a national refugee resettlement organization, tweeted last month.
Governors that oppose the administration's  refugee policy are pushing the limits of their authority, trying to circumvent the intent of the federal law. At the a time when we need cooperation and compromise, they are part of a political movement that requires at all costs.
[polldaddy poll="9225399"]
Leave a Comment