Student COVID-19 Vaccinations Begin
Edan Zinn, Outgoing Editor-in-Chief
April 30, 2021
Over a week after Massachusetts expanded COVID-19 vaccine eligibility to people ages 16 and up, more community members here have received a dose of the vaccine, including students in the Upper School.
Through MassVax vaccination sites, local pharmacies, and other COVID-19 vaccine clinics, many students have been quick to secure appointments as Massachusetts's vaccine rollout continues at an unprecedented rate. According to statistics by Our World in Data, 35.1% of the state's population is now fully vaccinated against the virus.
Some Upper School students are already fully vaccinated against COVID-19 due to their status as an essential worker or other qualifying factors.
Alphonse Houndegla '21 received his first dose of the vaccine early due to his job in building maintenance.
"I got it a couple of weeks ago, and it took longer than it should have, honestly," Houndegla said. He is not alone, as many essential workers in the state have pushed for a higher position of eligibility for the vaccine.
Houndegla also believes that some facilities could do a better job at distributing the vaccine, noting that he was the only person in line at the vaccination site he went to, waiting an hour and a half to get his first dose.
"It shouldn't take an hour and a half for one person to get the shot," Houndegla said.
Marlo Frank '22 also experienced a wait time that was longer than expected.
"Scheduling my appointment was pretty difficult, and it took around five weeks of searching to actually find an available location," Frank said.
After scheduling the time and date of her appointment, Frank said the process was easy.
"I got the shot, they made me wait 15 minutes, and then that was it," Frank said. "It was definitely worth the annoyance, and it's really nice to see that everyone is starting to get vaccinated."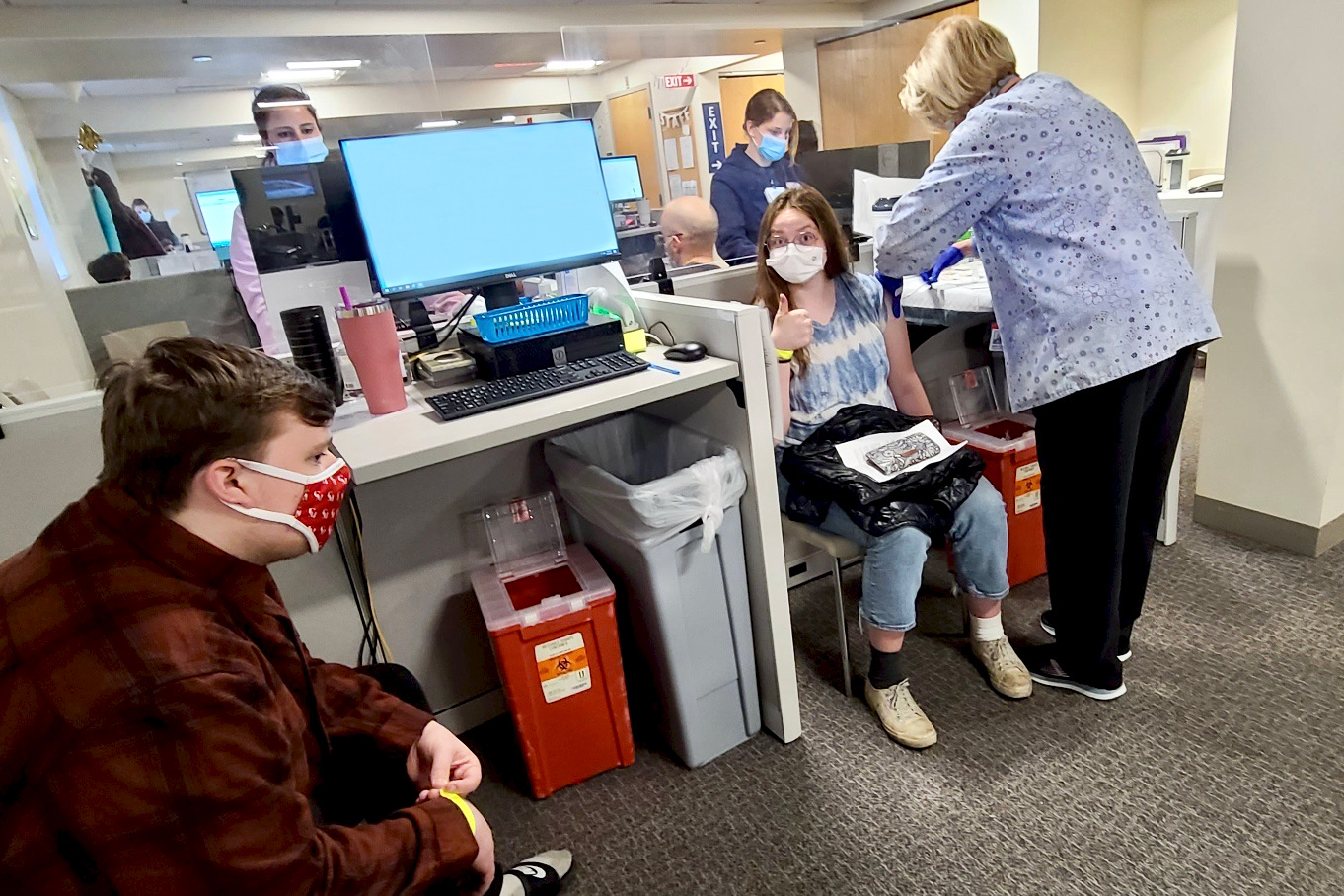 While many students have booked appointments as slots fill up quickly at vaccination sites, others are left behind, waiting days or weeks to find availability near them. Even those preregistered for appointments at MassVax vaccination sites are facing limited availability since nearly 1.7 million additional people became eligible last Monday.
Last month, Marco DeMelo '23 found out his doctor's office did not have an adequate supply of the Pfizer-BioNTech vaccine, the only vaccine approved for 16- and 17-year-olds.
"I had to go to CVS to schedule an appointment and wait in line, and after waiting for several weeks, I finally got my first dose two days ago," DeMelo said.
DeMelo, who has been learning concurrently this year due to COVID-19 concerns, said that while the vaccine will allow him to return to in-person school full time, he enjoys the freedom of attending school while at home.
"When I was on campus at the beginning of the year, I felt really enclosed with the lack of movement in classrooms and limited social interactions at school due to the restrictions," DeMelo said.
Despite difficulties with scheduling appointments, the growing numbers in COVID-19 immunizations have given many hopes that the community is one step closer to normalcy as the School continues to encourage those eligible to get their vaccines.
Upper School Math Teacher Peter Slaski is happy that students have been proactive in getting vaccinated.
"No one likes getting shots, but the hope is the quicker we all can get vaccinated, the quicker life will return to normal—if we can remember what that looks like," Slaski said.
There is an excitement in the air here around getting vaccinated, Director of Health Services Beth Escobar said.
"I am optimistic and excited that our students who are age 16 and up have the opportunity to get the vaccine, and it makes me feel so hopeful that they're doing it," Escobar said.
Over a year into the pandemic, people want to move on with their lives, Escobar explained, and the vaccine has allowed students to feel more hopeful themselves.
"They're missing their friends, and they want more connections, and this is the way to get it," Escobar said. "We have to do this collectively, and there is strength in numbers when it comes to getting vaccinated."