TV Review: Child's Play' Returns With 'Chucky' Series
A murderous doll got a movie in 1988 called Child's Play. Building off of the success from the first movie, the Chucky franchise has made seven more movies and now has a TV show. On October 12, the first episode of Chucky came out. 
The show airs on the SyFy channel, but you can watch it on multiple other streaming services. Three episodes of the show have come out, "Death by Misadventure," "Give Me Something Good to Eat", and "I Like to be Hugged." Every week on Tuesday, a new episode comes out. 
The series starts off with 14-year-old Jake Wheeler going to a yard sale, looking for dolls to use in a sculpture he was making. He buys a Good Guy Doll, whose name is Chucky, for a sculpture he's making, and he thinks Chucky will be a good head for it. 
His cousin, Junior, comes over for dinner with his parents. While they eat, Junior makes snide comments about Jake "playing with dolls." He calls Jake gay and then that one line sets off a whole series of events, and everything that happens will lead back to it. 
Elements from the 1988 movie are included in this TV show remake. The original voice of Chucky, Brad Dourif, voices the doll in the show. Along with parts from the original movie, in the second episode, Halloween II is referenced. Chucky goes trick or treating and gives someone an apple with a blade inside of it. 
I first found out about the show when I was scrolling through Twitter. I saw a scene where Chucky says, "You know, I have a queer kid." That line is what hooked me into watching the show.
I have seen all of the episodes that have come out, and all of them made me want the next episode. I don't think that the show is particularly scary, but it is definitely gory. Each episode has the perfect mix of sad, funny, scary, and gory moments. If you decide to watch it, be prepared for a blood bath.
Leave a Comment
About the Contributor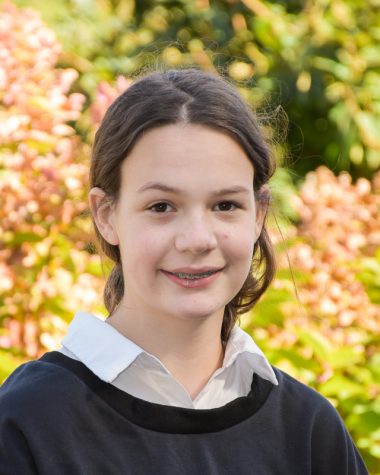 Madeleine Pogoda, Incoming Arts & Culture Editor
Madeleine has been at Brimmer since 2019 and she joined The Gator in 2021. In her free time, she likes to play guitar, listen to music, read, and drink tea. She likes to write op-eds, reviews, and debate tea.