Gamble Wins Division IV NEPSAC Race, Cementing Historic Team Finish
At Saturday's Division IV New England Prep School Track Association's (NEPSTA) Cross Country Championship in Maine, Brian Gamble '23 crossed the finish line first, clocking in at 17:12 for the 3.1 mile race.

The Massachusetts Bay Independent League's (MBIL) Most Valuable Runner defeated 135 competitors, helping his team earn 8th overall against 20 qualifying schools, the best showing in School history. Gamble is also the first MBIL athlete ever to win a NEPSTA race.

"It was so great to see everyone elevate their performances to tie for our best season ever," Gamble said. "We didn't train to peak for this specific race, but we still banded together for an amazing performance.

Brian Gamble '23 leads the pack at the Division IV NEPSTA race. Video by Paul Gamble.

Two years ago, Gamble collapsed before the finish. Ever since, he has dreamed about this race. Last season was cancelled due to the pandemic.

"As for me, I started this race very confident at my fitness and my ability to run competitively. It was very gratifying knowing that I am the best in our division, and I can't thank my team enough for helping me get to this point."

Rounding out the boys' team overall score, MBIL All-Stars Edan Zinn '23 and Xoren Livingston '23 finished in 25th and 53rd place, respectively. Conno Wagner '25 came in 61st, and Huck Jennings '25 in 68th place.

"I couldn't be more proud of this team," Head Coach Ted Barker-Hook said. "Our boys team comprised 21 athletes, and 17 of those had never run a varsity cross country race before this fall. For a team that young and that inexperienced to have achieved what they did—both the MBIL championship and the 8th place finish at NEPSTA—is staggering."

Fellow MBIL runners Ethan Wood '22 (Waring School) finished third overall and Suri Kautz '25 (Cambridge School of Weston) finished second overall for the girls' race.

In two weeks, Gamble will travel to New York to compete in the Eastbay Northeast Regionals, an elite race with runners from Connecticut, Delaware, Maine, Maryland, Massachusetts, New Hampshire, New Jersey, New York, Pennsylvania, Rhode Island, Vermont, and Washington, D.C.

Gamble hopes for a top-eight finish to advance to Eastbay National in San Francisco over Thanksgiving break.

"Brian earned this," Barker-Hook said. "I have never coached an athlete more dedicated to bettering themselves or achieving their goals. His win at NEPSTA was the result of making all of the right choices for the last two years, from off-season and in-season workouts, to making better nutritional decisions, to constantly communicating with his coaches about how he was feeling."

Last week, the boys team won its second consecutive MBIL title.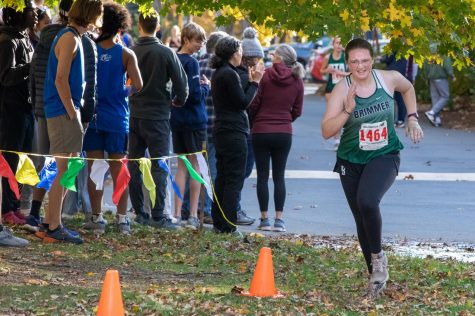 For the girls team, MBIL All-Star Talia Hammer '23 finished in 38th place out of 79 runners. The team was short one athlete to factor into the team scoring, but Leah Bell '22, Sophia Spring '22, and Diana Zhang '25 finished strong with close to or beating personal bests.
Sophia Spring '22 had a positive attitude going into the last race, and she felt prepared to push herself hard.
"I am proud of my time and the race I had at NEPSTA," Spring said. "The race was tough and I felt satisfied with the end of my high school running career."
Editors' note: This story was updated Tuesday, Nov. 16 to include insight from Cross Country Coach Ted Barker-Hook and his runners.

Leave a Comment