Showdown: Dunkin' vs. Starbucks
There are so many reasons to choose Dunkin' over Starbucks.
To start, Dunkin' is unpretentious, unlike Starbucks. One would be able to pronounce every word on the Dunkin' menu on the first attempt, and the barista won't correct your order for a "medium drink" with a "grande."
Starbucks is also known for its outrageously priced beverages, but Dunkin' keeps its rates consistent across the country.
The most expensive drink ever sold from Starbucks was priced at a staggering $83.75.
At Starbucks, a basic grande-sized latte costs around $3.65. However, the same-size coffee at Dunkin' costs $3.29 and will add flavor extracts, sugar, cream, or milk (other than almond or oat) to your beverage at no additional cost.
Furthermore, it is important to consider that Starbucks is a franchise while the majority of Dunkin' stores are owned and operated by local residents. Consumers should support a local family rather than a large corporation.
Though, when looking for a good cup of coffee, Dunkin' tastes better. This is just a fact. Uncomplicated, unlike the menus and plethora of options at Starbucks, Dunkin' offers a simply plain yet delicious cup of coffee.
Specific to Dunkin' is their enormous range of donuts. They sell over 50 different types of donuts and always have seasonal specials.
Not only does Dunkin' have tasty baked donuts, but they also have a variety of bakery items and meals. Their breakfast and lunch packages include a medium coffee or tea for no additional charge.
Starbucks also has a variety of meals that are way more expensive. Frankly, their pre-made sandwiches/meals are not worth the price.
Student and Dunkin' Employee Jackson Ostrowski '22 is pleased with the quality of food and beverages at Dunkin'.
"I really like Dunkin because of the variety of options, from vanilla to raspberry-flavored coffee, cold brew to iced tea, there is something for everyone here, and plenty of room for creating your own," Ostrowski said.
To anyone facing the popular New England dilemma of Dunkin' vs. Starbucks, there is a clear answer. A classic and obvious choice, Dunkin' provides everything coffee-lovers could ever need without overcomplicated options, high prices, or an uninviting environment.
Do you prefer Dunkin' or Starbucks?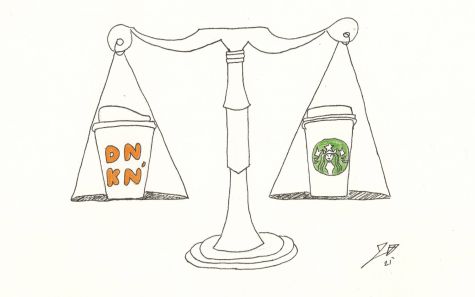 Sorry, there was an error loading this poll.
Leave a Comment
About the Contributors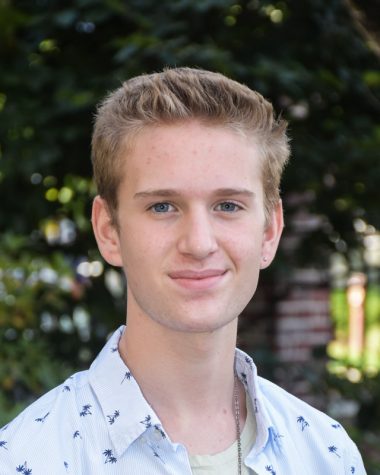 Jackson Ostrowski, Cartoonist
Outside of school, Jackson enjoys skateboarding with his friends, exercising, and working on drawings. In his free time, he listens to music, plays video games, watches movies, and goes on hikes.