Fashion Flash: Leni Hicks-Dutt '23
Leni Hicks-Dutt '23 has always had a love for clothes and shoes. She is regarded as a style icon among her peers at the School.
What are the most important things you consider when picking out an outfit for the day?
I would say that I focus most on my shoes. I have a small shoe collection and I like to base my outfit on the shoes I want to wear that day. 
What is your favorite article of clothing?
I'm not really sure. I really like graphic tees; I like how each t-shirt can have so much personality and they go with anything. 
What stores/websites do you like to shop at?
I get some of my graphic tees from Urban Outfitters and I get many of my jeans from Zara. I also get clothes from Pacsun, aerie, and H&M. Though recently, I am trying to shop more sustainably so I have been thrifting more. I mostly get my shoes from Stockx and from Nike.  I also buy my jewelry from a couple of different places, but recently I have been wearing jewelry from Jewelz By Elle, a small business started and managed by jewelry artist Eleanor Reyelt '23.
Do you prefer online shopping or street shopping? Why?
I prefer online shopping, mostly because during COVID-19, it's the safer way to shop, and it is much less time-consuming. 
How does your style reflect your personality?
I would say my style is very tomboyish and street-style. I think it is solely based on my interest in shoes as well as sports.
View Comments (2)
About the Contributor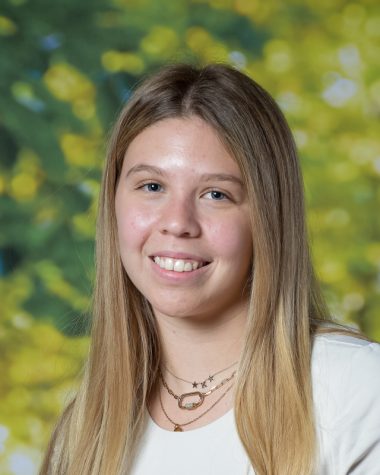 Kate Hirschen, Outgoing Culture Editor
Kate has been a member of The Gator since freshman year and enjoys writing news stories and reviews. Outside of the newsroom, she enjoys spending time with friends and playing tennis.