Food Review: Tatte Bakery & Cafe Opens In Newton
The 18th installment of Tatte Bakery & Cafe opened its doors in Newton Centre on October 27. With its unique treats and a welcoming atmosphere, lines are always out the door. 
After selling her delicious baked goods at local farmers' markets, Tatte's founder, Tzurit Or decided to open the first location in 2007. According to Tatte's website, Or "wanted [the cafe] to be a place for the community to gather, to feel welcomed, to create a sense of home and belonging."
Or is a self-taught pastry chef who grew up in Israel baking alongside her mother. She baked for family, neighbors, and large community gatherings as a child, making baking an important aspect of her life.
Though she had a successful career as a film producer in Isreal, when Or moved to the United States, she decided to take her life in a different direction with Tatte. 
I had the opportunity to visit the new Tatte location in Newton Centre recently, and it did not disappoint. Like its other locations, the atmosphere was very bright and welcoming. It was a huge space with a lot of light, high ceilings, clean white tiles, and tons of seating.
The drink I got was the Iced Chai Latte, a drink which I choose to order at most coffee shops. This one was different than I expected but still good. It was a lot less sweet than a Chai Latte from Starbucks and had less of a strong Chai flavor. Though I enjoyed drinking it, a small was $4.50, which was slightly overpriced in my opinion. Overall, if you're in the mood for a nice refreshing drink with a distinctive flavor, I would recommend it with a 7/10 rating.
Deciding what to get for my meal was difficult because there were so many options that sounded good. I was in the mood for something savory, so I decided on the Avocado Tartine. I'm an avocado toast fan, so I knew I would like this. It came relatively quickly and had a really nice presentation. Each piece of toast was piled with avocado, seasoning, and a poached egg. This tartine was very good, and my only complaint was that it was a little messy due to the excessive amount of avocado and a runny egg. Overall, I would recommend this dish with a 9/10 rating. 
I have been to other Tatte locations many times before, so when I heard about this new one I was very excited. I'm happy to say it was amazing, thanks to its friendly atmosphere and delicious food.
Leave a Comment
About the Contributor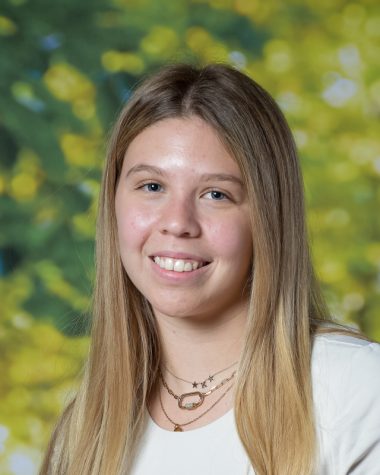 Kate Hirschen, Outgoing Culture Editor
Kate has been a member of The Gator since freshman year and enjoys writing news stories and reviews. Outside of the newsroom, she enjoys spending time with friends and playing tennis.