Middle School Play Promises Magic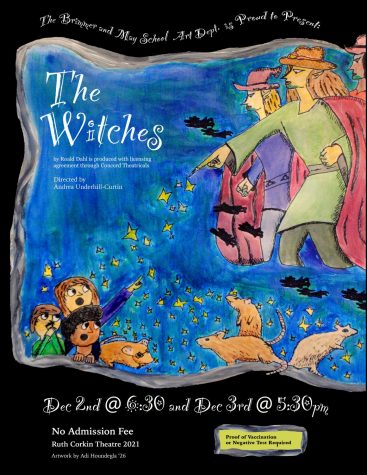 The Middle School production of The Witches is set for Thursday 2 at 6:30 p.m and Friday at 5:30 p.m.
"The Witches by Roald Dahl is a story about overcoming obstacles, magic, and love," Director Andrea Underhill-Curtin said.
The play follows the plot of the popular children's dark fantasy novel, centering around a child and their grandmother choosing to stay at a luxury hotel where danger lurks just around the corner.
"It is there where they run into some new characters, including a group of people who could be witches, attending a convention for the 'Annual General Meeting of the Royal Society for the Prevention of Cruelty to Children,'" Underhill-Curtin said.
The play showcases the talent and dedication of the Middle School Theater Department, along with creative staging and shadow screens.
"Both the cast and crew have worked really hard on our play, and devoted time and effort on making an amazing show," Assistant Stage Manager Stella Bowman '28 said.
"Our cast and crew have worked hard to create an amazing performance, with fabulous humor, an incredibly exciting plot, and characters who seem as if they could walk off the stage at any moment," Katherine Knox '26, who plays the grandmother, said.
Don't miss the chance to see The Witches work their magic live. Admission is free, but COVID-19 safety protocols remain in place.
Audience members must show proof of vaccination or a recent negative COVID-19 test.
Audience members must remain masked while in the building and during the performance.
Seating is general admission. Families and groups arriving together are encouraged to sit together while maintaining social distance (2 seats) from others in the Theatre.
The unmasked performers are tested daily before each performance.