Fidget Devices, Gum, and Doodling
December 7, 2021
Here, some teachers restrict doodling, gum, and fidget devices. Unfortunately, the Student Handbook doesn't clarify any rules or guidance here.
Some teachers enforce no gum chewing outside of test-taking. Zimmerman wonders why gum chewing only helps students focus during tests and not during other times.
The truth is that gum chewing helps students like her focus under any conditions. It allows her to pay better attention in class and properly absorb information. Zimmerman feels strongly that it can be hard to be spoken to by someone about ADHD who doesn't have the same challenge but still thinks they know what's best for her. At the very least, teachers need to listen and be empathic.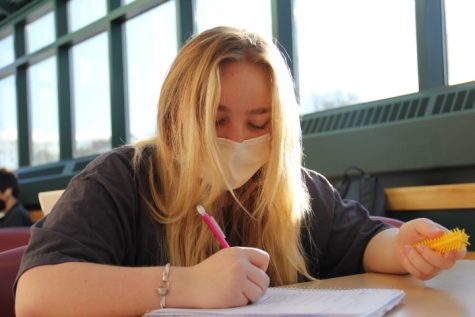 Take if from Dean of Upper School Students Paul Murray, who adapts his classroom to fit the needs of all students.
"I have no problem with a student using a fidget or doodling," Murray said. "Now that chewing gum is allowed in school, I fully encourage chewing gum. Having neurodiverse students in my class hasn't changed the way I teach."
Head of Academic Services Karen Bernanke is especially familiar with the learning styles of neurodiverse students.
"We have a number of neurodiverse students at Brimmer and many with ADHD, which is the norm in all school populations," Bernake said. I agree that not all students should have fidgets, and this decision is based on a general misuse of fidget tools. However, some students have specific accommodations and will be allowed access to individualized fidget tools with approval from Academic Support."
Bernanke is very eager about the growth of the Learning Center this year.
"I am happy that the Learning Center is becoming more of an academic hub where students, faculty, and tutors can connect, and where materials such as folders, notebooks, highlighters, graph paper, and resource books are stored," Bernanke said. "I would like to see the Learning Center continue to grow as a resource center for all students and to develop a learning library on neurodiversity in the coming years."