Diverse Learning Styles / The Pain of Long Classes
December 7, 2021
Murray says that teachers here are well aware of different kinds of learners.
"It's your job as a teacher to design lessons and have multiple approaches that can help all students," he said.
Many students cannot do their best in a typical learning environment and need additional resources to help them succeed.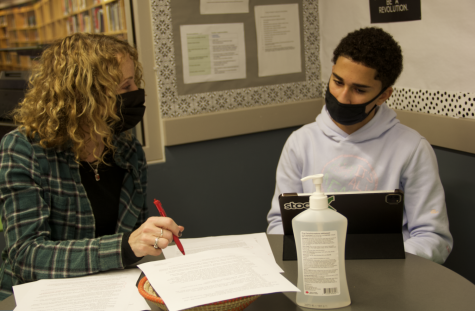 "Traditional learning methods that are taught in most schools have not typically worked with my brain," Eleanor Reyelt '23 said. "The current education system is not built for students with neurodiversity, but I have now grown to adapt to these ways of teaching through the years. Generally, Brimmer has been extremely supportive, but it has also at times been through advocating and standing up for myself and my needs as a learner."
Learning resources available to Upper School students include the library, the Math Lab, and Writing Center. Students also enjoy study halls, teacher office hours, and interactive class discussions.
Zimmerman has noticed increased traffic to the Writing Center, where students can get help focusing on ideas and honing prose. Like always, the Math Lab is buzzing, but especially so this year. Of course, it's important to note that all types of students, not just those with learning disabilities, use these services. Still, the School should get credit for addressing the higher volume.
"There are definitely some challenges presented by the school," Eli Lewis '25, who struggles with ADHD, said. "One of the largest ones is the 70-minute blocks. I work the most efficiently for only about 40 minutes before I start to deteriorate. We are allowed to take a break at that time, but it doesn't help much."
Lewis appreciates the library.
"I always find it hard to focus in a study hall room, but the library is much easier to focus in because of the reduced noise and comfier seats," Lewis said. "Besides that, all the other ways I help myself focus are strategies I've discovered myself."