After a Season Away, Curling Hits the Ice this Winter
After a school year where sports and athletes had to adapt to the ongoing COVID-19 pandemic, the return of the curling season has been exciting for many.
The indoor sport was canceled last year as pandemic protocol prevented meetings within enclosed spaces. This left veteran and prospective curlers alike with no options to participate.
Daniel Murray '23, a member of the league's 2020 Class B Championship team, is excited to get back out on the ice.
"I love curling, especially the ability to play with my friends at Brimmer," Murray said. "It means a lot to me to be able to do that, and I thank Brimmer for the opportunity to learn this sport and be introduced to it."
Interscholastic competition has still been halted for now, but many are still grateful for the opportunity to play the sport.
Fellow curler Ugo Adiele '23, who is also beginning his third season of the sport, is grateful to be practicing with his friends this year.
"Curling is very fun this year," Adiele said. "It is turning out even better than I expected since there aren't any other schools competing this year because now I just get more time to practice with the team, which has been really great."
Paul Murray, the team's assistant coach, echoed the sentiments of his players.
 "The season is entirely different from last year," Murray said. "Our hope is that we can grow as curlers and put together some sort of intramural tournament since we cannot compete against other schools at this point."
However, Murray has high hopes for competition as the curling season continues.
"We still feel really lucky to even have ice time three days a week during COVID. Like any coach would say, we'll get better every day and hopefully put a competition together for the kids," Murray said.
Leave a Comment
About the Contributor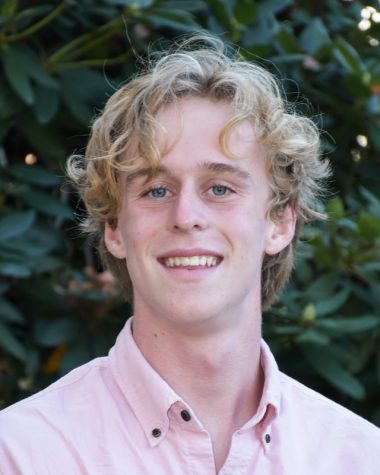 Brian Gamble, Managing Editor
Brian enjoys playing lacrosse, running, and hanging out with his friends. He is excited about joining the newsroom and writing exciting stories.