School to Begin Mask-Optional Policy Monday
The School recently announced that it will adopt a mask-optional beginning Monday.
The COVID Response Team (CRT), which meets weekly, considered guidance from local public health officials and doctors to make the decision.
On Thursday, Head of School Judith Guild and The CRT sent a letter to all families regarding the change in mask guidelines.
"We base this decision on our continued low case count, projected decreases in cases throughout the Commonwealth, high community vaccination rate, and a collective understanding of how to keep ourselves safe," Guild wrote.
The news of a possible mask-optional policy broke to Middle and Upper School students during Morning Meeting on Tuesday.
"In my briefings with doctors and scientists, they've said it's getting time to unmask," Guild said during the meeting. "It's not a 'rip the mask off,' but a dial-up, dial down."
Students and faculty who don't feel comfortable taking their masks off yet are welcome to keep them on, according to the CRT.
"Respecting individual and family choice is important as we move from public health mandates around daily masking to personal control over masking decisions," Guild wrote in the Thursday email.
Masks will still be required in large-group settings, on buses, and in the theater, according to a Friday update from the CRT. The School will monitor test results and may require grade-level masking if positive tests occur.
The School will also increase airflow in classrooms, continue a regular surveillance-testing schedule, and administer community-wide PCR testing following Spring Break.
Leave a Comment
About the Contributor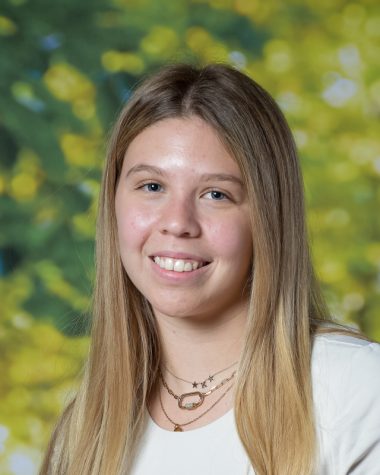 Kate Hirschen, Outgoing Culture Editor
Kate has been a member of The Gator since freshman year and enjoys writing news stories and reviews. Outside of the newsroom, she enjoys spending time with friends and playing tennis.