Song Analysis: 'That Funny Feeling' by Bo Burnham
Last year, Bo Burnham released Inside, a Netflix special revered by many in Generation Z. "That Funny Feeling," an original song from the film, has gained over 38 million streams on Spotify.
I can't really, uh, play the guitar very well
Um, or sing, so, you know, apologies
Burnham had said that he lacks confidence in playing the guitar in June 2016 on a Reddit "Ask Me Anything" thread. 
Stunning 8k-resolution meditation app
Like many of the other lines in the song, Burnham is being ironic. Meditation is often about getting in touch with the natural world and yourself, while stunning 8k-resolution means a high-tech, very artificial thing. 
In honor of the revolution, it's half-off at the Gap
Throughout his special, Inside, Burnham talks about how consumerism and corporations get involved in performative activism to boost their public image and profits. The Gap is a well-known American clothing brand. After George Floyd's murder in May 2020, they started selling Black Lives Matter t-shirts made while collaborating with Black artists. Burnham is saying how companies, like The Gap, take advantage of horrific events to sell merchandise for the profit of the privileged few—the very demographic that the revolution is against. 
Deadpool, self-awareness, loving parents, harmless fun
During an episode of The A24 Podcast, made in March of 2018, Burnham talked about Marvel character Deadpool's corporate self-awareness. 
The backlash to the backlash to the thing that's just begun
Burnham is referring to the polarization that characterizes partisan politics in America. One side says something, the other side retaliates, then the first side retaliates in response. It is a part of "cancel-culture," of a broken two-party system, and a media that thrives on outrage. 
There it is again, that funny feeling
That funny feeling
There it is again, that funny feeling
That funny feeling
During the song's chorus, Burnham touches on the uncomfortable and conflicting effect of being faced with the similarities between right and wrong, good and evil, and normal and abnormal in everyday life. 
The surgeons general's pop-up shop, Robert Iger's face
Discount Etsy agitprop, Bugles' take on race
The surgeons general's pop-up shop is an imaginary government organization that provides free healthcare. By opening as a pop-up shop, it goes from being available to the public to an item that can only be bought. Burnham's next verse is also about big companies faking virtues. Robert Iger is the Chairman of Disney.
Female Colonel Sanders, easy answers, civil war
This line talks about how Kentucky Fried Chicken and their mascot "Colonel Sanders" can be portrayed as a woman, "Female Colonel Sanders." "Easy answers" refers to the assumption of finding a simple solution to a complex problem that is faced daily. Civil war can mean two things: an ongoing fight between citizens of the same country. Second, an oxymoron: people are constantly fighting, causing society to divide, resulting in a perceived civil war over politics or culture. 
The whole world at your fingertips, the ocean at your door
Many say that "the whole world is at your fingertips," meaning you can find anything through the internet, which is almost always accessible. The ocean at your door is about climate change and how it affects the sea, making it rise. This line creates more ironic tension as technology is making it easier to "explore the world," along with our apathy to serious issues caused by constant entertainment provided by the internet, 
The live-action Lion King, the Pepsi Halftime Show
The live-action Lion King was a remake of the original Lion King. Though it had poor critical reception, the 2019 remake grossed over $1.65 billion, making it the seventh highest-grossing movie of all time. The Super Bowl Halftime Show is a grand performance showing a grand display of musical theatrics. Pepsi has been a significant sponsor of the Halftime Show, and the event has officially been known as the "Pepsi Halftime Show" since 2018. In both examples, the way emotions of genuine fondness to connection are predicated on a consumerist slant that leeches off human emotion and expression and turns it into corporate.
Twenty-thousand years of this, seven more to go
In this verse, Burnham refers to how bad climate change has been in the last twenty thousand years and how in 2028, it will be irreversible. 
Carpool Karaoke, Steve Aoki, Logan Paul
Burnham says Carpool Karaoke because he is concerned about what is considered "entertainment". In 2016, comedy special 'Make Happy', where he describes Celebrity Lip Syncing. "It's the end of culture. Culture's over, everybody. We lost. This is entertainment – How is this entertainment? People we've seen too much mouthing along to songs we've heard too much of. And this is the bread and butter of American television?" Steve Aoki and Logan Paul are both out-of-touch celebrities selling deceit of "relatability." Logan Paul's primary demographic on YouTube is kids, but he often doesn't think about how his content influences the kids watching it.
A gift shop at the gun range, a mass shooting at the mall
There's a lot of irony in this line. Burnham mentions a small commercial site at a facility made for guns, while big commercial areas, like malls, are turned into a gun range where people have lost and continue to lose their lives.
There it is again, that funny feeling
That funny feeling
There it is again, that funny feeling
That funny feeling
Reading terms of service,
This line, like many others in the song, is rooted in absurdism. It also mentions the fact that most of the most viewed videos violate the website's terms of service. 
going for a drive
And obeying all the traffic laws in Grand Theft Auto V
Burnham refers to Grand Theft Auto V, a popular online role-playing game. He touches on the fact that people go for a drive when they are stressed, overwhelmed, or compelled by emotion, but instead of driving in real life, they go for a drive in a video game. 
Full agoraphobic, losing focus, cover blown.
Agoraphobia is the fear of crowds or public places. This is the only time in the special that he directly references agoraphobia, but the whole special touches on it as it was shot inside of his guest house in a year, in complete isolation. 
A book on getting better hand-delivered by a drone
Burnham is referring to the irony of a company like Amazon that provides self-help books via their Prime Air delivery service. In the context of the verse, he may be alluding that he ordered a book to overcome his fear of the outside world, as well as the inconsistent nature of self-help books about socializing in real life being delivered by artificial intelligence. 
Total disassociation, fully out your mind
Googling derealization, hating what you find
Derealization is a mental health issue characterized by "feelings of unreality" and disconnection from ones surrounding. It can occur due to trauma or anxiety; the brain can't deal with the outside brain, so it doesn't. Since Inside was made during a worldwide pandemic, many people have anxiety, so many people probably experienced or are still experiencing being dissociated. 
That unapparent summer air in early fall
The quiet comprehending of the ending of it all
Burnham references "season creep" where the timing of the seasons change over time. It is the result of global warming and is the easiest to observe the effects and changes of climate change. 
There it is again, that funny feeling
That funny feeling
There it is again, that funny feeling
That funny feeling
Hey, what can you say? We were overdue
But it'll be over soon, you wait
Hey, what can you say? We were overdue
But it'll be over soon, just wait
When he says we were "overdue," he refers to an apocalyptic event, like climate change, as it has been creeping upon us, and the world is overdue for a correct prediction. When he says "but it'll be over soon," he is referring to the line sung earlier in the song, "Twenty-thousand years of this, seven more to go." The last song of the special played during the ending credits is "Any Day Now," where Burnham repeatedly says "it will stop any day now," could relate to this line, as climate change will soon be irreversible and the world will someday end.
Ba-da-da, ba-da-da, ba-da-da-da-dum
Here, Burnham is being ironic, because the upbeat scatting follows a very pessimistic line. 
Hey, what can you say? We were overdue
But it'll be over soon, you wait
Hey, what can you say? We were overdue
But it'll be over soon, just wait
Ba-da-da, ba-da-da, ba-da-da-da-dum
Leave a Comment
About the Contributor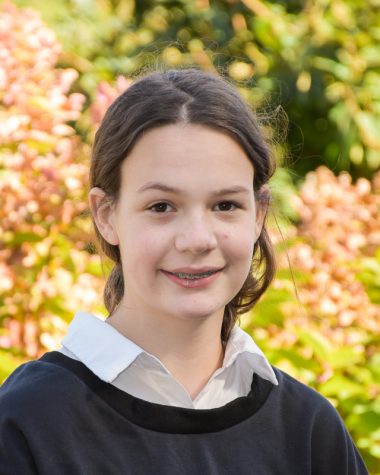 Madeleine Pogoda, Incoming Arts & Culture Editor
Madeleine has been at Brimmer since 2019 and she joined The Gator in 2021. In her free time, she likes to play guitar, listen to music, read, and drink tea. She likes to write op-eds, reviews, and debate tea.