Review: 'Suffs' Impresses at Public Theater
It would be a disservice if I didn't talk about my predetermined joy as I walked in to see the Public Theater's production of Suffs, which mostly stemmed from my admiration for one woman: Shaina Taub. If you didn't know that name, you'll soon be glad you do, so I'll say it once again: Shaina Taub, the woman posed to be theater's next big game-changer. 
I've been a fan of Taub since I discovered her eclectic, energetic musical adaptation of Twelfth Night a few years back. So when it was announced that Suffs with a book, music, and lyrics by Taub, as well as featuring her in the lead role as Alice Paul, as well as including a cast that for me is the equivalent of the final battle in Avengers: Endgame, would be premiering off-Broadway this spring, my only thought was "how do I score a ticket?"
I'm glad I did so quickly. The run of Suffs sold out quickly, leading to two extensions past its original closing date. The first was due to demand, but the second was in part due to the cancellation of a week of performances, including what was supposed to be opening night, due to COVID cases in the cast. Yet, everyone was presumably happy and healthy by the time I saw the show. 
It's been a long road to this point. Taub began working on Suffs in 2014, and now, a couple of pandemics later, it's finally reached the stage. 
The show recounts the story of the 20th-century suffragists who fought for a voice for women in America. Yet, throughout their fight against the patriarchy, there are divisions within the movement between the races and ages, and each woman's lives outside a battle that seems to often be all-encompassing. 
Suffs is centered on the journey of Alice Paul, the founder of the National Woman's Party and one of the unrelenting fighters for the passing of the 19th amendment.
And I really don't want to talk about another show before I even really start talking about Suffs, but yes, there has been a recent popular musical featuring American historical figures that started at the Public Theater and stars the creator as a relatively obscure character throughout their struggles and successes. Oh, and did I mention Philippa Soo is in it? 
That's right – Philippa Soo plays Inez Milholland in Suffs! And if Milholland's name doesn't ring a bell, that's precisely the reason Suffs was created. It sheds light on the figures who are truly never given a proper mention. The show is tremendously well padded out with historical references and true events that also lend themselves well to the dramatic structure of a musical.
A quick Google search after leaving the theater confirms that, yes, even the most unbelievable elements and twists are true. 
Taub has a knack for creating humorous, heart-felt pieces that are accessible to all listeners to enjoy. It's frequently funny, clever, and very powerful in many moments. 
The cast is filled with stars, all inhabiting the diverse, layered characters featured in the story. Two particular standouts were Nadia Dandashi playing Doris Stevens with heart-warming earnestness and charm and Hannah Cruz as Ruza Wenclawska, who brings toughness and incredible strength to the group.
Ruza and Doris may be secondary players in Alice Paul's story, but there is so much potential both in the figures and the actors, that there is lost opportunity in not featuring them more. 
Holly Gould, Taub's standby, was on for Alice Paul when I saw the show. It's clearly not an easy role, but Gould brought immense talent as well as stamina to move the show throughout its nearly three-hour run. It's a testament to the show itself that the leading role shines just as much when it's not played by the person by whom and for it was created.
However, Suffs is still very much a work in progress. It's long and foreseeable some content may be cut in future productions.
It is a rare show where I wish there was a little more production and technical magic. There are a few "wow" moments, but the majority of the show was carried solely by the actors and the text. 
Several male characters were featured in the play, most prominently President Woodrow Wilson, portrayed by Grace McLean. Woodrow Wilson is written as the main villain of the piece, introduced with an old-time vaudeville flair.
McLean puts her all into singing and dancing the role, but the comedy seemed to fall flat. As a big fan of McLean, I was disappointed that both her talent and the role were underutilized.
She has incredible power and can be a terrifying presence when needed, but such elements as the role she was put in seemed out of place and took away from the show for brief moments. 
Suffs isn't extremely revolutionary in any way for a musical, but it does have incredible brains, heart, and talent behind it. And it is going to go far. 
What struck me most was the young girl sitting behind me, who couldn't be more than seven.
She watched, enraptured, the entire show. I saw myself in her, wishing I could have seen such powerful figures on stage when I was her age, just as much as I saw myself in the actors. That's the most empowering thing I took away. 
And now all we can do is wait for the cast recording and see where these Suffs will go next. 
Leave a Comment
About the Contributor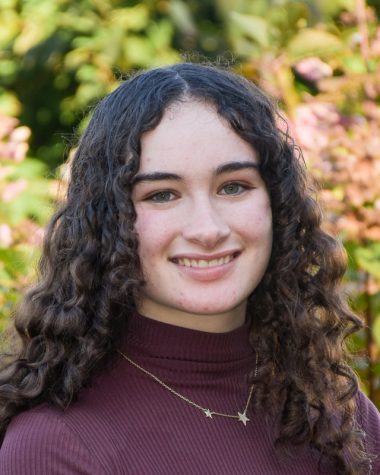 Marlie Kass, Outgoing Arts Editor
Marlie is thrilled to be on the staff of The Gator. A Lifer at Brimmer, she's been attending the school since Kindergarten. Marlie loves all things creative arts and looks forward to lifting up the community and exploring new ideas through her writing.