Upper School Camp to Kick Off 2022-2023 Year
As the 2022-2023 school year begins, the Upper School is preparing to head off to camp Wingate*Kirkland, marking the formal return of the School tradition after a two-year hiatus due to COVID-19.
Camp, which is a "hallmark event" according to Upper School Head Joshua Neudel, has always been about "finding ways to do some significant community-building and reconnect with each other."
Neudel said that he has planned extensively for the return and is excited for students to reconnect through new and inclusive programming. Yet, with the pandemic still in mind, all students will be tested prior to their arrival.
While students are set to participate in traditional outdoor activities, including swimming, hiking, kayaking, and paddle boarding, the School has made several modifications to the overall experience, adding an option of gender-inclusive bunks and establishing a "cell phone free zone."
According to Neudel, the School has been "very thoughtful" regarding structuring the ways in which students fill time—most notably, their social interactions.
"While we were on the verge of not allowing cell phones at camp, one of the reasons we made this decision was to support our goals of community building efforts," Neudel said.
As the School aims to provide a welcoming and inclusive experience to all participants, Neudel has introduced "Camp Families," which are are groups of seven students across different grades, each facilitated by a teacher. Throughout the program, Neudel has planned times in which camp families will meet as a group to connect, either by eating dinner, making s'mores, or participating in various events.
The primary goal of camp families is to ensure that all students, including those who are new to the School, experience a fun way to immerse themselves into the Upper School.
"We are trying to find a balance between providing lots of free time but also giving some structure," Neudel said.
Furthermore, Director of Career and Leadership Programs Dona Rehm has prepared bingo cards for each camp family to utilize as part of their team-building.
"The family who completes the most bingo squares by the time we get back to campus on Friday will receive a special prize," Rehm said.
While the 12th grade is set to arrive at Camp Wingate*Kirkland on Wednesday, September 7, the remainder of the Upper School will join Camp the following day.
Upper School President Daniel Murray '23 said he is "extremely excited" for the program to begin.
"I feel lucky that we are able to return to camp for a great start to the year, especially as a senior class," Murray said.
Leave a Comment
About the Writer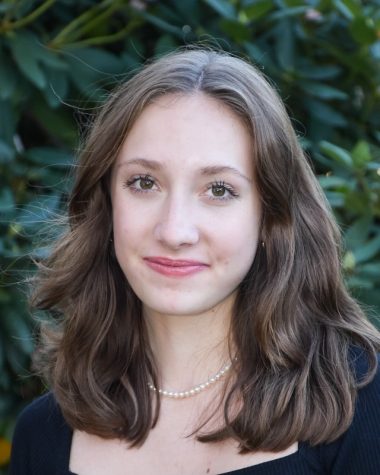 Natalie Kozhemiakin, Outgoing Editor-in-Chief
In addition to writing for The Gator, Natalie is part of a pre-professional ballet program and has trained with Integrarte, Miami City Ballet, Boston Ballet, and the Bolshoi Ballet of Moscow. She is also the Founder and President of Tutus Para Todas, a non-profit organization whose mission is to fund dance programs and provide dancewear to underserved children in Puerto Rico. Outside of the newsroom, she enjoys leading tours around campus, attending Model UN conferences, and is a member of the Global Studies Diploma Program. She cherishes the opportunity that writing for The Gator has given her to amplify her own voice.