New Faculty Profile: Christie DeNizio, Art Teacher
Recently, The Gator sat down with Christie DeNizio, a new Upper and Middle School Art Teacher. DeNizio teaches Middle and Upper School art classes, including AP Studio Art.
Why did you choose to work at Brimmer?
After traveling around for some years as a Visiting Professor, I felt that I really wanted a greater sense of community, where I worked with students more often and over a longer period of time. Also, Brimmer's student-centered pedagogy and robust creative arts programs make the school a great fit with my personal teaching philosophy.
How did you first get interested in art?
I actually took my first art class during my sophomore year in college, but I have always loved making things. I would say I really "got into it" though after spending the summer between my junior and senior year of college at an art residency in Italy. Painting all day and pasta all night is a sure-fire way to fall in love with something!
What or who are some of your artistic inspirations?
Mmmm… that is tough because it is so hard to choose. Right now, I am thinking a lot about: ancient Greek fresco paintings, altarpieces from the Northern European Renaissance, sculptural works by Napoleon Jones-Henderson (which were on exhibit at the ICA this summer), and the photographic installations of Sophie Calle.
Besides art, what are some of your hobbies/favorite activities?
I love hiking and camping with my dog in NH and Maine. I take frequent trips to NYC to go to museums and galleries. I just joined a pickleball league with my twin sister (our team name is the Volley Llamas), but soccer, basketball and tennis are my favorite sports. I like baking, knitting, weaving, reading….basically I have too many hobbies.
What are your goals for the year?
My goals for this year are to get to know all the amazing students, faculty and staff here at Brimmer, to collaborate with another class or discipline, and to continue to find and share the joy of making things.
Anything else you want people to know about you or the classes you are teaching?
Yes! My classes focus on exploration, collaboration, problem-solving and personal expression. Even if you are not taking an art class, anyone is welcome to join the Art Club during US assembly and come make things! And….my favorite food is pepperoni pizza and my least favorite is pickles.
Leave a Comment
About the Contributor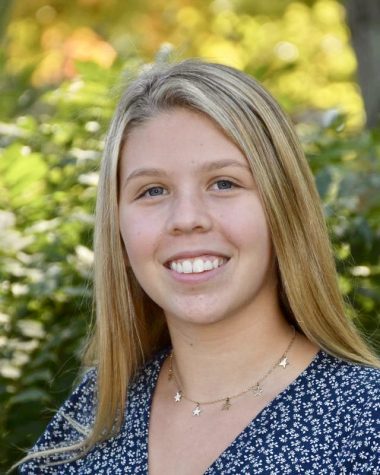 Kate Hirschen, Culture Editor
Kate has been a member of The Gator since freshman year and enjoys writing news stories and reviews. Outside of the newsroom, she enjoys spending time with friends and playing tennis.