Small Joys: Mochi Squishy Review
Yes, I am a senior about to apply to college. 
Yes, I am just weeks away from becoming a fully legal adult. 
Yes, I am a very dedicated, very serious journalist and reporter who covers some very dedicated, very serious issues. 
So I am willing to turn away from my usual content and potentially risk my entire reputation to talk about a very serious topic.
The cutest, squishiest, dopamine-inducing loves of my life: Amazon Mochi Squishies.
High school can be stressful, so I'm here to say we should celebrate even the tiniest bits of levity. 
I first encountered my itty-bitty-pieces-of-joy in the crux of virtual learning during my freshman year. 
Needing something to take my mind off staring at my iPad for hours on end, desperately trying to absorb zoom lessons for the first time, I made a rare impulse purchase: four tiny squishy cats. 
These cats became my partners-in-crime, sitting on my makeshift COVID desk, offering their gumdrop-shaped bellies up for me to boop whenever I needed a smile. 
Now, I turn to these squishies whenever I need a small pick-up. 
They make great stress or fidget items and gifts for any occasion, or none at all. In fact, they are the perfect way to say to a friend or family member, "Hi, I see you, I appreciate you, here's a tiny squishy strawberry with a face that reminds me of you."
For a starter kit, the variety 24-box is a great option. 
There are hundreds of possibilities of squishies, so you never know what you're going to get when you first receive the package, which is the most fun part of the entire experience.  
In fact, I will virtually provide an example of this joyous event, as I walk you through a thorough review of me opening my latest box of 24 squishies.
Marlie's Squishy Box Review
Tiny Green Bear: 8/10
This Tiny Green Bear's body is in perfect proportions to squish with its tiny paws, tail, and giant head. It comes in a calming mint green color, and is the perfect size to rest in a palm, making it both a great travel and study buddy. 
Red Disembodied Mouse Head: 7/10
Cute, but raises some disturbing questions. The mouse appears peaceful, but where is the rest of its body? Must we use our imaginations? The red is a nice touch. Until you start thinking about the disembodiment thing again. 
Green Disembodied Mouse Head: 7/10
Same as Red Mouse Head. They're siblings. The green brings to mind aliens. Hopefully, they are happy floating through space together. 
Sparkly Pink Blob, 9.5/10
At first, I thought this was literally just a sparkly pink blob with eyes which made me laugh way more than it should. I then saw the ears, making it clearly a bunny. However, I will choose to believe I just received a pink blob of joy. Blobbity blob blob blob. 
Blue Bear Horse Dog Thing, 7/10
Sometimes, the species of a squishy is hard to tell. But that doesn't matter. Attention to detail is noted with fur included on this mystery. Proportions are interesting, but cause it to nod its head in agreement to whatever you say. A supportive friend. 
Pink Off-Brand Peppa Pig, 3/10
This is just disturbing. How did this get in here? Just wrong. May haunt my nightmares, but like in a charming way. 
Smiling Sea Star, 7/10
Simple, but nice. The smirk implies some mischief lurks in this sea creature's brain. 
Green Gator, 8/10
Go Gators! This charming creature is full of school spirit!
Blue Gator, 8/10
Just like its sibling, full of pride for the School, but missed the memo on the School colors. An easy mistake, and the sky blue is just as satisfactory. 
Snowman, 7/10
The first seasonal one I've seen, well-prepared for the season with its scarf, but it's not quite winter yet! 
 Purple Snowman, 8/10
Gets one extra point for wearing a little hat. Attention to style matters! 
Polar Bear, 7/10
Must have seen the snowmen and went to prepare, as evident by its scarf. A very early planner and probably a bit over-cautious considering the nature of polar bears. 
Translucent Sparkly Panda, 8/10
Adorable, and fascinating. I've never seen a squishy you can see through before. What a fantastical idea. 
Disembodied Paw, 9/10
At first I wasn't sure where the appeal of an animal-less squishy was. But it brings up memories of playing with an adorable four-legged friend. If I can't actually bring my dog into school, this sure is the second-best thing. 
Pink Cat, 8/10
Face is slightly squashed, but adds to the charm. Looks like they're taking a nap – a cat nap, you might say. A good reminder of the importance of taking time for yourself. 
Yellow Turtle, 8.5/10
Speaking of good reminders, this bright turtle is here to state that slow and steady wins the race. 
Lurking Dragon, 9/10
This creature might be mythical, but its spunk is real. Do not be alarmed by the spikes – they are clearly a loyal companion. 
Mysterious Sea Creature, 9/10
While the species of this friend is unknown, the fins indicate that it is aquatic. Nonetheless, the small smile of this creature assures us that they are friendly and would happily spend a day at the beach with us. 
Rubber Duck, 9/10
One more swimmer, this duck is adorably-perfectly-shaped and is either taking a rest or submerged in water. Either way, I support its ambitions. 
Brown Penguin, 8/10
While first thrown off by the fact I have never seen a penguin in this shade before (if that is what it is), I now applaud its differences and uniqueness. 
Round Purple Bunny, 8/10
The proportions on this thing are beautiful; taking it out of its bag, unfurled giant ears, establishing a clear good listener. However, one was unfortunately already ripped, but that only adds to its charm. 
Round Brown Pig, 9/10
Such a friend. This pig would invite you to its cabin in the woods to snack on strawberries and cream, and a lovely time would be had by all. 
Tiny Pink Bear, 10/10
The literal personification of goodness and kindness and peace and love and all that is right in the world. 
Squishy with Baby Squishy!, 11/10
As eye-witnesses will report, when I first opened this squishy of a tiny gray dog to discover that it had a second, even tinier baby cat sitting on its head, my voice briefly reached a frequency that can only be heard by dogs. I hope whoever came up with the concept of putting a friend of a friend has received the Nobel Prize they so truly deserve.  
View Comments (2)
About the Contributor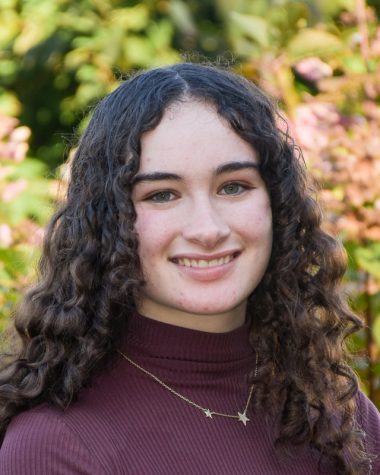 Marlie Kass, Arts Editor
Marlie is thrilled to be on the staff of The Gator. A Lifer at Brimmer, she's been attending the school since Kindergarten. Marlie loves all things creative arts and looks forward to lifting up the community and exploring new ideas through her writing.