Fashion Flash: Libby Barker-Hook '23
Recently, The Gator sat down with Libby Barker-Hook '23 to discuss the best way to style an outfit.
Many students at the School would consider Libby Barker-Hook '23 to have a rather distinctive fashion sense. From fun tights to large jewelry, The Gator sat down with Barker-Hook to hear more about why fashion is an important expression of self.
What is your favorite article of clothing?
I think I would have to say my favorite is a nice big pair of jeans. They are a good canvas for what you can put on top. There are many different options, and mixing and matching is fun. 
What accessory do you love the most?
Accessories are super important to me when styling an outfit. My silver hoop earrings are my favorite; I wear them every day. I like them so much because they add a nice, gentle touch of femininity to any outfit. If I wear big jeans and a button-up shirt, I put on my hoops, which lightens up the look. 
Where do you find most of your clothes?
I like to go thrifting. Thrift stores have some nice retro looks that aren't necessarily in fashion enough to be sold at the mall, you know? An example is low wasted jeans. They're starting to be sold in malls, but that trend of bringing back old style started at thrift stores. Another reason is that it's really cheap and a good pastime in general. I could go in there and spend 3 hours if I had nothing else to do. Also, you can buy something out of your comfort zone with a low risk of regretting it because it's so cheap. 
What is one specific thing about your style that you think is unique?
I only paint my nails red because having them any other color feels wrong. I also like to wear tights because they make me feel like the grim reaper. To add to my grim reaper aesthetic, I like to wear a black necklace. 
Leave a Comment
About the Contributor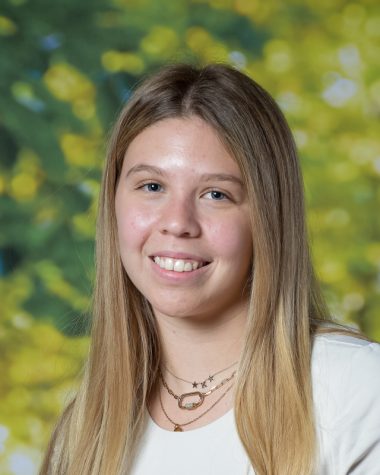 Kate Hirschen, Outgoing Culture Editor
Kate has been a member of The Gator since freshman year and enjoys writing news stories and reviews. Outside of the newsroom, she enjoys spending time with friends and playing tennis.