Op-Ed: 'Heartstopper' Second Season to Tackle Serious Issues
On April 2, the highly anticipated screen adaptation of the famous webcomic Heartstopper by Alice Oseman was introduced to Netflix.
The show was an immediate and massive hit with it even earning a 100 percent fresh rating from Rotten Tomatoes and an 8.7/10 rating from IMDb. The story appealed to fans because of its heartwarming and wholesome nature surrounding an LGBTQ+ relationship. In her review of the show, Rebecca Nicholson of The Guardian described the program as "the sensation of being on the receiving end of a solid hug." The show was so well received it quickly had fans asking about a possible season two release.
The Heartstopper webcomic has four official volumes that have been made into graphic novels with more on the way. The screen adaptation only covers the first volume of the story which naturally had fans wondering about the show continuing the story.
Finally, exactly four months after the initial release of the show both the Netflix Instagram page and the official Heartstopper Instagram page posted a video revealing the filming for season two. Along with announcing season two, the promo video also introduced us to new faces amongst the cast.
While most fans are excited about the next season, there could be possibly triggering content for some viewers. While most of the second volume of the novel focuses on the character's trip to France, we are introduced to the mental health struggles of the main character Charlie Spring.
Throughout the comic, we start to see the signs of him developing an eating disorder and how this development affects the people who love him.
While topics including eating disorders and mental health can be upsetting to some viewers, it is important to get a representation of these issues to further a better understanding of the stigmatization related to mental health issues. In the media and in most people's minds eating disorders are seen to strictly affect women, especially teen girls.
Because of this, men and boys are usually looked over when they are showing signs of an eating disorder. This can be very dangerous considering the physical side effects of eating disorders. To have a beloved male character go through these struggles can hopefully shine a light on the men who do experience disordered eating.
Along with representing mental health issues in men, Charlie's experience with disordered eating also shows us an example of someone with an eating disorder not primarily related to body image.
We are shown that for Charlie his struggles with food have to do more with anxiety and control rather than trying to control how he looks. Even though in later volumes we do see a little bit of his body image struggles, the main focus is on his issues with control.
This example of eating disorders can help irradicate the false belief of disordered eating only affects body image, while in reality disordered eating can be caused by many different issues.
Heartstopper is already viewed as a beloved show by many, and the possible portrayal of Charlie's eating disorder can be a learning opportunity for people who do not have a great understanding of mental health issues.
Leave a Comment
About the Contributor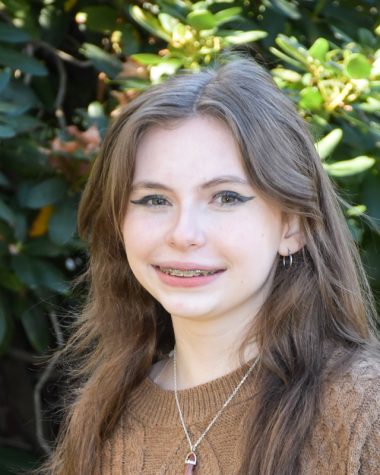 Celia Vasily-Cioffi, Journalist


Celia has been attending Brimmer since her 9th-grade year in 2020. She enjoys reading, watching films, and listening to music when she is not doing schoolwork.