TV Review: Let's 'BeReal' About SNL Season 48
Saturday Night Live (SNL) aired its first episode of Season 48 earlier this month. The show started in 1975 and is still running strong. It has gone through many changes, however, including losing cast members and gaining new ones. 
Kate McKinnon, Pete Davidson, Kyle Mooney, and Aidy Bryant left SNL after the end of Season 47. SNL gained four new cast members: Marcello Hernandez, Molly Kearney, Michael Longfellow, and Devon Walker. The members that left will be missed, but as far as I can tell from the first episode, the new ones will be great.
Miles Teller, the star of Top-Gun: Maverick star, hosted the first episode of the season. The musical host was Kendrick Lamar. 
The opening sketch featured Peyton Manning (Teller) and his brother Eli (Andre Dismukes). In it, they held a telecast poking fun at all of SNL's old opening sketches, from Bowen Yang attempting to launch a new catchphrase to Heidi Gardner needlessly portraying South Dakota Governor Kristi Noem.
The show looks to be more self-aware, hitting a reset on its previous seasons. For example, Micheal Longfeller had an awkward first appearance that set out his SNL career. Devon Walker played the 'Corn kid,' with the other new members having a "humiliating attempt at reference." Shaun White appeared in "Gratuitous Stunt Casting," and Teller's Top Gun co-star Jon Jamm showed up as well. The Manningcast cold open was a tremendous first sketch and set the scene for the upcoming season. 
In Teller's monologue, he made jokes about making Top Gun and being taught to play the piano by J.K. Simmons, a call back to Whiplash. Teller also reenacted the Spartan Cheerleaders as a child. His monologue was great; it is definitely one of my SNL favorites. 
"America's Easiest Game Show!" is a new game show where the contestants must send a normal direct message to a woman on Instagram. The contestants were Adam Levine (Mikey Day), Armie Hammer (James Austin Johnson), Neil deGrasse Tyson (Kenan Thompson), and returning champion Bowen Yang as himself. Yang opened up, saying that "being gay" is why he is successful. The show jokes that many men have issues behaving appropriately on Instagram messages, primarily towards women. I found this sketch hilarious, and Teller did an excellent job hosting the game show. 
BeReal is a new up-and-coming social media platform aiming to challenge the fakeness of social media. In this skit, Teller and Day robbed a bank when one of the hostages gets a BeReal notification. Teller and Day initially acted confused and angry, but the app's appeal slowly starts to grow on them. "Oh, so there's no posturing," Teller said, understanding the concept. This sketch was hilarious. It felt like an ad for BeReal, but at the same time, it was full of sarcasm.
In another skit, the iconic blue bears known as the mascot for Charmin toilet paper were thrilled when their son (Teller) gets into "dodo" college. However, Teller does not want to go to college; he wants to dance. He performs with Yang, earning his family's approval. I think it was one of the less funny skits of the opening episode, but it is still worth a watch.
Teller and Day were finance bros in the next skit, out drinking after work and talking about their dating game. Ego Nwodim and Chloe Fineman showed up, and immediately stumbled over themselves. Day started using several different voices, and then we learned that he is a virgin; all of the bravado was for nothing. This sketch made me laugh, but I feel like it dragged on a bit too long.
SNL's "commercial" for the night was for AMC Theaters. Nicole Kidman (Fineman) talks about the power of movies. The ad was good, but I have definitely seen better from SNL.
Colin Jost and Micheal Che returned to host the Weekend Update to loud applause. They spoke with Mitch McConnell (James Austin Johnson), Herschel Walker (Kenan Thompson), new cast member Micheal Longfellow, and a spotted lanternfly (Bowen Yang). I love the Weekend Update, so of course, I thought it was great. Jost and Che always make me smile, and this segment is definitely my favorite part of the show.  
Next, Ronald McDonald and his friends were shooting a commercial, and there was a new Grimace (Teller) in town. He lost 300 pounds over the summer and was "totally yoked up." He got divorced, stopped eating McDonald's for every meal, started walking to work, and started drinking water. He began to question his happiness and announced that he is bisexual. His newfound identity spreads to the rest of the group. The ending of this sketch was funny, but the rest of it was dragged on.
Nwodim and Gardner are live and hungover from a beach resort and spa. They met on Spirit Airlines but have been living at the resort for five months. Gordy (Teller) and Barack (Thompson) show up as two guys they recently met. They do a "vibe check" with their disinterested guests. This sketch was ok; it was funny, but it was not one of the best from the episode. 
For the first episode of the season, it was amazing. I was not a big fan of some sketches, but the episode as a whole was hilarious. If you haven't seen it, you definitely should. Miles Teller did an amazing job hosting, and Kendrick Lamar's performances were great. 
Leave a Comment
About the Contributor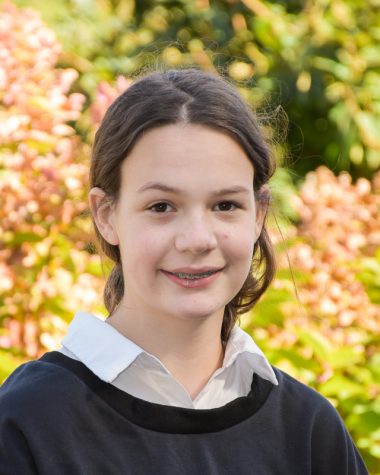 Madeleine Pogoda, Senior Journalist
Madeleine has been at Brimmer since 2019 and she joined The Gator in 2021. In her free time, she likes to play guitar, listen to music, read, and drink tea. She likes to write op-eds, reviews, and debate tea.