Teachers Debate AI in Education 
"Forget about the end of high school English," Upper School History Teacher David Cutler said about The Atlantic's viral article on ChatGPT by OpenAI, an online service that can transcribe student essays, among other writing-intensive tasks using Artificial Intelligence. "This could be the end of original thought entirely."
Cutler said he quickly came to his senses. 
In a recent article written by Cutler published by Edutopia, Cutler said, "Teachers must navigate with students how to make effective and ethical use of this new technology. It's way too early to know how to do this or what this entails, though one thing is for certain—if we do nothing but lament how AI spells doom for education, we lose a sacred chance to help guide students into a brave new world."
Cutler addressed his eleventh-grade United States history class, explaining the capabilities of the novel technology. Students sat in awe as their teacher discussed AI.
Meanwhile, other teachers here were also grappling with what the new technology means for the future of education.
Humanities and Language Teachers React 
Humanities Department Co-Chair Donald Reese said he finds ChatGPT to be an ethical issue.

"You are asking this artificial intelligence to do something unethical for you. You are forcing artificial intelligence to go along with your plan," Reese said.

Nikka Souza

Reese also expressed concern about students losing writing skills when using AI. "If people just answer the question in ChatGPT, they are cheating themselves of the possibility of being better at all of these skills that will be more and more crucial going forward," Reese said.

Reese teaches his classes in a unique gradeless style. Reese said he sees why ChatGPT can be an incentive in his class but recognizes how the application would fail at the tasks. "At the moment, the free one it's not going to fulfill the requirements [of class projects] because it never quotes," Reese said.

"That's why my class is organized the way it is. Because I want people to engage in the task." Dean of Students Paul Murray also mentioned the deficiencies of ChatGPT.

"Having read about [Chat]GPT, it ain't flawless. It is clumsy," Murray said.

Murray said he is not concerned about the impending intelligence at small schools. 

"The fact that we know students so well and how they write, something like ChatGPT at a small school isn't going to be effective," Murray said. 

Furthermore, Murray explained that most students do not intend to violate academic integrity. 

"95 percent of the time, it's got nothing to do with a kid actively defrauding a teacher. Oftentimes, it is a mistake," Murray said.

Upper School Spanish Teacher Mirna Goldberger said she is more troubled about the potential effects of AI in classrooms. Goldberger explained that she has to combat Google Translate and other websites that can translate a word in seconds.

"I even have a hard time getting the message in class about using the translator; it is simply not of your own language production," Goldberger said in an email to The Gator.

Goldberger said that students cannot replicate the same learning experience when translating their work.

"Students don't understand that the production of language requires processing ideas into logos and messages that require linguistic structures, and the act of translating an essay is using technology to misrepresent your very own linguistic abilities and processing," Goldberger said.

Moreover, Goldberger noted that she can tell whether a student translated or relied on outside help for an assignment. 

"As a master second language teacher, I am experienced enough to know exactly at proficiency level, and when kids use these technologies, I can tell."

Upper School English Teacher Kenley Smith said she thinks that AI is an interesting tool that  "… it's a new technology that offers us a lot of opportunities…"

However, Smith explained that she might be further inclined to offer in-class assessments. "But it means we have to change the way we assess writing, certainly more in-class and less at home," Smith said.
Science Teachers React
Upper School Science Teacher Zoë Stublarec observed the research and mathematical inadequacies in AI resources.
"One of the issues that we already try to combat in the science department is teaching students how to do good research," Stublarec said.
Stublarec expressed concern that with the ease of technology, students will not fact-check chatbots. 
"For any technology, there is room for error, and my fear is that students aren't mature enough to take the extra step and dive deeper," Stublarec said.
Stublarec started to explore the service with Jared Smith, another Upper School Science teacher. 
"We put in a question to see what it would come out with. Being somebody who has knowledge on a certain subject, you can pick out when there are issues," Stublarec said.
Unfortunately, the results were not up to par, according to Stublarec: "We were looking at it, like 'That one is not right.'"
Despite the imperfections of ChatGPT and other technologies, Upper School Physics Teacher Chris Hardman reports that he is "intrigued" by artificial intelligence. 
"… I myself am actually going to try and make use of it to create some materials for in-class. I am going to experiment with having it create worksheets for me," Hardman said.
Hardman believes that AI can help him determine a student's ability, saying: "I plan on putting worksheets into the AI to see how well it manages to solve the problems which will give me kind of a baseline on what I think students will be able to do."
Hardman also plans to "try to put in the parameters of lab reports into the chatbot and see whether it can craft a lab report [to see] how much it can help students." 
Hardman mentioned that copying work into a chatbot and pasting the outcome runs afoul of the ethical standpoint of the School, but ultimately says that "…if it is a tool to help, I think that's a great thing."
AI in Electives and College Applications
Upper School Art Teacher Christie DeNizio sees positives of artificial intelligence in art classes, guiding students to advanced art techniques: "I think it has potential for art students and artists as a tool."
DeNizio said in an email that she is not interested in AI final products from services like DALL-E; however, she believes that AI can be an inspiration. "I think AI image generators have the potential to be useful as a brainstorming tool and reference images for the creation of artwork," DeNizio said. 
However, the college application process and the intersection with AI are worrisome, Director of College Counseling Lisa Summergrad stated in an email.
Summergrad mentions that colleges will adapt to the advancements of AI, just as they adjusted to the COVID-19 pandemic. Summergrad said, "If there are real fears that many students are submitting AI-generated essays, colleges might start leaning more heavily on fact-based aspects of the application that can be verified by the school or requiring interviews to hear from the student directly."
According to Summergrad, college applications are already removed from the student's original writing, saying that essays "…have already been altered by the use of writing tutors, parental and teacher involvement, and even ghostwriters." 
AI in Educational Technology
Director of Academic Services Karen Bernanke is uneasy that AI websites will dissolve student understanding, especially in the editing process.
 "It's nice to see the progress that people make by looking at the changes they make in their writing and their editing," Bernanke said. Per Bernanke, AI will ruin the procedure: "We are not going to know how students are learning and processing information."
However, Bernanke sees a future in AI to help teachers plan lessons.
"Using AI as teachers… modeling this is what a paper looks like, and these are all the elements that are in it and having kids decipher and pick out what comes out of an essay," Bernanke said.
Head of Infrastructure Jason Bock agrees that AI will allow teachers to transform their instruction digitally.
"I also expect this tool to help educators grow," Bock said. 
Like several other teachers, Bock referenced calculators as a significant innovation in the educational sphere and expects AI to be the same.
Yet, Bock has concerns about the safety and ethics of ChatGPT.
"Personally, I first look at software with an eye on privacy and security. ChatGPT definitely has issues in both of these areas," Bock said in an email to The Gator detailing OpenAI's privacy policy. In response to the policy, Bock wrote, "They would be well within their right to release users' names, email addresses, and any other information the system collects along with a history of every question asked."
Bock senses ethical issues that conflict with the School's Core Values. "I think it's important to be grounded in why we have a core value of honesty and how this violation of that value impacts students as learners," Bock said.
Several teachers raised concerns about academic honesty.
"We did not list honesty as a core value without purpose," Bock said.
School administrators joined the conversation when Head of the Upper School Joshua Neudel acknowledged AI's pervasive expansion in the weekly Bulletin email to families on June 27, writing: "Regardless of one's feelings about the existence of AI chatbots, it is clear it is a technology that will become ubiquitous in our lives and eventually be embraced by different professions."
"The use of artificial intelligence is not new; it is just entering a new phase," Neudel wrote, reminding the community that technology has posed questions in education before.
Before signing off, Neudel asked parents to remind their children that asking AI to do the work does not help with their development as students.
Head of School Judy Guild sent out a corresponding message in last week's Bulletin, "I, for one, am excited about taking on this new challenge, finding the right balance for policy, looking for opportunities for better learning, and hoping for a sensible way to intersect with our students' views on the subject."
View Comments (2)
About the Writer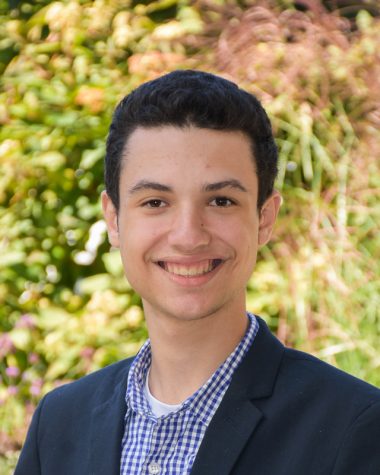 Evan Michaeli, Incoming Executive Editor
Evan is passionate about saving the environment and learning geography. When he is not writing articles for The Gator, he enjoys watching and playing sports, especially baseball.