Newsroom Announces 2023-2024 Editorial Board

With the newsroom's Editorial Board graduating this spring, The Gator has appointed a completely fresh set of editors. Interested journalists had to apply for their positions, and the current Editorial Board spent time selecting who would be best for each position to ensure continued success. 
Taking over as Editor-In-Chief is current 10th-grade student Amelia Bowman '25.
"I've been part of The Gator staff for four semesters now, and I just love writing especially journalistic writing," Bowman said. "I'm excited to help others become better writers and give The Gator a fresh start."
Joining Bowman next year will be Cathy Wu '24 and Evan Michaeli '24 as Executive Editors.
"I'm most interested in just hearing diverse voices," Wu said. "I wish that next year, The Gator will be the best that it can be." 
Michaeli echoed Wu's thoughts and looks forward to collaborating with her.
"I love writing, and I have already started thinking about certain things such as podcasts and new ways to engage audiences," Michaeli said, "and of course, help write and edit some fantastic pieces."
Finally, Madeleine Pogoda '25 will manage the Arts & Culture sections and serve as the Executive Producer for Gator Nation News, The Gator's video publication. "I just love being in journalism," Pogoda said. "Getting to be the Arts and Culture Editor is very exciting because I'm into both culture and art."
Though this will bring a new chapter, Bowman said she finds it is important to recognize all that the current editors have done for The Gator.
"I am in awe of the work that the current editors have done," Bowman said. "They've built an amazing newsroom and succeeded in creating a very comfortable environment." 
Edan Zinn '23 has been an Editor-In-Chief of The Gator since spring 2021, also working with Natalie Kozhemiakin '23 for three semesters.
"I'm so proud of these new editors and how far they've come in Journalism," Zinn said. "They all bring very different strengths to the newsroom."
"I'm very confident in this new board of editors," current Executive Editor Grace Papas '23 said. "I'm so excited to see what they do with The Gator going forward."
To ensure a smooth transition in March, the current editors are already mentoring Bowman, Wu, Michaeli, and Pogoda. The new editors will assume acting responsibility on March 27 and full leadership on April 28, when the outgoing editors officially depart.
Leave a Comment
About the Contributor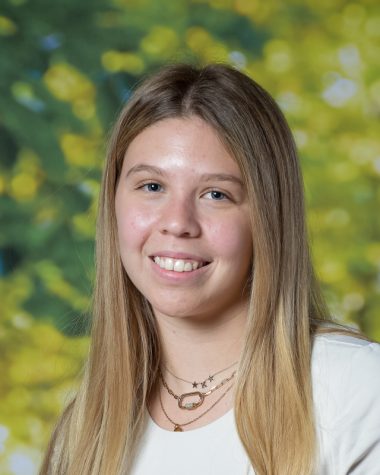 Kate Hirschen, Outgoing Culture Editor
Kate has been a member of The Gator since freshman year and enjoys writing news stories and reviews. Outside of the newsroom, she enjoys spending time with friends and playing tennis.