Q&A: Prom-goers to Seas the Night
Ahoy!
Juniors and seniors embark on a nautical nostalgia trip as the 1920s-themed prom cruises into Boston Harbor on Saturday, May 20. A historic first for the School, students will dance the night away in flapper dresses and fedoras, surrounded by Great Gatsby glamour on the high seas.
The event starts at 4:45 p.m., when party goers gather at Head of School's Judith Guild's house for photos.
Afterwards, students will take a bus to Boston Harbor, where the main event will last from 6:30-9:30 p.m., featuring charcuterie boards, a pub station, ice cream, soda, and more.

The Gator caught the wave with Student Activities Coordinator Dona Rehm-Robles and event organizers, Ava McDonald '23, Owen Williams '23, and Bharath Palanisamy '24, as they "sea-mlessly" planned this year's nautical prom adventure.
What's going on with the Prom Committee this year?
Rehm-Robles: Every year, as part of the student life team, I work to create a prom committee. All juniors and seniors that are interested in joining are welcome. This year, we have about 15 students on our committee and we meet every couple of weeks to talk about the details, the decor, theme, and prom ticket sales. In terms of organization, it's a lot of me working with the prom committee, and then me also working with Joshua Neudel on whatever venue we decide.
What is the theme for prom this year?
McDonald: For this year's prom, we adopted a "Roaring Twenties" theme. We wanted to try and lean into that a little bit. The boat itself is going to have that kind of vintage look to it, and we'll have some nice music and food, and we'll be on the Boston Harbor at sunset. 
Palanisamy: The theme this year is going to be really classy, and I think everyone's going to really love dressing up for a special occasion and hanging out with their friends. I think everyone coming will have a blast.
How is Prom this year different from previous years?
Williams: This year's prom is pretty unique because we're going on a boat this year. It will be the Boston Harbor, and the theme this year is the Great Gatsby. 
Rehm-Robles: We're partnering with Mass Bay Lines this year. Last year, we did it at the Newton Marriott and the year before that, we actually had it on the field in a tent with food trucks. So, every year prom is a little bit different based on different factors like COVID, who is on the prom committee, and what venue space seems most attractive to that group of students. 
What should students look forward to this year?
McDonald: There are so many things to look forward to. We want to have a special drink: Shirley Temples in martini, 1920s wine glasses. We are also going to make a champagne tower with all the glasses, though we're not actually gonna have champagne in it and we're going to glue the glasses. 
Palanisamy: For events, we're going to have a DJ. There's also going to be a lot of food options when we look through the menu, and the catering company that we're working with is incredibly good.  
What should students be aware of, since there will be a boat ride?
Williams: Any event has its safety hazards, so I don't think this one is going to be any different. The proper safety measures are being taken, and I believe that before the event there is going to be a safety seminar, so there is nothing to worry about. 
Rehm-Robles: It's a slow moving boat. We're not gonna be cruising, we're just going to be enjoying being on the water. Most of the boat is contained, so we'll be inside and you can just see from the windows that we're moving. There are some deck spaces, but with big, tall railings. There are plenty of life preservers if there should be an issue, but we are not too worried.

Editors' note: Rehm-Robles kindly reminds all students attending the prom that although having a fantastic time is crucial, it's equally important to be prepared for the ocean voyage. To prevent seasickness from spoiling your night, remember to take any required medications beforehand and get ready to embark on an unforgettable evening of enjoyment and celebration.
Leave a Comment
About the Contributor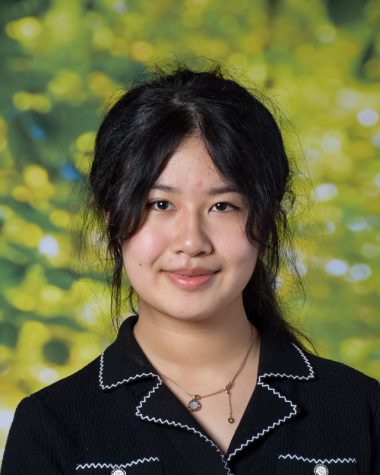 Mary Wang, Senior Journalist
Mary is a sophomore at the School. Her interests range from creative arts to politics. She especially loves all theater-related things, debating, and sustainability. Being from China, she hopes to write about her country's culture and current events. She is excited to continue writing about these interests in
The Gator
.