Before becoming involved in theater, I was always the shy one at school. The one girl who tries to hide herself from opportunities who runs away from large crowds. Many who knew me after I came out of my shell could not believe how timid I was just a few years ago. 
It all started in 2019. I wasn't an actor, tech-crew, or director: I was an audience.
Watching a Play: True moments of touchedness
Before the brutal outbreak of the COVID-19 pandemic in the country, I went and watched one of the first and last plays I got to see along this tough period. It was a student directed, student-written play, documenting the history of great men of history China in the 1900s. I was amazed by the power of their lines, their presentation, their acts, and the amazing on-and-off stage techniques. I felt as if I was transported to  that age. Struggling to restrain myself, my tears still bursted out. The play was outstanding.
It was the first time I learned that I have always underestimated the power of theater. All the parts in a successful play are interwoven, and each element provides an extra level of shock and amazement. This experience planted a small seed of thought and inspiration,and an idea bursted out: I could be onstage too!
Sprouts of motivation started to grow into actions. For the first time, I auditioned for a play at school. I was much better at acting than I anticipated. It was the start of my theater journey. 
The First Step: Trying On Stage
In 2020, I had my first try on stage. The short play was "Metamorphosis". I was the youngest in the cast, so I got a pretty small role. I acted as the tenant, who was scared off by the main character, now a beetle.
We altered parts of the script, adding funny elements that can appeal to the audiences today. I wore a red wig, dressed up in a suit and danced to an at-the-time viral song. After the show, people came up to me and told me how much they loved this performance. That feeling of completing something wonderful and earning affirmations from others was so rare before my encounter with theater. 
Climbing up the ladder: The Next Step
After the success from my first leap, I decided to move up the ladder. I took my first try in front of the audience, live on stage. Pride and Prejudice was my first major role in a major play. I was Mrs Bennett, the mother of the four daughters. I discovered how I can change my voice into that of an older woman, and I was fascinated by my talent. I was a little nervous on stage, still, but as the lighting darkened out, I felt so happy. From then on, I started to invest
more and more time into refining my acting skills. I auditioned for all the plays at school I am eligible for, advancingfrom just a featured character to supporting roles, and occasionally leads as well. I find myself to be a different person on stage: I can be passionate and carefree, furious and emotional, or reserved and monotone. The stage is like a lab where I can experiment with different versions of myself. With foundations from acting, I tried developing further into playwriting and directing. These fields opened a new door to me. 
Theater at Brimmer: Peter & Something Rotten!
When I first embarked on my journey to the US, I panicked. I was scared of not fitting into the new environment, but the stage gave me courage to be myself. Peter and the Starcatcher was my first play at Brimmer, and it altered some of my previous perspectives on theater: I discovered how rehearsals could be fun, how to set the stage, changing into costume and learning numbers. I tried doing a musical for the first time, and the experience was spectacular: despite being a member of the ensemble, I loved the process of learning a dance number, singing with the other ensembles and the lead, and posing on the stage. I enjoy the shimmering stage light shining on my face. Brimmer again shaped my view on theater, leading me to have the urge to continue exploring more.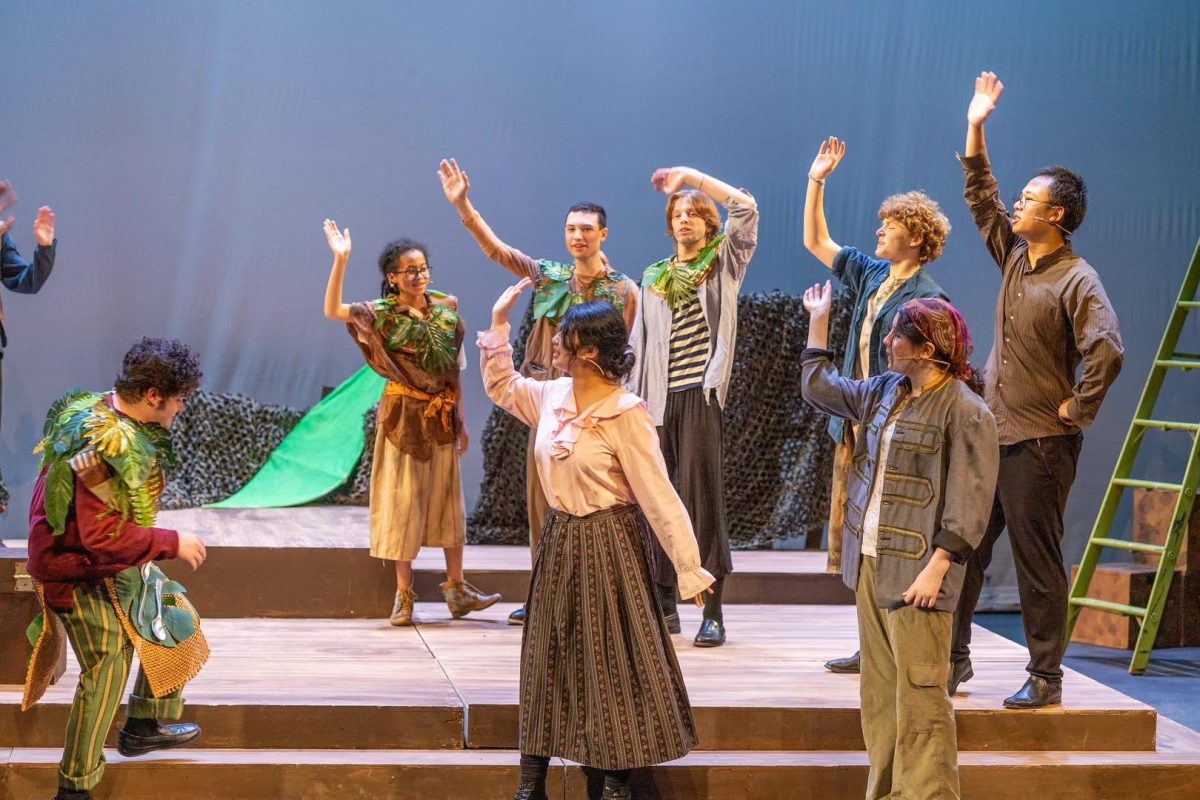 This is my theater journey as of now. I was new but rooted in the stage that can bring so much complexity. Theater brought me joy, courage, and creativity, and memories that I will always call to mind. This is my story of how I found theater, my companion. The change for me was hard but utterly nourishing, and it speaks to me how you are not always born to know where you belong: the process of trying is how you ascertain your passion.